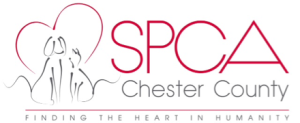 The Chester County SPCA announced Tuesday that from now on it will be known as the Brandywine Valley SPCA.
The Board of Directors determined unanimously that the organization's name needed to change to reflect its expanding geographic reach. The CCSPCA has been providing animal welfare services for Chester and Delaware Counties, but since the first of January, is now handling animal services for the entire state of Delaware.
The organization is working to bring its no-kill philosophy to even more regions, along with the practices that have made it possible for it to become Pennsylvania's first open-admission no-kill shelter.
A shelter is considered "no-kill" if it saves at least 90% of the animals that enter the shelter. In 2013, the Chester County SPCA euthanized 37% of the animals that came into the shelter. In 2015 that number dropped to 6%.
"That's a huge difference," said Adam Lamb, Executive Director, "Ultimately, our goal is to take what we have learned in Chester County and spread it throughout the state of Delaware and further into Pennsylvania to create more no-kill communities."
On Feb. 20 at 11:00 am, the Brandywine Valley SPCA will conduct a ribbon cutting ceremony for their new shelter location at 600 South Street in New Castle, near Battery Park, followed by an open house with tours of the shelter. This facility will serve as their primary shelter in Delaware and will offer adoptions, statewide lost and found pets, and in the near future, veterinary services for owned pets such as spay/neuter, vaccinations, and a community cat Trap/Neuter/Return program.
The Brandywine Valley SPCA is named for the valley created by the Brandywine Creek which starts in western Chester County- PA, runs through Delaware County-PA, then enters the state of Delaware in Wilmington where it joins the Christina River.
For more information about the Brandywine Valley SPCA, please visit www.bvspca.org