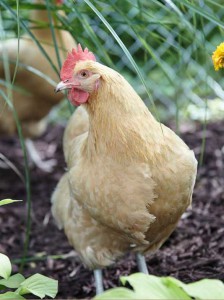 Now that the winter solstice has passed and daylight is gradually increasing, many are already looking forward to the sights and sounds of spring. We all recognize the iconic "peep" sound of baby chicks and associate it with spring, but many also know that with this sound comes the promise of delicious and nutritious fresh eggs, bug and weed control, fantastic fertilizer and friendly pets! These are just some of the reasons that raising backyard chickens has become so popular in the Chester County area.
On Thursday, January 14 at 6 pm, Oxford Feed & Lumber, 112 Railroad Ave. Rd., Oxford, will be hosting Chick Chat, a free seminar especially for those who plan to raise chicks this spring or maybe are considering doing so and want to learn more about backyard flocks. Attendees will learn how to feed and care for baby chicks and will also get tips on how to keep chickens safe and healthy. A second introductory Chick Chat, covering the same basic information, will be held at Brandywine Ace, Pet & Farm, 1150 Pocopson Rd., West Chester, at 6 pm on Wednesday, February 3.
Chicks will be available for sale at both Oxford Feed & Lumber and Brandywine Ace, Pet & Farm beginning mid-February. Although the standard varieties will be at the stores continually through the first week of May, specific unusual varieties will be arriving twice each week. If you are looking for a special variety, check the schedule on the website, www.oxfordfeedlumber.com or call Oxford Feed & Lumber at 610-932-8521 or Brandywine Ace, Pet & Farm at 610-793-3080.