From Mummers to first day celebrations, ring in 2016
By Denny Dyroff, Staff Writer, The Times
The biggest attractions in the upcoming week are New Year's Day events and New Year's Day in Philadelphia is all about the Mummers Parade (21-336-3050, www.phillymummers.com) — a festive celebration featuring string bands, comic units and fancy divisions all strutting their stuff on Broad Street.
The event, which is celebrating its 116th anniversary this year, is always televised. But, to truly appreciate the sights and sounds of the Mummers Parade, you need to see it live at least once in your lifetime.
The Mummers tradition dates back to 400 B.C. and the Roman Festival of Saturnalias when laborers marched in masks throughout the day. Reports of rowdy groups "parading" on New Year's Day in Philadelphia date back before the revolution.
The practice of awarding prizes was initiated in the late 1800's and the first "official" event was held in 1901. The Mummers Parade has grown in size and stature and currently features approximately 15,000 participants.
The 2016 Parade will begin at 9 a.m. on PHL17 with the Fancy Division, followed by the Comic Division, Comic Wench Division and then the String Band Division.  
The Mummers have a little bit for everyone. There are more than 10,000 Mummers broken up into five divisions — the Fancies, the Comics, the Wench Brigades, the String bands and the Fancy Brigades.
The parade starts with the Fancies. The Comics are next followed by the Wench Brigades, the String Bands and the Fancy Brigades. During the parade, Fancy Brigades join with the string bands along the route. Then, the Fancy Brigades have a show of their own indoors at the Philadelphia Convention Center.
The String Band Division is populated by familiar names — Trilby String Band, Polish American String Band, Fralinger String Band, Quaker City String Band, Avalon String Band, Pennsport String Band, Uptown String Band, Aqua String Band, South Philadelphia String Band, Greater Kensington String Band, Greater Overbrook String Band, Woodland String Band, Hegeman String Band, Durning String Band, Broomall String Band, Duffy String Band and Ferko String Band.
The participating Fancy Brigades are 2nd Street Shooters Fancy Brigade, Clevemore Fancy Brigade, South Philly Vikings Fancy Brigade, Satin Slipper Fancy Brigade, Spartans Fancy Brigade, Saturnalian Fancy Brigade, Golden Crown Fancy Brigade, Avenuers Fancy Brigade, Downtowners Fancy Brigade, Jokers Fancy Brigade and Shooting Stars Fancy Brigade.
The Wench Division line-up includes Americans Wench Brigade, Riverfront Wench Brigade, Cara Liom Wench Brigade, Bryson Wench Brigade, Oregon Wench Brigade, Pirates Wench Brigade, O'Malley Wench Brigade, Saints Wench Brigade, and Froggy Carr Wench Brigade.
The Comic Division includes Landi Comic Club, Murray Comic Club and Goodtimers Comic Club. There will also be a new division this year called the Philadelphia Division. It will feature four troupes — Miss Fancy Brigades, San Mateo Carnavaleros, 2nd to None Drill Team and Los Bomberos de Calle.
Because it is an outdoor event, inclement weather could come into play. The outdoor parade was postponed in 2003, the first time in 13 years. There have been 22 weather-related postponements since 1922. There was no parade in 1919 due to WW1 and in 1934 due to the depression and the lack of prize money.
Video link for the Mummers Parade — https://www.youtube.com/watch?feature=player_embedded&v=eZuf6CiTw6E.
Tickets for grand stand bleacher seats are $20.50. Tickets for the indoor Fancy Brigade shows are $28 for the noon performance and $23 for the 5 p.m. show. They can be purchased by phone at (800) 537-7676 or in person at the Independence Visitors Center (Sixth and Market streets, Philadelphia, www.phlvisitorcenter.com).
On January 1 from 10 a.m.-6 p.m., the Kimmel Center (260 South Broad Street, Philadelphia, 215-790-5800, www.kimmelcenter.org) will welcome the New Year with a free indoor "2016 New Year's Day Celebration."
Visitors can warm up indoors while enjoying Philadelphia's historical Mummers Parade on Broad Street. It features a variety of family-friendly performances on the Commonwealth Plaza level.
Activity will get underway on January 1 at 10 a.m. with the opening of the "Resolution Wall." Guests can post their 2016 resolutions for all to see from 10 a.m.-6 p.m. Kids' festivities start at 10:30 a.m. and run until 3:30 p.m. with activities such as ticket giveaways, face painting, origami, crafts and balloon animals.
The entertainment schedule features performances by DJ Music, "Grow-Up Great," "Dancing with Students," Steve Pullara and His Cool Beans Band, Philadelphia Ukulele Orchestra and the Broadway Dreams Foundation.
Special activities throughout the day include Greater Philadelphia Paper Pholders, "Acts of Jennius- Hoopiness!," Morris Animal Refuge, "Knit In for the Knitting Peace," Kris Clayton, Stacey's Face Painters, Black Cat Balloon Company, RanD' Shine and Fred J. Cooper Memorial Organ Demonstrations featuring Rudy Lucente, Colin Howland, Fred Haas and Michael Stairs.
If you're looking for a truly unique way to kick off 2016, head south to Middletown, Delaware on New Year's Day to celebrate town's annual Hummers Parade (Main Street, Middletown, Delaware, 302- 378-7545).
Every year on New Year's Day, Middletown's Hummers Parade slowly but not very methodically moves down Main Street. The parade, which is intended as a spoof of Philadelphia's Mummers, is a loosely organized event that welcomes everyone to join in the fun.
On January 1, floats and groups will assemble in the parking lot in Middletown. The parade of spoofs is scheduled to get underway at 1 p.m. The parade gathers on South Cass Street in the vicinity of Middletown Environmental Testing, Inc. at 100 South Cass.
The parade travels from South Cass to Park Place, to Broad Street. The parade turns left onto Main Street from Broad and left onto South Scott Street, disbanding in the vicinity of South Cass.
Participants in the parade arrive around noon to put the floats together. The floats should be put together on site and are spoofs of national and local events. All are welcome to join in the parade. The parade is not sponsored by the Town of Middletown or any specific group.
Trophies will be awarded in categories that have yet to be determined. No registration or sign up is required and there are no rules. Actually, there are two basic unwritten rules — taste doesn't matter and no-one is permitted to work on a float or a costume any earlier than the morning of the event (and, if they do, they must lie and say they didn't).
Delaware also has some New Year's Day events that are more conventional — and definitely healthier. Delaware State Parks are celebrating the first day of the New Year with hikes in the park.
Parks around Delaware will host a "First State, First Day, First Hike" program to celebrate the national movement sponsored by America's State Parks to have all 50 states offer First Day Hikes. Designed to promote both healthy lifestyles throughout the year and year-round recreation at state parks, all 50 state park systems joined together to sponsor First Day Hikes for the first time in 2012.
Participating parks in northern Delaware that are close to Chester County include Alapocas Run (302-577-7020), Auburn Heights (302-256-6321), Bellevue State Park (302-6963), Brandywine Creek State Park (302-5740), and Brandywine Zoo (302-7850).
Like parks across the country, 23 state parks in the Pennsylvania Department of Conservation and Natural Resources system will lead free, guided, First Day Hikes on New Year's Day. Pennsylvania state parks have been participating in the national initiative since 2012.
Marsh Creek State Park (675 Park Road, Downingtown, 610-458-5119, http://www.dcnr.state.pa.us/stateparks/findapark/marshcreek) will host a First Day Hike on January 1 from 10 a.m.-noon. The hike will meet at the West Side boat launch at 10 a.m. and will be approximately three miles.
The address for the west side is 800 North Reeds Road, Downingtown. Participants are instructed to not go to the main park address — and to dress for the weather and wear sturdy footwear. Leashed dogs are welcome. The event may be cancelled in the event of bad weather.
Other Pennsylvania state parks offering January 1 hikes are Bald Eagle, Black Moshannon, Caledonia, Canoe Creek, Delaware Canal, French Creek, Gifford Pinchot, Greenwood Furnace, Hills Creek, Jacobsburg Environmental Education Center, Jennings Environmental Education Center, Kings Gap Environmental Education Center, Lackawanna, Little Buffalo, Moraine, Nescopeck, Nolde Forest Environmental Education Center, Parker Dam, Prince Gallitzin, Pymatuning, Raccoon Creek and Sinnemahoning.
If you want to check out some of the area's special holiday events, you have just a few days left.
"Yuletide at Winterthur" is always one of the best holiday events in the area. This year's 37th annual staging of the event is running runs now through January 3 at Winterthur Museum, Garden & Library (Route 52, Wilmington, Delaware, 800-448-3883, www.winterthur.org).
In celebration of 30 years of Winterthur's famous dried-flower tree, the site is showcasing this annual favorite in the Conservatory, where it will be surrounded by a living tribute of flowers and blooming plants. There are displays that explore holiday practices of the Pennsylvania Germans, who introduced Americans to such seasonal standards as the Christmas tree, the charity bazaar, and the tradition of the gift giver.
Admission to Yuletide at Winterthur is $20.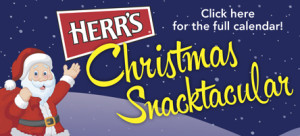 The annual multi-day holiday event at Herr's Snack Food Factory (20 Herr Drive, Nottingham, 610-932-9330, www.herrs.com) is in full swing now. "Christmas Snacktacular," which runs now through January 3, features a variety of activities nightly. The area around the factory site will be illuminated with thousands of lights and holiday displays.
Longwood Gardens (Route 1, Kennett Square, 610-388-1000, www.longwoodgardens.org) is presenting "A Longwood Gardens Christmas" now through January 10 with spectacular lights, lavish decorations and holiday music.
There are colorful displays featuring thousands of brilliant poinsettias, brightly decorated trees and fragrant flowers — all inside the heated Conservatory. There are also outdoor attractions such as fountain shows and nighttime light displays.
Longwood's Christmas celebration also includes a wide array of seasonal music — holiday concerts, organ sing-alongs and carillon performances. As always, admission by "Timed Ticket" — tickets issued for specific dates and times.
Admission to Longwood Gardens is $20 (non-peak), $27 (peak) for adults, $17/$24 for seniors (ages 62 and older) and $10/$13; students (ages 5-18).
Model trains will be featured at "A Brandywine Christmas." The family-oriented annual holiday event is running now through January 3 at the Brandywine River Museum (Route 1, Chadds Ford 610-388-2700, www.brandywinemuseum.org).
The Brandywine River Museum of Art Railroad includes nearly 1,000 pieces, from locomotives, passenger and freight trains, to clockwork sets and trolleys that pass through a small town, a farm, factories and even a carnival.
Admission to the museum is $15 for adults, $10 for seniors (65 and older), $6 for students with ID and children (ages 6-18) and free for children (ages five and under).
One of the most elaborate model train layouts in the Delaware Valley can be found at the Morris Arboretum (100 Northwestern Avenue, Chestnut Hill, 215-247-5777, www.business-services.upenn.edu/arboretum/index.html).
The display, which is open to the public now through January 3 in the winter garden of the Morris Arboretum, has a quarter-mile of track featuring seven loops and tunnels with 15 different rail lines and two cable cars, nine bridges (including a trestle bridge you can walk under) and bustling model trains.
Admission to the Morris Arboretum is $16 for adults, $14 for seniors (65 and older) and $8 for students and military.
 "Holidays at Hagley" is another of the Brandywine Valley's most popular holiday attractions in this area every year. The exhibit, which is included with regular admission, is running now through January 3 at Hagley Museum and Library (Route 141, Wilmington, Delaware, 302-658-2400, www.hagley.org).
This year's edition of "Holidays at Hagley" features tours of Eleutherian Mills, which is the first du Pont family home built in America. The tours, which will be presented each day from 10 a.m.-4:30 p.m., feature decorations in a combination of styles from both the 19th and 20th centuries.
Lace decorations add to the ambiance of Hagley's annual holiday exhibition. The theme this year at Eleutherian Mills residence is "A Feminine Touch." Displays include the elaborate Twelfth Night celebration in the dining room and the Victorian library's Christmas for children with its table-top tree surrounded by toys and games.
Admission is $14 for adults, $10 for seniors and students and $5 for children (ages 6-14).
Nemours Mansion & Gardens (Route 141 South, Alapocas Drive, Wilmington, Delaware, 302-651-6912, www.nemoursmansion.org) is welcoming visitors for the Christmas holidays with special holiday-themed tours. The three-hour tours are held Tuesdays through Sundays and run now through January 3.
During the holiday period, the guided tours will include several stories of the house and part of the gardens. Many of the rooms featured in the tour will be decorated as they would have been when DuPont resided there in the early 1900s while some will retain their traditional period decorations.
Tickets for the tour at Nemours are $15.
Pennypacker Mills (3 Haldeman Road, Perkiomenville, 610- 287-9349, www.historicsites.montcopa.org) is hosting "Victorian Holiday Tours" now through January 10 while "Twelfth Night Tours at Pottsgrove Manor" (100 West King Street, Pottstown, 610-326-4014, www.historicsites.montcopa.org) are also running through January 10.
Pennypacker Mills will offer free tours of the 18-century mansion used by General George Washington as temporary headquarters during the Revolutionary War. The event at Pottsgrove Manor features guided tours through an elegant 18th-century Georgian mansion that is decked out in period holiday decorations.
Koziar's Christmas Village (782 Christmas Village Road, Bernville, 610-488-1110, www.koziarschristmasvillage.com) has started its 68th annual season and it will remain open every night through January 2 — including Christmas Eve, Christmas Night, New Year's Eve and New Year's Night.
The village is a visual wonderland with a large amount of holiday displays and special attractions including "Santa's Post Office," "Christmas in the Jungle," "Toy Maker and his Toy Shop" and "Christmas in Other Lands. Other attractions are a huge model train display, a toy shop, a country kitchen, indoor and outdoor Christmas displays. Admission to Christmas Village is $10 for adults, $9 for seniors (65 and older) and $8 for children (ages 4-10).