But some funds will flow to local schools and social services as dispute continues
By Mike McGann, Editor, The Times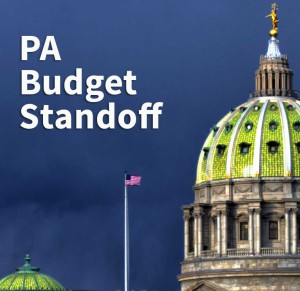 Updated, 3:40 p.m.: adds GOP House leadership comments.
While school districts and social service agencies in Chester County can finally look forward to seeing some state funds finally come their way after a six-month state budget standoff, Gov. Tom Wolf signaled Tuesday clearly that battle over the budget is far from over, by vetoing large swaths of a budget he called "garbage."
An obviously angry Wolf chided the state legislature for failing to do its job and sending him a budget that didn't balance and took particular aim at State House Republicans who blew up a compromise budget that had fairly widespread support before skipping town for the holidays.
Wolf opted to release funding to schools — a handful of districts in the state said they might not be able to reopen following the Christmas break —  but the governor said this funding was only on an emergency basis.
"In doing this, I'm expressing the outrage that all of us should feel about the garbage the Republican legislative leaders have tried to dump on us," Wolf said in a Tuesday morning press conference. "This budget is wrong for Pennsylvania. And our legislators – the folks we elected to serve us – need to own up to this. They need to do their jobs. This budget is wrong for so many reasons."
There was muted Republican response to Wolf by Wednesday afternoon — no local legislators put out statements by mid-afternoon Tuesday. State party leaders declared victory in the budget battle, though.
"Today, Tom Wolf finally admitted his multi-billion dollar mistake," Republican Party of Pennsylvania Chairman Rob Gleason said. "When Tom Wolf issued a complete veto of the Republicans' on-time budget last June, he needlessly plunged our school districts and non-profits into a six-month crisis. Throughout this year, Tom Wolf has repeatedly made special interests his top priority. It is tragic that so many schools and non-profits were faced with unpaid bills, layoffs and even closures because Tom Wolf used them as political pawns in his reckless budget game.
"It is time for Tom Wolf to join with Republicans in enacting a fiscally responsible budget that puts our Commonwealth on the right track for the future."
House GOP leaders Speaker of the House Mike Turzai (R-Allegheny County) and House Majority Leader Dave Reed (R-Indiana County) were less celebratory and issued the following statement Tuesday afternoon:
"Today, Gov. Tom Wolf did what he could have and should have done more than 180 days ago –drive out appropriated dollars to help children and victims throughout Pennsylvania.  
"At some point, people have to wonder… how does the governor consider a $30.3 billion budget that increases education funding by more than $400 million without relying on a sales or income tax increase 'garbage,' but continues to back a broken $30.8 billion framework budget that increases sales or income taxes without pension reform, property tax relief or real steps to bring our liquor system into the 21st century? 
"The reality is that over the last month, the original budget 'framework' has fallen apart for a host of reasons – the most significant being the lack of agreement on how to fund it. Certainly, there is a recognition that new revenues will be needed to help fund our state's priorities, but that recognition must also be respectful of the taxpayers.
"Until today, the governor has fully vetoed every spending plan the Legislature has sent to him since June. While it is important needed funds are finally being released to schools and human service providers, a full spending plan is necessary.
"We understand that compromise is a two-way street, but it needs to be based in reality. It is time to reset the chess pieces and work together to move this state forward and bring about a long-term budget solution. We will continue conversations with the governor and Senate – Republican and Democrat – to come to a reality-based budget solution."
Wolf, for his part, would have none of it, noting that the budget as presented failed to meet constitutional requirements that it be in balance.
"It doesn't balance," Wolf said. "Even with the numbers presented to me by the Republicans before they ran out of town just before the Christmas holiday. This budget doesn't add up. In fact it leaves a half a billion dollar hole for this year (2015-16). And a $2 billion hole for next year.
"There's a reason why the outside rating agencies have downgraded our debt. They're telling the world what our legislators want to ignore. Our fiscal house is a mess."
Wolf called on legislative leaders to call their chambers back into session and return to work on the budget.