Also: 'Joseph' hits Philly stage: live music comes back strong Sat.
By Denny Dyroff, Staff Writer, The Times
The tradition of a spectacular Disney on Ice skating show visiting Philadelphia during the Christmas holiday stretches back for decades. It began when the Spectrum was the major arena at the southern end of Broad Street and it has continued to the present day.
The major difference between the early days and now is that the Spectrum no longer exists and the main arena is the Wells Fargo Center (3601 S. Broad Street, Philadelphia, 215-336-3600, http://www.wellsfargocenterphilly.com).
This year, "Disney on Ice Celebrates 100 Years of Magic" is coming to the Wells Fargo Center from December 4 through January 3 with an array of morning, afternoon and evening shows.
The show, which has a huge cast and a lot of big production numbers, features many of Disney's most popular characters — all the way from Mickey Mouse and Donald Duck to starring trio from "Frozen."
"We kicked off the tour in September and have played 32 cities so far," said tour coordinator Adrian Baez, during a phone interview Tuesday morning. "This show should run for a long time. We have no expiration date.
"We'll probably tour North America for awhile and then head overseas eventually. There are five Disney on Ice shows on the road right now. 'Frozen' is the only one with a complete story line. The others have mixed story lines."
Traditionally, Disney on Ice has been able to assemble shows using different segments that had been used in prior shows. The "magic" theme is a good example. Other examples are "Disney on Ice Princesses and Heroes,"  "Disney on Ice Passport to Adventure" and "Disney on Ice Worlds of Enchantment."
"Disney on Ice does shows like these because the audience has changed," said Baez. "People have shorter attention spans and need things that change constantly.
"Shows like 'Aladdin' and 'Toy Story' are harder now because younger audience members get bored. They need something that is colorful and changes rapidly — something that tells a story in a couple of minutes. There need to be a lot of action, movement and popular songs."
"Disney on Ice celebrates 100 Years of Magic" fills that bill.
"We have 51 skaters and the show features 14 stories," said Baez. "The producers always come up with a theme. Ours is 100 years because Walt Disney created Mickey Mouse 100 years ago."
This touring show has a cast that includes Mickey Mouse, Minnie Mouse, Donald Duck, Goofy and Disney Princesses including Cinderella, Rapunzel, Ariel, Snow White and Tiana.
One of the segments features Disney's "Frozen" with Anna, Elsa and the hilarious Olaf as they discover that true love is the greatest magic of all — and songs such as "Let It Go," and "You've Got a Friend in Me."
 Some of the other stories that are included in the production are Disney Pixar's "Toy Story," "Finding Nemo," Disney's "The Lion King," "Beauty and the Beast" and "Aladdin."
"People love the summer scene from 'Frozen' and the song 'Let It Go'," said Baez. "The opening number is really great too. We start with a marching band to the song 'Gotta Be Me' from 'Teen Beach Movie 2'. It's a really colorful start."
Video link for Disney on Ice — https://youtu.be/PZna16_ntqk.
Ticket prices range from $20-$100.
Another great family show for holiday viewing is coming to Philadelphia next week. "Joseph and the Amazing Technicolor Dreamcoat" will run from December 29-January 3 at the Merriam Theater (250 South Broad Street, Philadelphia, 215-893-1999, www.kimmelcenter.org) part of the Kimmel Center's "Broadway Philadelphia" series.
"Joseph and the Amazing Technicolor Dreamcoat," which is a sung-through musical with very little dialogue, has a Biblical-based story from "Genesis" about Joseph's "coat of many colors." The show was created by Tim Rice and Andrew Lloyd Webber — the same team that brought you "Jesus Christ Superstar" and "Evita."
One of the key cast members is Alyssa McAnany, an Elon University grad who is a West Chester native.
"I now live with my family in Robbinsville, New Jersey but I have a lot of links to Chester County," said McAnany, during a phone interview Monday morning. "I was born at Chester County Hospital and lived in Avondale when I was born. My parents grew up in Coatesville and were both in the Red Raider Band. My first dance lesson was in Caln Township."
At Robbinsville High, McAnany was a starter on the Ravens' state championship soccer team and was also a state medalist in track and field.
"I did theater and sports when I was in high school," said McAnany. "It was challenging — little hours for sleep. It was hard to decide which to continue with in college. One day, I looked across the soccer field at Robbinsville and saw the theater. It was then that I realized that I wanted musical theater — that the passion for it was in my gut.
"At Elon, I graduated with a B.F.A, in musical theater and a minor in communications — in photography. I even got to write and direct a play when I was in college."
Now, McAnany is out on her first national tour as part of the talented cast of "Joseph and the Amazing Technicolor Dreamcoat."
"This is a very physically demanding performance," said McAnany. "The choreography is very specific. There is no wasted energy. It's so dynamic. You have to be fit to do all the singing and dancing.
"'Joseph and the Amazing Technicolor Dreamcoat' has been around for awhile and people are very familiar with it. It's been performed in more than 80 cities in 13 countries as well as more than 20,000 local and school productions. It's been performed a lot.
"But, our production is a lot different. One reason is because of choreographer Andy Blankenbuehler's image and passion for the show. It has contemporary and modern grounding.
"And, the prologue has a different twist. Joseph starts off as a little boy in bed with his teddy bear and pajamas. It begins with the projection of a dream. There is a new song at the end of the show — and a new version of 'Any Dream Will Do.'
"I love that it's a family-friendly story and dreams and hopes and forgiveness. It's really a fun, bright show. And, it leaves you with a message. This is my first post-grad show and I'm overjoyed that we're playing the Merriam Theater.
Video link for "Joseph and the Amazing Technicolor Dreamcoat" — https://youtu.be/XYk7hJZ_H-o.
Tickets for "Joseph and the Amazing Technicolor Dreamcoat" range from $55-$95. 
Another show that is running now and is part of the Kimmel Center's "Broadway Philadelphia" series is "The Book of Mormon," which is playing now through December  27 at the Forrest Theatre (1114 Walnut Street, Philadelphia 866-276-2947, www.kimmelcenter.org/broadway).
"The Book of Mormon" tells the story of two young, inexperienced Mormon missionaries who are sent to Africa. It is set in a remote village in northern Uganda. In the village, which is about two hours north of Uganda's capitol Kampala, a brutal warlord is threatening the local population. The primary antagonist is the superstitious General, who does not like the missionaries and views them as a threat.
Video link for "The Book of Mormon" — https://www.youtube.com/watch?feature=player_detailpage&v=OKkLV1zE8M0.
Ticket prices ranges from $67-$177.
A show that combines the best of ballet and the excitement of theater is the Pennsylvania Ballet's annual production of "George Balanchine's The Nutcracker."  This year's show, which is running now through December 31 at the Academy of Music (Broad and Locust streets, Philadelphia, 215-893-1999, www.paballet.org), is the 47th annual staging of the classic ballet.
The ballet is based on E.T.A. Hoffman's tale "The Nutcracker and The Mouse King" and set to a score by Peter Ilych Tchaikovsky. Featuring lively dances, colorful costumes and elaborate sets, "The Nutcracker" is a production that appeals to audiences of all ages.
Video link for Pennsylvania Ballet's "George Balanchine's The Nutcracker"—https://www.youtube.com/watch?feature=player_embedded&v=6j4HATkhrSY.
Ticket prices range from $35 -$150.
The Suzanne Roberts Theatre (480 South Broad Street, Philadelphia, 215- 985-0420, http://philadelphiatheatrecompany.org) features "Ken Ludwig's Baskerville — A Sherlock Holmes Mystery" now through December 27.
From the award-winning mastermind of mayhem, Ken Ludwig ("Lend Me a Tenor"), comes a fast-paced comedy about everyone's favorite detective solving his most notorious case. Sherlock Holmes and Dr. Watson must crack the mystery of "The Hound of the Baskervilles" before a family curse dooms its newest heir.
Ticket prices range from $24-$62.
The Walnut Street Theatre (825 Walnut Street, Philadelphia, 215-574-3550, www.walnutstreettheatre.org) is presenting "A Christmas Story, The Musical" now through January 10 on its Mainstage.
"A Christmas Story, The Musical" is a Broadway musical comedy based on the classic 1983 movie. Set in in Indiana in the 1940's, it features a bespectacled boy named Ralphie who has a big imagination and one wish for Christmas –a Red Ryder BB Gun.
Video link for "A Christmas Story" — https://youtu.be/8ibc4ubYe9E.
Ticket prices range from $20-$95.
The Prince Music Theater (1412 Chestnut Street, Philadelphia, 267-239-2941, princetheater.org) is presenting a new show titled "The Three Maries  — A Philadelphia Phable" that will run through January 10.
"The Three Maries" is a musical comedy inspired by an historical event — Queen Marie of Romania's visit to the city of Philadelphia in October of 1926. The original score is infused with 1920's jazz, vaudeville, Tin Pan Alley and the famous sound of the Mummer's string bands.
Ticket prices range from $27-$52.
The Rainbow Comedy Theatre (3065 Lincoln Highway East, Paradise, 800-292-4301, www.RainbowDinnerTheatre.com) is presenting "Good Night, Mrs. Puffin" now through December 27
Matinee performances are every Tuesday, Wednesday, Thursday and selected Saturdays with an 11:30 a.m. lunch and a 1 p.m. curtain. Evening performances are every Friday, Saturday and selected Thursdays with dinner at 6:30 p.m. and the show following at 8 p.m. Ticket prices range from $49-$55.
The Candlelight Theater (2208 Millers Road, Arden, Delaware, 302- 475-2313, www.candlelighttheatredelaware.org) is hosting a New Year's Eve Party featuring "Beatlemania Now!" on December 31 starting at 7:30 p.m.
Tickets, which include prime rib dinner buffet, house wine and beer open bar,
midnight champagne toast and dessert bar — and a show — are $110 per person.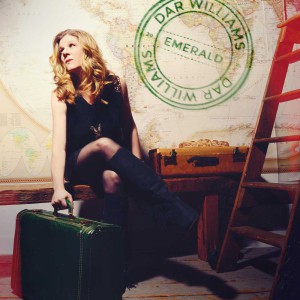 When Dar Williams visited the area for a show at the Bryn Mawr Gazebo last summer, she had a dozen new songs — but she kept them under wraps. Her fans found out that the wait was worth it when Williams released her new album "Emerald" earlier this year.
When Williams performs on December 27 at the World Café Live at the Queen (500 North Market Street, Wilmington, 302- 994-1400, www.queen.worldcafelive.com), she will be showcasing tunes from "Emerald" along with gems from her catalogue, which features just under 20 albums, EPs and singles in 25 years.
"The album was released in April," said Williams, during a phone interview Tuesday morning from her home in New York's Hudson Valley. "I recorded it over the winter in seven different studios in Los Angeles, Nashville, Vermont, New Jersey, Pennsylvania and New York."
Williams' last two studio albums with new songs were "In The Time Of Gods" in 2012 and "Promised Land" in 2008. "In The Time Of Gods" dealt with at Greek mythology.
"Emerald" moves in a different direction and features a number of tunes that Williams co-wrote with other artists, including Jim Lauderdale, Jill Sobule, Angel Snow and Bryn Roberts. One of the album's co-producers was the Hooters' Rob Hyman.
The album was recorded with friends such as Richard Thompson, Jill Sobule, Jim Lauderdale, the Milk Carton Kids, Lucy Wainwright Roche, Suzzy Roche and the Hooters.  It marks her debut with the UK label, Bread and Butter (Essential).
"I went so many places in making the album because it was easier for me to go to these people than have them come to me," said Williams, who taught a college course at Wesleyan University and is also the mother of a young child. "I wanted to work with the Hooters and they have their hometown studio in Pennsylvania.
"I was one of the album's producers. In all the different studios, I used six different producers. I was recording the basic tracks up the street here. On one of the songs, my co-producer wanted to go to Vermont and use Will Ackerman's studio. In Nashville, there were all these incredible musicians coming to the studio.
"The recording sessions were strewn all over the place but I wasn't worried about it being uneven. I was the least worried about masking everything uniform because the voice is the main thing. I didn't have to tweak anything. It came out very uniform.
"Two things were constants — one, there was me; two, they were my friends. Rob (Hyman) co-produced the tracks in Philly and we used Trevor Gordon Hall, a great guitarist from Phoenixville."
The album also features "Johnny Appleseed," a track written by former Clash member Joe Strummer for his later band the Mescaleros.
"All I ever want to do (as covers) are songs by fellow female singer-songwriters," said Williams. "All I usually do is (cover) songs by white British dudes like the Clash's Joe Strummer and the Kinks' Ray Davies."
Video link for Dar Williams — https://youtu.be/Se-nY2rEC6o.
The show at the World Café Live at the Queen (500 North Market Street, Wilmington, 302- 994-1400, www.queen.worldcafelive.com) will start at 8 p.m. with Lucy Wainwright Roche as the opening act. Tickets are $30.
Other upcoming shows at the Queen are Montana Wildaxe on December 26 and David Bromberg Quintet on December 31.
The Flash (102 Sycamore Alley, Kennett Square, 484-732-8295, http://www.kennettflash.org) will host "Victory Brewing Night – A Benefit For The Kennett Flash with Gas House Gorillas on December 26, Los Festingos on December 27, Arden Kind, The Subterraneans and Route Seven on January 2, and Fabio Mittino & Bert Lams on January 5.
The Steel City Coffee House (203 Bridge Street, Phoenixville, 610-933-4043, www.steelcitycoffeehouse.com) will present "Holiday Hangout at Steel City" with Eric Lee Burkert, boog, Bruda and the Dave Spencer Trio on December 26, Ben Arnold & Friends with Matt Spitko on December 31 and RFA on January 2.
Chaplin's (66 North Main Street, Spring City, 610-792-4110, http://chaplinslive.com) will host Aim 4 Grey and The Last Remark on December 26 and Cortana, Trails, Buried in the Walls, Hollow Visions and Silent Hysteria on January 2.
The Ardmore Music Hall (23 East Lancaster Avenue, Ardmore, 610-649-8389, www.ardmoremusic.com) will present Electron, Tom Hamilton's American Babies and BlendMode on December 26, Dave Patten, Michele Karmin, and Danielle & Jennifer on December 27 and Hoots & Hellmouth and George Stanford on December 30.
On December 31, there will be a "New Year's Eve (Day) Family Jam with Alex & the Kaleidoscope, Baby Loves Disco and the Studio 1200 DJs at 10:30 am. On New Year's Eve, the club will present PhillyBloco and DJ Rockwell. On January 2, the club will host Karl Denson's Tiny Universe and Swift Technique.
The Valley Forge Casino (1160 First Avenue, King Of Prussia, 610-354-8118, www.vfcasino.com) will present Redd Hotts (Dec 26) and Third Eye Blind (Dec 31).
Doc Watson's Public House (150 North Pottstown Pike, Exton, 610-524-2424, docwatsonspublichouse.com) will present a "New Year's Eve Party" with the Tommy Froelich Trio on December 31.
The Sellersville Theater (24 West Temple Avenue, Sellersville, 215-257-5808, www.st94.com) presents Beatlemania (Dec 26), Popa Chubby (Dec 27), Splintered Sunlight (Dec 28), The Mighty Manatees (Dec 29), Live Wire (Dec 30), Dr. K's Motown Revue (Dec 31), Lotus Land (Jan 2), Devon Allman Band (Jan 3) and Corey Harris (Jan 7).
A powerful new documentary film, created by former Phoenixville resident, Brian Miksis, gives us a glimpse into the world of a young, vibrant Phoenixville teenager and his friends, growing up in the 1980s. The film, entitled "Life is Fair…", debuts on December 29 at The Sellersville Theatre, as the opening event for local band, The Mighty Manatees.
World Café Live (3025 Walnut Street, Philadelphia, 215-222-1400, philly.worldcafelive.com) will have John Faye (Dec 26), Ben Vaughn Quintet (Dec 26), WCL Eighth Annual Winter Beer Festival with Whiskeyhickon Boys (Dec 27), The Slambovian Circus of Dreams (Dec 29), Philadelphia Jug Band (Dec 30), Start Making Sense (Dec 31) and In The Light (Jan 2). 
Electric Factory (421 North Seventh Street, Philadelphia, 215-627-1332, www.electricfactory.info) will have Clutch, Crobot, Valkyrie and Kingsnake on December 28 and Dark Star Orchestra on December 30 and 31.
Theatre of the Living Arts (334 South Street, Philadelphia, 215-222-1011, http://www.lnphilly.com) will have Steez Promo presents Bass Nation Featuring Bro Safari with Gladiator on December 26, Kur: it All Happened on December 29 and Jazmine Sullivan on December 31.
Fillmore Philadelphia (1100 Canal Street, Philadelphia, 215-309-0150, www.thefillmorephilly.com) will have Live At the Fillmore, the Definitive Tribute To the Original Allman Brothers Band (Dec 27), AWESOMEFEST (Dec 28), Joe Russo's Almost Dead (Dec 31), MEGA Feat. Flux Pavilion with Doctor P, LOUDPVCK & Rain Man (Jan 2) and AWESOMEFEST (Jan 4).
The Tower Theater (69th and Ludlow streets, Upper Darby, 215-922-1011, www.thetowerphilly.com) will present Govt. Mule on January 2.
Tin Angel (20 South Second Street, Philadelphia, 215-928-0770, www.tinangel.com) will present Mary Fahl on December 31 and Shaun Ruymen with Juliette Reilly on January 2.
Kung Fu Necktie (1250 N Front St, Philadelphia, 215-291-4919, www.kungfunecktie.com) will have Tremellow, The Fourth Son, The Quixote Project, and gaarth majesty (Dec 26), Hightide Hotel, Clique, Marietta, By Surprise, Messes, Jank, Christopher Walking (Dec 27), Mumblr, Shy, Low, Lost Boy, Howlish (Dec 27), The Queers, BIGWIG, The Up! Up! Ups! (Dec 28), Ma Jolie,This Is Jazz, Banquets, The Joint Chiefs of Math (Dec 30), Fame Lust's NYE 2016 Party! (Dec 31), Willam and Haus of Ham (Jan 1), First of Autumn, Socko, Wade In The Water, Dan Fahy (Jan 2), Killer Escape, RIPS, TV TRAMPS, Atomic Sky (Jan 2), and Liz de Lise, Thought Culture, Darlington, Andy McLeod (Jan 3).
Bourbon and Branch (705 North Second Street, Philadelphia, 215-238-0660, bourbonandbranchphilly.com) will host  Uptown Ezy – "Therapy Session" with DJ NoPhrillz, Ash Shakur (Dec 26), Reece Stacks, Scottie Kash, ThisIsInfinity, Janaida Marii, Mankind, Skills Gates, YNGBrizy, Wyo Jair (Dec 27), Ron Gallo, Levee Drivers, Garrett Smith, Bernhardt Family Band, Thom McCarthy (Dec 29), Upstate Rubdown and Sweetbriar Rose (Jan 3), and Dry Reef, The Big Takeover, Major Front (Jan 5).
The Voltage Lounge (421 North Seventh Street, Philadelphia, 215- 964-9602, www.facebook.com/Voltagelounge) will present The Naughty List on December 26 and Blackwater and 38 Snub with Guttersnipe, Vicious Embrace, Depreciator and Mercy  Blow (Jan 5).
Johnny Brenda's (1201 North Frankford Avenue, Philadelphia, 215-739-9684, www.johnnybrendas.com) will host Philly Loves James Brown  (Dec 26), Yuletide Edition: Hey Stupid I Quit with DJ Mary Lattimore and Special Guest DJ Rennie Jaffe (Dec 27), A Sunny Day In Glasgow, EZTV, Mercury Girls, DJ Jeff Zeigle (Dec 31), Frog Holler, Brad Hinton Band, Caroline Reese & The Drifting Fifth (Jan 2), and Girl Germs with DJs Ayne Pain and Whitknee (Jan 3).
Boot and Saddle (1131 South Broad Street, Philadelphia, 215-639-4528, www.bootandsaddlephilly.com) will present The City And I with Pocket, Seismic Thrust, Broken Beak (Dec 26), Steady Hands with Museyroom (Dec 29), Burned Out Still Glowing with Dear Forbidden, Rich People (Dec 30), NOTHING with Dark Blue, Problems  (Dec 31), Drums Like Machine Guns with SPT, Collar (Jan 1), Philly For Bernie Sanders Concert: Round 2! with Son Step, Tutlie, Tinmouth  (Jan 5) and Eliza Hardy Jones with The Dove & The Wolf (Jan 6).
MilkBoy Philly (1100 Chestnut Street, Philadelphia, 215- 925-6455, www.milkboyphilly.com) will present The Once Was, Something Like A Monument, and Are Too on December 26 and Red Alert on December 31.
PhilaMOCA (531 North 12th Street, Philadelphia, 267-519-9651, www.philamoca.org) will present Eric Slick, Lily, Old Maybe and Lucy on January 6.
Fire (412 West Girard Avenue, Philadelphia, 267-671-9298, thefirephilly.com) will have Shy Boyz, Dirty Soap Blues Band, QQQ, WhitebearBrownbear and Svvje (Dec 26),
A Tribute To The Beatles featuring Kevin Killen, Hezekiah Jones, Looseleaf Trio, Chelsea Q Mitchell, Red Skiles And The Country Ramblers, Vilebred, Aaron Von Allen, Cowmuddy, A Fistful of Sugar, members of Alright Junior and Resilient and Brian Flanagan (Dec 27), RFA, Minor Setbacks and Fiction (Dec 29), Noble Giants, Dirty Purple and King Kong and The Bleeding Hearts (Jan 3), and Keep (Jan 5).
Ortlieb's (847 North Third Street, Philadelphia, 267- 324-3348, www.ticketfly.com) will have Laughs On Philly (Dec 29), Hi Soft and Rosalio (Dec 30), Joy Riding, Sleep In, and Night Windows (Jan 2), Lord Narf (Jan 3), and The Retinas, Old Scratch and Mud Guppies (Jan 6).
Underground Arts (1200 Callowhill Street, Philadelphia, http://undergroundarts.org) will host The Return of the Legendary WNOC Christmas Show (Dec 26) and West Philadelphia Orchestra's NYE Blowout and Balkan Feast with special guests Johnny Showcase & the Mystic Ticket and Ill Doots (Dec 31).
Rrazz Room (6426 Lower York Road, New Hope, 888-596-1027, www.TheRrazzRoom.com) will present Baby Jane Dexter's "New Hope Holiday Concert" on December 26.
The American Music Theatre (2425 Lincoln Highway East, Lancaster, 800-0 648-4102, www.AMTshows.com) will present its 2015 Christmas Show on December 26 at 3 and 7 p.m.,  December 27, 28 and 29 at 3 p.m. and December 30 at 10:30 a.m. and 3:30 p.m.
On December 31, the AMT will host a "New Year's Eve Celebration" with Cirque Musica: Presented by Lancaster Symphony Orchestra featuring musical selections from Saint-Saens, Tchaokovsky, Rimsky-Korsakov, Mussorgsky, Liszt, Beethoven and Strauss.
Chameleon Club (223 North Water Street, Lancaster, 717-299-9684, http://www.chameleonclub.net) will have Shapes We Make, Consumer, Paper Castle and ghosts (Dec 26), Texas in July (Dec 27), What's Her Face, Main Street Sweep, The Early Life Forms and Ruckzuck (Dec 28), Elizabeth Fulmer, Ben & Joe, The Mellowells, Amanda Schaedler and the Noise (Dec 30), DJ Jon Gosselin and DJ Innick (Dec 30), and Medusas Disco, The Stonewall Vessels, The Skiffs, Moonstriker and Flower Garden (Jan 2).
Tellus 360 (24 East King Street, Lancaster, 717-393-1660, www.tellus360.com) will host the "Fifth Annual Mickel B-Day Bash," featuring Mike McMonagle, The Houston Roosters, The Bernhardt Family Band, and Huhn (Dec 26), Aortic Valve (Dec 26), Dave Pedrick (Dec 27),  Octavia Blues Band (Dec.28), Dave Wilson Quartet (Dec 29), Matt Wenger (Dec 30), Temple Avenue (Jan 1), The Fortunatos (Jan 2), and Willie Marble Xperience (Jan3).
Reverb (1402 North Ninth Street, Reading, 610-743-3069, www.reverbconcerts.com) will host "Chosen Ones Birthday Bash" with Sonny Chulo, Tylea Adore, Lauren Honey Coco, Mack Simmy, Baggz and Stand Up Gang on December 26.
SteelStacks (101 Founders Way, Bethlehem, 610-332-1300, http://www.steelstacks.org) will present PEEPSFEST® Family Disco Lounge (Dec 30 and 31), The Red Elvises New Year's Eve Spectacular (Dec 31), Craig Thatcher Band (Jan 2), and Three Kings Celebration (Jan 3).