From history to Santa, multiple ways to celebrate the holiday
By Denny Dyroff, Staff Writer, The Times
December 25 is just around the corner and Christmas events are everywhere. Over the next week or so, you can head in any direction and find a holiday event to attend — and maybe even a few events that are not holiday-related.
On December 19 from 6-8 p.m., Valley Forge National Historical Park (Route 23, Valley Forge, 610-783-1099, www.nps.gov/vafo) is presenting its annual March-In. The event commemorates a major happening in the American Revolution — the arrival of the Continental Army at Valley Forge in 1777.
Visitors to the park can join living history interpreters for candlelight tours and a "march" to up to Muhlenberg's Brigade. There will be demonstrations of camp life by historical re-enactors along with park staff and volunteers. The candlelight tours are a quarter-of-a-mile and the camp life demonstrations are outside so attendees should dress for weather conditions of the day.
On December 19, 1777 General George Washington's Continental Army "marched in" to Valley Forge to set up winter quarters. This annual event commemorates their arrival and determination to persevere against insurmountable hardship and difficult conditions during their six-month encampment.
There will also be a lot of activity in the Visitor Center which will be open all evening. There will be performances by the Colonial Revelers singing group and free refreshments.
Visitors will be able to watch a historic chocolate making demonstration and sample an 18th-century hot chocolate recipe featuring American Heritage Chocolate.
When December draws to a close each year, the Kimmel Center (300 South Broad Street, Philadelphia, 215-893-1999, www.kimmelcenter.org) celebrates the holidays with its "Free at the Kimmel Series."
The showcase event of the "Free at the Kimmel Series" each year is always "Tuba Christmas." This year, it will be presented on December 20.
The annual "Tuba Christmas" celebration has been such a success, the Kimmel has opted to present two performances that will feature as many as 100 local tuba, sousaphone and euphonium players who gather, rehearse and perform holiday classics — all in the same day. Performances are scheduled for noon and 5:30 p.m.
Additional "Free at the Kimmel" holiday shows include "New Year's Day Celebration!" on January 1 from 10 a.m.-6 p.m..
While the Mummers are strutting down Broad Street, visitors can take a break and ring in the New Year at the Kimmel Center. The event features great parade views, free performances and kids' activities, sneak peeks of Verizon Hall and Perelman Theater and making marks on the Kimmel Center's "Resolution Wall."
Free stage performances on the Commonwealth Plaza Stage include DJ Music, Grow-Up Great, Dancing with the Students, Steve Pullara and The Cool Beans Band, Philadelphia Ukulele Orchestra and Broadway Dreams Foundation.
Other special family activities will be Greater Philadelphia Paper Pholders, Acts of Jennius- Hoopiness, Morris Animal Refuge, Knit In for the Knitting Peace, Kris Clayton, Stacey's Face Painters, RanD' Shine, Fred J. Cooper Memorial Organ demonstrations, Black Cat Balloon Company, and ticket giveaways.
Other free events on New Year's Day will be "PNC Grow Up Great" at 11 a.m. and Fred J. Cooper Memorial Organ demonstration at 1 p.m.
"Grow Up Great" introduces kids to the vibrant world of musical theater where singing, acting, and dancing join forces to tell a story. Exciting guest artists will perform songs from the canon of great American musicals.
Kids will be able to sing along to recognizable classics and go home singing some brand-new tunes. This lighthearted program encourages kids and parents to explore their creativity as singing snowflakes, ducklings, shooting stars, and everything in between.
The Fred J. Cooper Memorial Organ demonstration will start with a 15-minute organ demonstration of the instrument's unparalleled and dramatic sounds live in Verizon Hall. Then, talented volunteers will show visitors around.
Winter solstice is an astronomical occurrence that features the shortest day and the longest night of the year. Winter solstice occurs for the Northern Hemisphere in December. This year, winter solstice falls on December 22 and there are a few area events in celebration.
On December 19, the Kennett Public Library (216 East State Street, Kennett Square, **) will present a Solstice Art & Craft Fair from 11 a.m.-3 p.m.
The library will transform into a cheerful holiday Market for the day. Local artists and crafters will be set up and selling their wares providing visitors with a great opportunity to support local crafters and purchase one-of-as-kind holiday gifts.
This year's participants include VRPink, Ceramica Artistica, Hi Buff!, Brandywine Artworks, Norah Bird Boutique, Grete Design, The Garage Girls Program, Ed Charlton, Wicked Creations and Brandywine Basics.
On December 22, the Land Conservancy for Southern Chester County will present a "Winter Solstice Celebration" at the Stateline Woods Preserve (814 Merrybell Lane, Kennett Square, 610-347-0347, http://tlcforscc.org). The event, which is slated to get underway at 5 p.m., will celebrate the longest night of the year, as well as the 150th anniversary of the end of the Civil War.
Visitors to the event will be able to listen to live music by an area choir, sit around a bonfire, drink hot chocolate and participate in the lighting the evergreen tree. All proceeds will benefit the Bucktoe Cemetery. All proceeds from the Winter Solstice Celebration will go towards the Bucktoe Cemetery. Admission is $10.
The annual "Christmas Stroll Around the Town with The Santa Band" (downtown West Chester, 610-692-6550, www.safeharborofgwc.org/html/articles/2015_Santa_Stroll.html) is slated for December 21 with participants scheduled to meet at 7 p.m. outside of Iron Hill Brewery.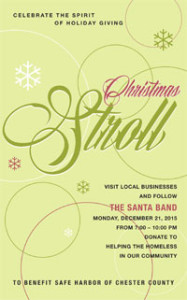 The Santa Band is a local West Chester group of musicians who have acquired a loyal following by playing holiday music and spreading cheer in local establishments during the holiday season.
With no signs of slowing down, the Santa Band has been doing its holiday celebration around West Chester for 42 years. The group, which is raising money for Safe Harbor, is seeking strollers to follow the band. There is no cost to follow the band but you will need some cash if you wish to buy one of the Santa hats that will be available for purchase during the stroll.
A popular annual holiday event in Lancaster County is Yuletide at Wheatland (President James Buchanan's Wheatland, 1120 Marietta Avenue, Lancaster, 717-392-4633, http://www.lancasterhistory.org/events/yuletide-at-wheatland).
Inspired by the literary legacy of Charles Dickens, the 2015 season of Yuletide at Wheatland performances invites transports visitors to the late 19th-century, as a fictional sequel to "A Christmas Carol" unfolds over the course of an hour with a grown-up "Tiny Tim."
In the show, Tim and his family seek inspiration and attempt to rekindle the magic of Christmases past. The story takes place on the first floor in the Presidential mansion as visitors travel from room-to-room in just 45 minutes. Performances run Fridays & Saturdays now through December 30 and are limited to 20 visitors each performance.
Another Lancaster County attraction is "Magic Lantern Show: A Victorian Christmas" at the Amish Experience Theater at Plain & Fancy Farm (3121 Old Philadelphia Pike, Bird-in-Hand, 717-768-8400, http://amishexperience.com/magic-lantern-shows/christmas-show).
Visitors are taken back in time and become part of a Victorian family's traditional Christmas Eve celebration. The family is very excited as Grandpa tells fabulous Christmas stories with the help of the amazing Magic Lantern.
The surprises and joys of the season are brought to visual delight with this collaboration between the Amish Experience and the American Magic Lantern Theater featuring classic Christmas stories and poems.
The presentation includes sing-alongs, "Parade of Toys," and a narrator delivering iconic stories and poems like "The Night Before Christmas" and "A Christmas Carol" with stunning visual images, heartfelt music and legendary storytelling.
Ticket prices range from $11.95-$16.95.
Two always-popular attractions in Lancaster County at this time of year are Choo Choo Barn — Traintown U.S.A. (Route 741 East, 226 Gap Rd, Strasburg, 717-687-7911, www.choochoobarn.com) and the National Christmas Center Family Attraction & Museum (3427 Lincoln Hwy East, Paradise, 717-442-7950, www.nationalchristmascenter.com).
Located in the heart of Amish Country, the National Christmas Center Family Attraction & Museum takes visitors on a journey through Christmases past and present. It features 20,000 square feet of life-sized, walk-through, indoor exhibits including more than a dozen main galleries and a variety of ever-changing smaller exhibits.
The galleries examine both the secular and the religious aspects of Christmas. The religious galleries are "O Holy Night," "The Art of the Nativity", and "The First Christmas."
Some of the secular galleries are "Yes, Virginia, There is a Santa," "Another Successful Night," "TudorTowne Animated Storybook Village," "Toyland Train Mountain," "1950's Woolworth's 5 & 10," "Antiques Emporium," "Images of Santa,", "Christmas around the World," "Santa's North Pole Workshop and Reindeer Barn," "A Pennsylvania Christmas," "Street of Memories" and "1950's Night Before Christmas."
Link for virtual tour of National Christmas Center —
https://www.google.com/maps/@40.0022728,-76.0849503,3a,75y,31.78h,90t/data=!3m7!1e1!3m5!1sWNudMzvC89MAAAQqXPAuLw!2e0!3e2!7i13312!8i6656!6m1!1e1.
Tickets are $12.50 for adults and $5 for children at the National Christmas Center Family Attraction & Museum.
Choo Choo Barn — Traintown U.S.A., which is located in Strasburg just a stone's throw from the Railroad Museum of Pennsylvania and the Strasburg Railroad, has been a destination for train fans for decades.
Founded more than 50 years ago, Choo Choo Barn — Traintown U.S.A. presents a 1,700 square foot train layout featuring over 150 hand-built animated figures and vehicles and 22 operating trains. The majority of trains that run on the display are "O Gauge" trains but there are also some HO Gauge trains as well as one N Gauge train.
Several of the original pieces and animations are still on the display today, including the ski slope, ski lodge and ice skaters, Dutch Haven, the Willows, the two-lane moving highway (in front of Dutch Haven), the farm with the tobacco barn, the Strasburg Fire House, the church beside Dutch Haven and a few other houses.
The layout features a special Christmas display now through December 31. The homes and businesses along the tracks have been decked out with holiday trim. And, there are 54 hidden Santas — one for each year the site has been open — located around the display for visitors to find.
Video link for Choo Choo Barn — https://youtu.be/h71UMWCmRBI.
Tickets are $7.50 for adults and $4.50 for children Ages 3 and under) at Choo Choo Barn — Traintown U.S.A.
There are also a number of holiday events featuring bigger trains — full-sized trains, many of which are powered by steam locomotives and all of which have Santa Claus as their special guest passenger.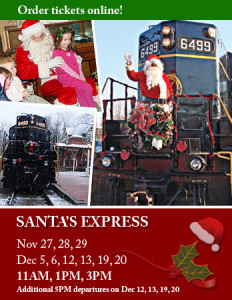 One of the best train rides with Santa Claus is the one presented by the West Chester Railroad (Market Street Station, West Chester, 610-430-2233 or www.westchesterrr.net).
The special "Santa's Express" trains (which feature heated cars decorated for the holidays) will run on December 19 and 20 at 11 a.m., 1 and 3 p.m. There will be additional departures at 5 p.m. on December 19 and 20.
Adult fare for the West Chester Railroad trips is $22. Tickets for children (ages 2-12) are $16 while toddlers (ages 9-23 months) get to ride for $6.
The Wilmington & Western Railroad (2201 Newport Gap Pike, Wilmington, Delaware, 302-998-193, www.wwrr.com) will run its "Santa Claus Express" on Saturdays and Sundays between Thanksgiving and Christmas. Tickets are $18 for adults, $17 for senior citizens and $16 for children (ages 2-12).
The tourist rail line will also be running special "Holiday Night Express Trains", featuring a peaceful evening ride in the railroad's 1929 Doodlebug rail car. Tickets for these trains, which run now through December 30, are $12 for adults, $11 for senior citizens and $10 for children.
The New Hope & Ivyland Railroad (32 Bridge Street, New Hope, 215-862-2332, www.newhoperailroad.com) is operating its "North Pole Express" now through January 3. Tickets are $48.95 for adults, $46.95 for children (ages 2-11) and $14.95 for toddlers.
The Colebrookdale Railroad (www.dynamicticketsolutions.com) has several options for holiday-related excursion rides.
The "Santa Claus Train" will be running several times a day on December 18-23. Riders will be able to sip complementary hot cocoa, enjoy Christmas cookies and sing favorite carols as the Secret Valley passes by the window.  Santa brings a gift for every child, and every child has an opportunity to give their Christmas letter to him.
The "'Twas The Night Before Christmas Train" will run on December 18-23 at 6 p.m. each night. These special evening trains bring the storybook magic of the season to life. Riders can sip complimentary hot cocoa as a narrator reads "'Twas The Night Before Christmas."
Passengers can enjoy Christmas music and the comfort of the railroad's Edwardian-era cars as the holiday lights of the Secret Valley roll past the window.  Santa will be onboard the train with a gift for every child.
It is approximately a two-hour round trip for either train excursion. Tickets are $35 for adults, $21 for children (ages 2-12), $30 for seniors (65 and older) and $8 for toddlers (under 2; must be held; no seat).
One of the most elaborate model train layouts in the Delaware Valley can be found at the Morris Arboretum (100 Northwestern Avenue, Chestnut Hill, 215-247-5777, www.business-services.upenn.edu/arboretum/index.html).
The display, which is open to the public now through January 3 in the winter garden of the Morris Arboretum, has a quarter-mile of track featuring seven loops and tunnels with 15 different rail lines and two cable cars, nine bridges (including a trestle bridge you can walk under) and bustling model trains.
Admission to the Morris Arboretum is $16 for adults, $14 for seniors (65 and older) and $8 for students and military.
Model trains will also be featured at "A Brandywine Christmas." The family-oriented annual holiday event is running now through January 3 at the Brandywine River Museum (Route 1, Chadds Ford 610-388-2700, www.brandywinemuseum.org).
The Brandywine River Museum of Art Railroad includes nearly 1,000 pieces, from locomotives, passenger and freight trains, to clockwork sets and trolleys that pass through a small town, a farm, factories and even a carnival.
Admission to the museum is $15 for adults, $10 for seniors (65 and older), $6 for students with ID and children (ages 6-18) and free for children (ages five and under).
Horse-drawn carriage rides (http://historickennettsquare.com) will be offered on December 21 from noon to 3 p.m. in Kennett Square. The rides begin on State Street at the Genesis walkway and tickets are $5.
Longwood Gardens (Route 1, Kennett Square, 610-388-1000, www.longwoodgardens.org) is presenting "A Longwood Gardens Christmas" now through January 10.
It features spectacular lights, lavish decorations, holiday music and colorful displays featuring thousands of brilliant poinsettias, brightly decorated trees and fragrant flowers — all inside the heated Conservatory.
The colorful annual event also has a lot of outdoor attractions such as fountain shows and nighttime light displays. Longwood's Christmas celebration also includes a wide array of seasonal music — holiday concerts, organ sing-alongs and carillon performances.
When darkness arrives at Longwood, a night-blooming garden of more than a half-million lights strung on close to 100 trees with approximately 40 miles of wire comes to life. A carillon with 62 cast bells plays holiday music every half hour during daylight hours. Longwood's Open Air Theatre fountains dance to holiday music each half hour — temperature permitting.
As always, admission by "Timed Ticket" — tickets issued for specific dates and times. Timed ticketing limits the number of people in the Gardens at any given time and allows guests to enjoy minimal lines and a better viewing experience. There are different prices for "Peak" and "Off Peak" times.
Visitors to "A Longwood Gardens Christmas" can also check out Longwood's Garden Railway — a whimsical display set into motion with G-scale model trains. This is the 14th year that the railway has delighted visitors with special water features and custom trains traveling in and out of bridges and tunnels.
Admission to Longwood Gardens is $20 (non-peak), $27 (peak) for adults, $17/$24 for seniors (ages 62 and older) and $10/$13; students (ages 5-18).
The annual multi-day holiday event at Herr's Snack Food Factory (20 Herr Drive, Nottingham, 610-932-9330, www.herrs.com) is in full swing now. "Christmas Snacktacular," which runs now through January 3, features a variety of activities nightly. The area around the factory site will be illuminated with thousands of lights and holiday displays.
A fun — and somewhat different — way to celebrate the holidays is to go on a "Holiday Hayride" at Arasapha Farm (1835 Middletown Road, Gradyville, 610-459-2944, www.holidayhayride.com).
Arasapha Farm is featuring its "Holiday Hayride" on December 18-23, 26 and 27 from 5:30-8:30 p.m. each night — weather permitting. Tickets are $15 for adults, $12 for seniors and $10 for children (ages 2-8). Pictures with Santa are $15.
Guests will ride on sound-equipped hay wagons through a six-acre holiday wonderland featuring huge light displays, decorated trees and buildings, a variety of Christmas scenes, live reindeer and a beautifully animated Santa's workshop. The hayride last about 20 minutes and is choreographed with all the favorite songs of the season.
After the wagon ride, guests are encouraged to gather around the bonfire to enjoy hot beverages. There also will be opportunities to have pictures taken with Santa and check out the live nativity scene that features real animals and actors.
"Christmasland at Linvilla" converts a summertime destination for home-grown produce into a sparkling winter wonderland. The popular annual event at Linvilla Orchards (137 West Knowlton Road, Media, 610-876-7116, www.linvilla.com) is running now through December 23.
Visitors will be able to cut their own Christmas trees, or, if not so inspired, purchase them at the shop — which also features other decorations, including holiday wreaths. Christmasland features freshly-cut trees, greens and holly, poinsettias, hand-made wreaths and a large variety of children's toys and collectables.
Santa and his elves will be stopping by every Saturday and Sunday to visit his friends in Christmasland from 1-3 p.m. And, there will be caroling Hayrides Saturday evenings in December that include the ancient tradition of Wassailing, singing Christmas Carols around a campfire and roasting marshmallows.
 "Yuletide at Winterthur" is always one of the best holiday events in the area. This year's 37th annual staging of the event is running runs now through January 3 at Winterthur Museum, Garden & Library (Route 52, Wilmington, Delaware,800-448-3883, www.winterthur.org).
In celebration of 30 years of Winterthur's famous dried-flower tree, the site is showcasing this annual favorite in the Conservatory, where it will be surrounded by a living tribute of flowers and blooming plants.
In honor of another exhibition — "A Colorful Folk" — there are displays that explore holiday practices of the Pennsylvania Germans, who introduced Americans to such seasonal standards as the Christmas tree, the charity bazaar, and the tradition of the gift giver.
Special family activities include "Brunch with Santa" (December 19 and 20) and the "Yuletide Touch-It Room" (Monday–Friday, 2:30-4:30 p.m.; weekends, 12:30-4:30 p.m.). Timed Yuletide Tour reservations are required. Admission to Yuletide at Winterthur is $20.
The Historic Odessa Foundation's 2015 Christmas Holiday Tour appeals to kids of all ages. The tours will be presented now through December 31 in Odessa's historic district (Main Street, Odessa, Delaware, 302-378-4119, www.historicodessa.org). The Historic Houses of Odessa's National Historic Register Wilson-Warner House has been transformed into vignettes inspired by Lewis Carroll's famous book, "Alice's Adventures in Wonderland."
This year marks the 150th anniversary of "Alice's Adventures in Wonderland," which was published in time for Christmas in 1865. Visitors to the Historic Houses of Odessa will be transported into Alice's dream through each of the period rooms of the foundation's 246-year-old Wilson-Warner House made.
"Holidays at Hagley" is another of the Brandywine Valley's most popular holiday attractions in this area every year. The exhibit, which is included with regular admission, is running now through January 3 at Hagley Museum and Library (Route 141, Wilmington, Delaware, 302-658-2400, www.hagley.org).
This year's edition of "Holidays at Hagley" features tours of Eleutherian Mills, which is the first du Pont family home built in America. The tours, which will be presented each day from 10a.m.-4:30 p.m., feature decorations in a combination of styles from both the 19th and 20th centuries.
Lace decorations add to the ambiance of Hagley's annual holiday exhibition. The theme this year at Eleutherian Mills residence is "A Feminine Touch."
Well-loved displays returning include the elaborate Twelfth Night celebration in the dining room and the Victorian library's Christmas for children with its table-top tree surrounded by toys and games. Of course, there will be warm glowing lights and poinsettias.
Admission is $14 for adults, $10 for seniors and students and $5 for children (ages 6-14).
Nemours Mansion & Gardens (Route 141 South, Alapocas Drive, Wilmington, Delaware, 302-651-6912, www.nemoursmansion.org) is welcoming visitors for the Christmas holidays with special holiday-themed tours. The three-hour tours are held Tuesdays through Sundays and run now through January 3.
Originally constructed in 1910, Nemours Mansion is one of Delaware's grandest buildings and includes the largest formal French garden in North America.
During the holiday period, the guided tours will include several stories of the house and part of the gardens. Many of the rooms featured in the tour will be decorated as they would have been when DuPont resided there in the early 1900s while some will retain their traditional period decorations.
Tickets for the tour at Nemours are $15.
This is the time of year for productions of the classic ballet "The Nutcracker" and one of the best in the area is presented by the Brandywine Ballet. The 2015 production marks the 36th year the local company has been presenting its version of "The Nutcracker."
The ballet is based on E.T.A. Hoffman's tale "The Nutcracker and The Mouse King" and set to a score by Peter Ilyich Tchaikovsky. With its familiar music and energetic dance numbers, "The Nutcracker" is a show that appeals to audiences of all ages.
The Brandywine Ballet's "The Nutcracker" is a professional show that features skilled dancers, lively choreography, colorful costumes and sparkling sets. The show will run now through December 20 at West Chester University's Emilie K. Asplundh Concert Hall (700 South High Street, West Chester, 610-696-2711, www.brandywineballet.org).
Performances of the ballet are scheduled for December 18 at 10 a.m., December 19 at noon and 4 p.m., and December 20 at 2 p.m. Tickets are $25, $32 and $42 with the morning performances priced at $18.
The Brandywine Ballet will also host a "Nutcracker Tea" on December 19 and 20.
This festive activity, which will be held in the library of Asplundh Hall, is an opportunity for youngsters to join Clara, The Sugar Plum Fairy and other characters of "The Nutcracker" for a special pre-performance brunch featuring tea sandwiches, fruit tray, cookies and favors. Tickets for the tea event are $25.
Visitors are invited to experience the magic of the holidays at the Franklin Square Holiday Festival (Franklin Square, Sixth and Race streets, Philadelphia, www.historicphiladelphia.org). Now through December 31, there will be an amazing display of lights at the Electrical Spectacle Holiday Light Show.
Inspired by Benjamin Franklin's electrifying genius, the Electrical Spectacle Holiday Light Show features more than 50,000 lights that shimmer, dance, and illuminate the Square to a soundtrack of holiday classics performed by The Philly POPS in two alternating shows every 30 minutes.
The festival will also offer comfort food, authentic German beers, and hot beverages at Ben's Bites & Brews and gift shopping at the Holiday Market.
Video link for Electrical Spectacle — https://www.youtube.com/watch?feature=player_embedded&v=b4dQHm5GX1s.
All throughout Europe, it is common to see Christmas villages erected in downtown locations of big cities. These villages are temporary sites that feature live music, a variety of holiday attractions and a large number of specialized vendors.
Philadelphia is keeping pace with the European cities with a Christmas village of its own — a special site that will be open until December 27.
 "Christmas Village in Philadelphia" (Broad and Market streets, Philadelphia, 215-391-3017, www.philachristmas.com) is set up each holiday season in Love Park, which is located on the west side of City Hall. The free outdoor holiday market eventis modeled after the traditional Christmas Markets in Germany.
Vendors selling traditional European food, sweets and drinks are set up in 60 wooden booths and timber houses that form a medieval village. They will also offer a unique shopping experience with international holiday gifts, ornaments, jewelry and high-quality arts and crafts.
Bethlehem, which is known as the "Christmas City," presents Christkindlmarkt Bethlehem (PNC Plaza at SteelStacks, 645 East First Street, Bethlehem, 610-332-1300, http://www.christmascity.org) now through December 20.
Christkindlmarkt Bethlehem showcases aisles of exquisite handmade works by the nation's finest artisans. The market also features live performances of Christmas music and vendors with an amazing variety of tasty food items.
Two of Montgomery County's scenic historic sites are ready to begin celebrating the 2014 Christmas holiday season this weekend.
Pennypacker Mills (3 Haldeman Road, Perkiomenville, 610- 287-9349, www.historicsites.montcopa.org) is hosting "Victorian Holiday Tours" now through January 10 while "Twelfth Night Tours at Pottsgrove Manor" (100 West King Street, Pottstown, 610-326-4014, www.historicsites.montcopa.org) are running now through January 10.
Pennypacker Mills will offer free tours of the 18-century mansion used by General George Washington as temporary headquarters during the Revolutionary War. The event at Pottsgrove Manor features guided tours through an elegant 18th-century Georgian mansion that is decked out in period holiday decorations.
The Christmas season has arrived at Peddler's Village (Routes 202 and 263, Lahaska, 215-794-4000, http://peddlersvillage.com) and village shops are open until 9 p.m. with a distinctive assortment of merchandise, special promotions and refreshments.
The Grand Illumination showcases thousands of tiny white lights outlining the Village's buildings, colorful lights with less-than-common colors (teal, peach, and fuscia) adorning the trees and shrubs and a landscaped backdrop featuring a group of reindeer glowing in white light. The site also is hosting a "Gingerbread House Competition and Display."
Koziar's Christmas Village (782 Christmas Village Road, Bernville, 610-488-1110, www.koziarschristmasvillage.com) has started its 68th annual season and it will remain open every night through January 2 — including Christmas Eve, Christmas Night, New Year's Eve and New Year's Night.
The village is a visual wonderland with a large amount of holiday displays and special attractions including "Santa's Post Office," "Christmas in the Jungle," "Toy Maker and his Toy Shop" and "Christmas in Other Lands. Other attractions are a huge model train display, a toy shop, a country kitchen, indoor and outdoor Christmas displays. Admission to Christmas Village is $10 for adults, $9 for seniors (65 and older) and $8 for children (ages 4-10).
The American Music Theatre (2425 Lincoln Highway East, Lancaster, 800-0 648-4102, www.AMTshows.com) has its holiday show "Deck the Halls" running now through December 30. The show features spectacular vocal harmonies, elaborate scenery, lively musical arrangements, impressive dancing, the music of the AMT Orchestra, elegant costumes and a theater decked out with holiday decorations.
The Rainbow Dinner Theatre (3065 Lincoln Highway East, Paradise, 800-292-4301, www.rainbowcomedy.com) is presenting its holiday production now through December 27.
Amusement parks may be a huge summertime attraction but they also hold their own as a destination during the Christmas holiday season.
Now through December 31, "A Very Furry Christmas" will be presented by Sesame Place (100 Sesame Place, Langhorne, 215-752-7070, www.sesameplace.com). The event is a one-of-a-kind family-friendly celebration with everyone's favorite furry friends — Grover, Oscar and the rest of the gang from Sesame Street. Admission is $25 online and $30 at the gate.
"Christmas Candylane," which is the annual holiday event at Hersheypark (100 West Hersheypark Drive, Hershey, 800-HERSHEY, www.hersheypark.com), is running now through December 31. Tickets are $18 per person.
Visitors to Hershey can also experience the winter wonderland called "Hershey Sweet Lights, A Holiday Drive-Thru Spectacular." The attraction, which has an admission fee of $24.15 on Fridays and Saturdays and $19.15 the rest of the week, is a two-mile drive through wooded trails featuring approximately 600 illuminated, animated displays.
Dutch Wonderland Family Amusement Park (2249 Route 30 East, Lancaster, 866-386-2389, www.dutchwonderland.com) is hosting its "Dutch Winter Wonderland" from Now through December 30 on Saturdays, Sundays and select weekdays. Tickets are $11.99 in advance and $13.99 at the gate.