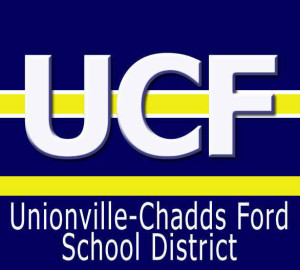 EAST MARLBOROUGH — The Unionville-Chadds Ford Board of Education held both its annual reorganization meeting, including the swearing in of five recently elected board directors, as well as a brief regular meeting to close out the calendar year and offer the first passage of a very preliminary 2016-17 budget.
Reelected board directors Carolyn Daniels, Robert Sage, Victor Dupuis, Gregg Lindner and board newcomer John Murphy were all sworn to office to start the organizational meeting. Dupuis was reelected as board president without any other candidates being nominated. Jeff Hellrung was elected as board Vice President, winning 7-2 over Steven Simonson, the only other nominee for the post.
After a handful of other routine procedural votes, the board moved into regular session.
In addition to approving the purchase of a truck, approving a handful of personnel matters and approving an agreement to jointly purchase heating oil with the Chester County Intermediate Unit, the board also took up the first draft of the proposed 2016-17 budget.
Typically, the board gives approval to a proposed preliminary budget in January, but because of 2016 being a presidential election year (with the resulting April primary instead of one in May as is the norm in all other years — where any school budget referendum would have to be held), the board needed to start the budget process in December.
The very early budget of $83,679,685 would raise taxes beyond the state Act 1 limit, with milage increases of 5.59% in Chester County and 5.94% in Delaware County. District officials admit that the final budget will look much different — as the board evaluates proposed spending increases and the district looks to make cuts. The budget would require some $1,170,000 in cuts to comply with the Act 1 limits, assuming all exceptions for pension costs and special education were taken.
"This leaves all doors open to us except going to referendum," Superintendent of Schools John Sanville said. "There will be some hard work to do with this budget."
Sanville noted one of the current problems is that the district not only has no idea what the state funding for the 2016-17 school year will be, but that it doesn't have any idea of what the state funding for the current school year will be and whether the current budget will end up with a surplus — because of the ongoing state budget stalemate. Under state law, the state is supposed to have a final budget by June 30, but the state legislature and Gov. Tom Wolf have not been able to negotiate a budget framework.
Dupuis expressed frustration at the state legislature's inability to pass a budget.
"I am appalled our state representatives cannot pass a budget, yet we are required to pass our budget," he said. He said he hoped that the community would hold state legislators accountable in next year's elections.
The district's Director of Business and Operations, Robert Cochran noted that this budget is roughly in the "same ballpark" as last year, in terms of how much in cuts and/or transfers of reserve funds would be needed to comply with state tax increase limits.
The big areas of increase come in a few areas in the proposed budget. $1.139M would be spent on requested new staff, while pension costs are slated to increase by $1.583M. Staff raises and increases in healthcare costs amount to roughly another $1 million combined. The total proposed increase — likely to drop before final adoption in June — is $4,379,500.
The next step for the board will be to adopt a preliminary budget — and determine how much exceptions out of an estimated $855,442 ($569,810 in pension costs and $312,632 in special education costs) will be applied for — on Jan. 25, 2016. Budget hearings are planned for May, with proposed final budget adoption on May 16 and final budget adoption on June 20.