From cookies to meals, what we cook at the holidays helps define the time of year
By Cathy Branciaroli, Food Correspondent, The Times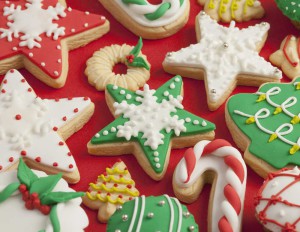 Recently, friends came to my house to share holiday treats and stories of their family food traditions.  Their recipes hold long-treasured memories kept alive by us for the next generation.
While we come from different places — Hungary, Italy, the Ukraine, Poland, or Puerto Rico — the stories are similar.  Some of them are about great cooks, some about those who could not cook at all.   Some of the stories are wistful, like longing for the crusciki recipe that died with my friend's mom.  Some are joyful, like enjoying rice pudding with coconut and cinnamon.
It's the rare family that doesn't have some tradition to share, from sitting around the table all day making pierogies, to sharing twelve dishes for the twelve Apostles on Christmas eve, to enjoying a whole roasted pig wrapped in green banana leaves.
A group of my writing friends just posted a round up of their family holiday baking recipes and I would like to share their traditions. The 50 (!) recipes can be found at #Cookielicious but here is a selection that my friends wanted to share.
Nicole @ Daily Dish
This is this friend's favorite time of year. She loves the lights, he sounds, the music and most of all, she loves the baking. These Frosted Ginger Spice Cookies fill her house with the aroma of Christmas every time she bakes them. http://dailydishrecipes.com/frosted-ginger-spice-cookies/#ixzz3t55aURz0
Renee Dobbs
These apricot oatmeal cookies are to die for….
http://magnoliadays.com/2015/amaretto-apricot-oatmeal-cookies/
Theresa Greco
At the gym Theresa shares recipes. That's how she got her first taste of Zimtstern, a traditional German cookie baked during the holiday season. Shaped like stars and topped with a meringue icing,
http://www.foodhuntersguide.com/2012/12/eating-whole-foods-cinnamon-stars-for.html
Liz Hazenbacker
Her kids enjoy helping her make them, as well as being official taste testers. The cowboy cookie is full of flavor with the addition of chocolate chunks, coconut, pecans and oats. Perfect with a tall glass of cold milk.
https://partiespartiesparties.wordpress.com/2015/11/28/cowboy-cookies/
Teri Schuler
Although pizzelles are an Italian specialty, this friend helped her German-born neighbor make oodles and oodles of these cookies to give to friends.
http://www.thefreshmancook.com/2015/11/pizzellescookielicious-exchange-party.html
Sara DeKeeuw
These Cranberry Orange Rugelach cookies signal the start of holiday baking in this house.  The smell of orange zest and warm cranberry jam means it's time to break out the Christmas decorations and sing favorite Christmas carols!
http://myimperfectkitchen.com/cranberry-orange-rugelach-cookies/
Erica Acevodo
My own mother made these but we called them nut balls.
http://thecrumbycupcake.com/nanas-russian-teacakes-cookielicious/
Sandi Gaertner
Finally a gluten free option to add to the collection:
http://www.fearlessdining.com/2015/11/27/gluten-free-nutella-linzer-cookies-cookielicious/
Cathy Branciaroli also writes about her adventures in the kitchen on her blog Delaware Girl Eats