And Christmas cheer gets into full swing this weekend
By Denny Dyroff, Staff Writer, The Times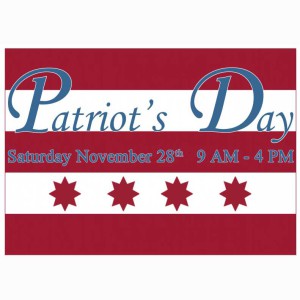 "Patriot Day" is celebrated in September to remember those lost on 9.11 and New England has "Patriots' Day," which is celebrated in April to commemorate the battles of Lexington and Concord.  New England also has the NFL team the New England Patriots and Patriots' fans are prone to celebrating all year.
The Brandywine Valley has "Patriot's Day" — a special celebration that will be held from 9 a.m.-4 p.m. on November 28 at the Brandywine Battlefield (Route 1, Chadds Ford, 610-459-3342, http://brandywinebattlefield.org).
Visitors to the park are given the opportunity to step back in time to a small outpost in the area in the winter of 1777. The event will feature Colonial soldiers from 1st DE and 9th PA Light Infantry and period interpreters. There will be a presentation by General George Washington (portrayed by biographer Carl Closs) at 2:30 p.m.
Activities include musket firing demonstrations, exterior tours of the historic Gilpin House, a blacksmith, house tours and demonstrations of 18th-century medical "experts," a children's musket drill, and a discussion of 18th-century artillery.
There will also be a lecture on the Battle of the Brandywine by local author/historian Bruce Mowday, a lecture by Daniel Grimes on the Hessians and an appearance by Benjamin Franklin with demonstrations of some of his inventions.
The park is free to walk around and use. Tickets for the house tour, museum and film are $8 for adults, $7 for seniors, AAA and AARP and $5 for children (ages 6-17).
Are you ever gripped by a burning desire to get to the top.
Well, beginning November 28, if you take a trip to Center City Philadelphia, you can get to the top.
One Liberty Observation Deck (1650 Market Street, Philadelphia, 215-561-3325, https://www.phillyfromthetop.com), which will be one of the city's most accessible observation decks, will officially open on November 28.
Visitors to the observatory deck, which is located on the 57th floor of One Liberty Place, will have access to breath-taking views of the cityscape. Situated 883 feet above street level, the observatory presents a 360-degree view of Center City
One Liberty Observation Deck, which opens November 28 at 10 a.m., will be open 365 days a year from 10 a.m.-10 p.m. every day. Ticket prices start at $14 for children and $19 for adults.
On November 27 and 28, the Academy of Natural Sciences of Drexel University (1900 Benjamin Franklin Parkway, Philadelphia, 215-299-1000, www.ansp.org) is hosting a special event called "Dinosaur Days."
Visitors will be able to celebrate dinosaurs and their closest living relatives — birds — with a holiday weekend of family fun at the Academy of Natural Sciences. Attendees can explore the world of the dinosaurs, examine real fossils up close, meet live birds, and talk with dinosaur experts.
The event will also features fun games and crafts that are guaranteed to enlighten even the wisest dinosaur experts in the family. And, it is free with museum admission.
The list of special activities includes "Live Animals of the Academy," "Rad Reptile Relatives: Dandy Dinos and Bodacious Birds," "Live Animals of the Academy,"
"Dinosaur Dissection," "Fossil Forensics," "Reptiles: The Beautiful and the Deadly" and "Closer Look: Shrimp and Shells."
Museum admission is $18.95 for adults and $14.95 for children.
The holiday season will officially arrive in Kennett Square on November 27 when Downtown Kennett Square hosts the town's annual Holiday Light Parade and Open House (Downtown Kennett Square, 610-444-8188, www.historickennettsquare.com).
Festivities begin at 5:45pm with dance performances and the parade is scheduled to begin at 6:15 p.m. Santa and Mrs. Claus are slated to arrive at 7 pm. Children are then invited to take a gift bag around to various merchants to pick up free gifts.
Santa Claus and his wife will serve as grand marshals for the parade which will be followed by the lighting of the town Christmas tree. There will be holiday music on the streets and many of the borough's shops will stay open late and offer refreshments.
State Street will close at 5 p.m. The parade route travels east on State Street from Center to Broad Street. Music by a DJ will be filling the air near the corner of Union and State Street. Santa and Mrs. Claus will arrive at the end of the parade and get seated near 126 E. State Street.
Small Business Saturday is the day Kennett Square celebrates the Shop Small movement to drive shoppers to local merchants across the United States. Visitors on November 28 are invited to enjoy Kennett Square's downtown area featuring locally owned small businesses.
The event also features live performances of seasonal tunes by the Brandywine Singers on November 28 from 3-6 p.m. The free caroling events with the Brandywine Singers will also be held on December 5 and 12.
Horse-drawn carriage rides will be offered on December 6, 13, 20 and 27 from noon to 3 p.m. The rides begin on State Street at the Genesis walkway and tickets are $5.
Santa Claus is known for riding in parades and for traveling by sleigh. But, these are far from the jolly old guy's only means of transportation. He also makes visits using a variety of modes such as helicopters, horse-drawn carriages, fire trucks, open-air convertibles and trains.
There is something special about riding on a train that is being pulled by a steam locomotive. Almost everyone enjoys the experience — even Santa Claus. This year, Santa will be visiting a number of the areas tourist railroads to take special rides with his friends.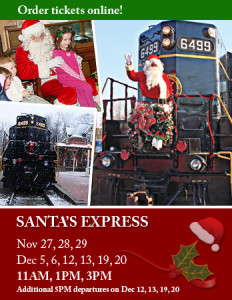 One of the best train rides with Santa Claus is the one presented by the West Chester Railroad (Market Street Station, West Chester, 610-430-2233 or www.westchesterrr.net).
The special "Santa's Express" trains (which feature heated cars decorated for the holidays) will run on November 27, 28 and 29 and December 5, 6, 12, 13, 19 and 20 at 11 a.m., 1 and 3 p.m. There will be additional departures at 5 p.m. on December 12, 13, 19 and 20.
The 90-minute journey on the trail line's heated decorated train travels through the Chester Creek Valley. Santa Claus will be greeting everyone at Market Street Station and then going along for the ride to Glen Mills. Once at Glen Mills, passengers can disembark, explore the historic station and take advantage of photo opportunities on Santa's lap inside the station. Live music will be provided by Greg Wright.
Adult fare for the West Chester Railroad trips is $22. Tickets for children (ages 2-12) are $16 while toddlers (ages 9-23 months) get to ride for $6.
The Wilmington & Western Railroad (2201 Newport Gap Pike, Wilmington, Delaware, 302-998-193, www.wwrr.com) will run its "Santa Claus Express" on Saturdays and Sundays between Thanksgiving and Christmas. Tickets are $18 for adults, $17 for senior citizens and $16 for children (ages 2-12).
Santa and Mrs. Claus will be riding along with passengers on the steam-powered 90-minute round trip to Ashland Station. He will be greeting everyone on board and offering chocolate treats to the youngsters. Santa will also be posing for pictures with his fans.
The tourist rail line will also be running special "Holiday Night Express Trains", featuring a peaceful evening ride in the railroad's 1929 Doodlebug rail car. Tickets for these trains, which run from December 11-30, are $12 for adults, $11 for senior citizens and $10 for children.
The Strasburg Rail Road (Route 741, Strasburg, 717-687-7522, www.strasburgrailroad.com) is running its "Santa's Paradise Express" from November 27 until December 19. Santa will be the featured guest on each ride from Strasburg to Paradise and back.
The rotund guy in the red suit will be greeting passengers, shaking hands, posing for photos and giving a treat to each child. After the train ride, children are treated to storybook readings of holiday classics. Visitors of all ages can also enjoy a ride aboard the Tinsel Trolley, a self-propelled motor car.
The Strasburg Railroad will also be running its "Night Before Christmas" train on November 27 and December 4, 11 and 18.
This very special train recreates the excitement and anticipation of Christmas Eve. A reader dressed in a Victorian nightshirt and cap will read Clement Clarke Moore's classic poem "The Night before Christmas" as the train rolls along. After the poem is read, passengers can enjoy a treat of milk and cookies.
Children are also treated to storybook readings of holiday classics aboard the stationary heated caboose and visitors of all ages can enjoy a ride aboard the Tinsel Trolley, a self-propelled motor car. In the spirit of the season, kids may come dressed in pajamas.
Tickets for rides on the Strasburg Railroad are $17 for adults, $11 for children (ages 3-11) and $3 for toddlers (under age 3).
The New Hope & Ivyland Railroad (32 Bridge Street, New Hope, 215-862-2332, www.newhoperailroad.com) is operating its "North Pole Express" now through January 3. Tickets are $48.95 for adults, $46.95 for children (ages 2-11) and $14.95 for toddlers.
Passengers can ride the rails with Santa, Mrs. Claus and a group of holiday revelers. Children and adults of all ages can sip hot cocoa and enjoy cookies while Santa visits with each child and presents them with a special gift. Local musicians will be on board to play and sing Christmas carols. Additionally, children are encouraged to come dressed in the pajamas.
Christmas trains also come in a smaller variety. Model railroad displays and the Christmas holiday season have been linked together since a time before even your parents were even kids.
One of the most elaborate model train layouts in the Delaware Valley can be found at the Morris Arboretum (100 Northwestern Avenue, Chestnut Hill, 215-247-5777, www.business-services.upenn.edu/arboretum/index.html). The popular Garden Railway Display that has become a summer fixture at The Gardens at Morris Arboretum returns again for a special holiday display.
The display, which is open to the public now through January 3 in the winter garden of the Morris Arboretum, has a quarter-mile of track featuring seven loops and tunnels with 15 different rail lines and two cable cars, nine bridges (including a trestle bridge you can walk under) and bustling model trains.
The buildings and the display are all made of natural materials — bark, leaves, twigs, hollow logs, mosses, acorns, dried flowers, seeds and stones — to form a perfectly proportioned miniature landscape complete with miniature rivers. Philadelphia-area landmarks are all meticulously decorated for the holidays with lights that twinkle.
Admission to the Morris Arboretum is $16 for adults, $14 for seniors (65 and older) and $8 for students and military.
Santa Claus will also make an arrival by air on December 12 when he visits the American Helicopter Museum (1220 American Blvd., West Chester, 610-436-9600, www.helicoptermuseum.org). Children will be able to stand outside and watch when Santa arrives in a helicopter — at 11 a.m. and again at 1:30 p.m. Tickets are $10 per person.
Inside the museum, youngsters can get their visit with Santa and tell him what items are on the holiday wish list. Children will also be able to enjoy Christmas activities and refreshments. As an added attraction for the entire family, helicopter rides will also be available throughout the day — weather permitting. Tickets for the ride are $40 per person.
"A Brandywine Christmas", which runs from November 27-January 3 at the Brandywine River Museum (Route 1, Chadds Ford 610-388-2700, www.brandywinemuseum.org), is an annual event that is fun for the entire family.
The museum's ever-popular "critter" ornaments will be used to decorate holiday trees, wreaths and diorama settings throughout the museum. The intricately designed ornaments are made from all-natural materials by museum volunteers and have found homes on trees at the White House and the Smithsonian Institution.
The well-attended annual "Critter Sale" is scheduled for December 5 and 6 from 9:30 a.m.-4:30 p.m. each day.
"A Brandywine Christmas" also features an extensive O-gauge model. Five moving trains operate at all times and include a 60-car freight train winding past a village, stone quarry, oil refinery, mountains, Herr Foods plant, running waterfall and animated skating scene.
Admission is $15 for adults, $10 for seniors (65 and older) and $6 for children.
There are plenty of reasons to take the short drive to Delaware this holiday season with tax-free shopping on everything at the top of the list. Another major reason is the annual staging of "Holidays at Hagley" — an event that is always one of the most eagerly anticipated holiday attractions in this area every year.
The popular Brandywine Valley exhibit, which is included with regular admission, opens today and continues through January 3 at Hagley Museum and Library (Route 141, Wilmington, Delaware, 302-658-2400, www.hagley.org).
This year's edition of "Holidays at Hagley" features tours of Eleutherian Mills, which is the first du Pont family home built in America. The tours, which will be presented each day from 10a.m.-4:30 p.m., feature decorations in a combination of styles from both the 19th and 20th centuries.
Lace decorations add to the ambiance of Hagley's annual holiday exhibition. The theme this year at Eleutherian Mills residence is "A Feminine Touch."
For centuries, girls and women have handmade lace and whitework embroidered items for clothing and other household uses. The holiday display incorporates lace into decorations, giving it that decidedly feminine touch. All Christmas trees on display feature lace decorations, including the Terrace Room tree with ornaments made from dried Queen Anne's lace.
Featured throughout the house is a small display of Hagley's historic du Pont family whitework and lace collections. In the early 1800s, the daughters of E. I. du Pont (Victorine, Evelina, Eleuthera, and Sophie) became skilled in adorning their clothing and accessories with the then-fashionable style of whitework embroidery. Samples of their shawls, collars, and cuffs sets, plus the patterns that they used, will be on display. Representing later generations of du Ponts is an exquisite Tiffany mother-of-pearl and Brussels lace hand fan, circa 1890, owned by Annie Rogers Zinn (1858-1927). 
Well-loved displays returning include the elaborate Twelfth Night celebration in the dining room and the Victorian library's Christmas for children with its table-top tree surrounded by toys and games. Of course, there will be warm glowing lights and poinsettias.
Admission is $14 for adults, $10 for seniors and students and $5 for children (ages 6-14).
One of the best holiday events in the area is the annual "Yuletide at Winterthur." This year's 37th annual staging of the event, which runs from November 21 through January 3 at Winterthur Museum, Garden & Library (Route 52, Wilmington, Delaware,800-448-3883, www.winterthur.org).
Awe-inspiring trees are a signature part of every Yuletide and pattern holds true this year. In celebration of 30 years of Winterthur's famous dried-flower tree, the site is showcasing this annual favorite in the Conservatory, where it will be surrounded by a living tribute of flowers and blooming plants.
In honor of another exhibition — "A Colorful Folk" — there are displays that explore holiday practices of the Pennsylvania Germans, who introduced Americans to such seasonal standards as the Christmas tree, the charity bazaar, and the tradition of the gift giver. Another tree seen in Pennsylvania German homes in the 1800s was a laurel tree stripped of its leaves and wrapped in cotton batting to form a snowy backdrop for a display of colorful ornaments.
Winterthur's cotton tree adorns the scene in one room where the early Germanic gift giver called Belsnickle is just arriving to surprise the children with his rewards for good behavior. Also featured will be a mid-19th-century holiday bazaar.
Visitors will be able to view other du Pont family traditions. Another tradition on display will explore celebrations to honor the staff who worked behind the scenes to make the holidays at Winterthur a delightful experience for the family and their guests. Special family activities include "Glass Matters Wine Seminar and Tasting" (December 16), "Family Workshops" (December 6 and 13), "Brunch with Santa" (December 12, 13, 19 and 20) and the "Yuletide Touch-It Room" (Monday–Friday, 2:30-4:30 p.m.; weekends, 12:30-4:30 p.m.).
There will also be a series of four "Yuletide Jazz & Wine Concerts" — Cartoon Christmas Trio (November 25), Gina Roché (December 2), Sharon & Shawn (December 9) and Tony Smith Trio (December 16). Another special attraction will be a theatrical presentation of Charles Dickens' "A Christmas Carol" on December 10 at 1 and 6 p.m.
Timed Yuletide Tour reservations are required. Admission to Yuletide at Winterthur is $20.
The Historic Odessa Foundation's 2015 Christmas Holiday Tour is one that is guaranteed to appeal to kids of all ages. The tours will be presented now through December 31 in Odessa's historic district (Main Street, Odessa, Delaware, 302-378-4119, www.historicodessa.org). The Historic Houses of Odessa's National Historic Register Wilson-Warner House has been transformed into vignettes inspired by Lewis Carroll's famous book, "Alice's Adventures in Wonderland."
This year marks the 150th anniversary of "Alice's Adventures in Wonderland," which was published in time for Christmas in 1865. Visitors to the Historic Houses of Odessa will be transported into Alice's dream through each of the period rooms of the foundation's 246-year-old Wilson-Warner House made.
Another popular attraction is the "Storybook Trees Exhibit," which is a festive display of Christmas trees that reflect books and works of children's literature. The trees have been decorated by local families, schools and organizations.
All of the Historic Odessa Foundation's properties will be open and on display for the holiday season. A special feature will be the "Holiday Highlights from Christmas Past Photography Exhibit."
Special events and tours will be held throughout the holiday season including "Fairy Tale Time" on December 2, "Candlelight Tours" on December 3 and 10, the "Mad Hatter Tea Party" on December 13 and "Festive Foods/Hearth Cooking Demonstration" on December 12 and 19.
Nemours Mansion & Gardens (Route 141 South, Alapocas Drive, Wilmington, Delaware, 302-651-6912, www.nemoursmansion.org) is welcoming visitors for the Christmas holidays with special holiday-themed tours. The three-hour tours are held Tuesdays through Sundays and run now through January 3.
Originally constructed in 1910, Nemours Mansion is one of Delaware's grandest buildings and includes the largest formal French garden in North America.
During the holiday period, the guided tours will include several stories of the house and part of the gardens. Many of the rooms featured in the tour will be decorated as they would have been when DuPont resided there in the early 1900s while some will retain their traditional period decorations.
Tickets for the tour at Nemours are $15.
Longwood Gardens (Route 1, Kennett Square, 610-388-1000, www.longwoodgardens.org) has shifted into holiday mode with the arrival of "A Longwood Gardens Christmas."
The festive holiday display at Longwood Gardens, which is running now through January 10, features spectacular lights, lavish decorations, holiday music and colorful displays featuring thousands of brilliant poinsettias, brightly decorated trees and fragrant flowers — all inside the heated Conservatory.
The colorful annual event, which appeals to the entire family, also has a lot of outdoor attractions such as fountain shows and nighttime light displays. Longwood's Christmas celebration also includes a wide array of seasonal music — holiday concerts, organ sing-alongs and carillon performances.
When darkness arrives at Longwood, a night-blooming garden of more than a half-million lights strung on close to 100 trees with approximately 40 miles of wire comes to life. A carillon with 62 cast bells plays holiday music every half hour during daylight hours. Longwood's Open Air Theatre fountains dance to holiday music each half hour — temperature permitting.
As always, admission by "Timed Ticket" — tickets issued for specific dates and times. Timed ticketing limits the number of people in the Gardens at any given time and allows guests to enjoy minimal lines and a better viewing experience. There are different prices for "Peak" and "Off Peak" times.
Visitors to "A Longwood Gardens Christmas" can also check out Longwood's Garden Railway — a whimsical display set into motion with G-scale model trains. This is the 14th year that the railway has delighted visitors with special water features and custom trains traveling in and out of bridges and tunnels.
Admission to Longwood Gardens is $20 (non-peak), $27 (peak) for adults, $17/$24 for seniors (ages 62 and older) and $10/$13; students (ages 5-18).
Many of the local amusement parks are fun places to visit in November and December because of their special holiday attractions.
Now through December 31, "A Very Furry Christmas" will be presented by Sesame Place (100 Sesame Place, Langhorne, 215-752-7070, www.sesameplace.com). The event is a one-of-a-kind family-friendly celebration with everyone's favorite furry friends — Grover, Oscar and the rest of the gang from Sesame Street. Admission is $25 online and $30 at the gate.
"Christmas Candylane," which is the annual holiday event at Hersheypark (100 West Hersheypark Drive, Hershey, 800-HERSHEY, www.hersheypark.com), is running now through December 31. Tickets are $18 per person.
Visitors to Hershey can also experience the winter wonderland called "Hershey Sweet Lights, A Holiday Drive-Thru Spectacular." The attraction, which has an admission fee of $24.15 on Fridays and Saturdays and $19.15 the rest of the week, is a two-mile drive through wooded trails featuring approximately 600 illuminated, animated displays.
Dutch Wonderland Family Amusement Park (2249 Route 30 East, Lancaster, 866-386-2389, www.dutchwonderland.com) is hosting its "Dutch Winter Wonderland" from Now through December 30 on Saturdays, Sundays and select weekdays. Tickets are $11.99 in advance and $13.99 at the gate.
When the Christmas season arrives in Europe, it is common to see Christmas villages erected in downtown locations of big cities. These villages are temporary sites that feature live music, a variety of holiday attractions and a large number of specialized vendors.
Philadelphia is keeping pace with the European cities with a Christmas village of its own — a special site that springs to life this weekend and continues until December 27.
 "Christmas Village in Philadelphia" (Broad and Market streets, Philadelphia, 215-391-3017, www.philachristmas.com) is set up each holiday season in Love Park, which is located on the west side of City Hall. The free outdoor holiday market eventis modeled after the traditional Christmas Markets in Germany.
Vendors selling traditional European food, sweets and drinks are set up in 60 wooden booths and timber houses that form a medieval village. They will also offer a unique shopping experience with international holiday gifts, ornaments, jewelry and high-quality arts and crafts.
Bethlehem, which is known as the "Christmas City," presents Christkindlmarkt Bethlehem (PNC Plaza at SteelStacks, 645 East First Street, Bethlehem, 610-332-1300, http://www.christmascity.org) every Thursday, Friday, Saturday and Sunday now through December 20.
Christkindlmarkt Bethlehem showcases aisles of exquisite handmade works by the nation's finest artisans. The market also features live performances of Christmas music and vendors with an amazing variety of tasty food items.
Two of Montgomery County's scenic historic sites are ready to begin celebrating the 2014 Christmas holiday season this weekend.
Pennypacker Mills (3 Haldeman Road, Perkiomenville, 610- 287-9349, www.historicsites.montcopa.org) is hosting "Victorian Holiday Tours" now through January 10 while "Twelfth Night Tours at Pottsgrove Manor" (100 West King Street, Pottstown, 610-326-4014, www.historicsites.montcopa.org) are running from November 27- January 10.
For the next seven weeks, Pennypacker Mills will offer free tours of the 18-century mansion used by General George Washington as temporary headquarters during the Revolutionary War. The event at Pottsgrove Manor features guided tours through an elegant 18th-century Georgian mansion that is decked out in period holiday decorations.
Koziar's Christmas Village (782 Christmas Village Road, Bernville, 610-488-1110, www.koziarschristmasvillage.com) has started its 68th annual season and it will remain open every night through January 2 — including Christmas Eve, Christmas Night, New Year's Eve and New Year's Night.
The village is a visual wonderland with a large amount of holiday displays and special attractions including "Santa's Post Office," "Christmas in the Jungle," "Toy Maker and his Toy Shop" and "Christmas in Other Lands. Other attractions are a huge model train display, a toy shop, a country kitchen, indoor and outdoor Christmas displays. Admission to Christmas Village is $10 for adults, $9 for seniors (65 and older) and $8 for children (ages 4-10).
From a theatrical standpoint, the holiday season has definitely arrived in Lancaster County.
The American Music Theatre (2425 Lincoln Highway East, Lancaster, 800-0 648-4102, www.AMTshows.com) has its holiday show running now through December 30 and the Rainbow Dinner Theatre (3065 Lincoln Highway East, Paradise, 800-292-4301, www.rainbowcomedy.com) is presenting its holiday production now through December 27.
The AMT's 2015 show "Deck the Halls" is an all-new presentation of favorite sacred and secular holiday songs performed by professional artists from across the country. The show will feature spectacular vocal harmonies, elaborate scenery, lively musical arrangements, impressive dancing, the music of the AMT Orchestra, elegant costumes and a theater decked out with holiday decorations.