Also: Cat, reptile shows, wines at first blush and more this weekend
By Denny Dyroff, Staff Writer, The Times
Thanksgiving is getting ready to knock on the door and that means a slew of Christmas-related events will be filling the event calendar over the next few weeks.
Fortunately for those not quite ready to jump into the holiday season with both feet, there are a number of special events around the area this weekend that are not holiday events.
Last week, it was dogs' time to shine when the National Dog Show was held at the Greater Philadelphia Expo Center (100 Station Ave., Oaks, 484-754-3976, http://www.phillyexpocenter.com).
This weekend, the spotlight shifts to cats when the expo hall hosts the Dr. Elsey's Precious Cat Litter Cat Fanciers Association 2015 World Championship Cat Show. Hours are from 8:30 a.m.-5:30 p.m. on November 21 and 22. Visitors will be able to observe the habits of hundreds of felines at the huge annual CFA World Championship show.
Show attendees can check out the educational exhibits and examine the wares of a variety of cat product vendors. They can even have their photos taken with Garfield, who is the Cat Fanciers Association's "Spokes Cat." More than one thousand cats will compete for prizes and world-wide honors with 18 judges providing the individual evaluations.
Another attraction at the show will be the "Agility Ring," which features cats running a timed course made up of tunnels, stairs, hoops, and other challenges. The cats who make it through the entire course with the fastest times are the winners.
There also will be an "Education Ring" where experts will discuss the varied breeds of cats including the breed's history, personality and physical appearance. Experts will also include tips on how to train your cat and which breed of cat will best suit your family's needs.
The show will host 40 "Breed Booths" with information on the many, varied breeds of cats available today. These include well-known breeds such as the Maine Coon Cat and the Siamese as well as the lesser-known treasures such as the curly-coated Selkirk Rex and the curly-eared Scottish Fold.
Admission to the show is $12 for adults, $7 for seniors and children (ages 4-12) and free for children (ages 3 and under).
If snakes, lizards and serpents scare you, you'll avoid a lot of stress if you stay away from the exposition hall in Oaks this weekend.
On November 21, the Greater Philadelphia Expo Center (100 Station Road, Oaks, 610-529-3614, www.northernberksreptileshow.com) will host the East Coast Reptile Super Expo featuring hundreds of live snakes and reptiles.
The East Coast Reptile Super Expo, which is always a well-attended event, will run from 9 a.m.-4:30 p.m. this Saturday. Tickets are $10 with children (under five) admitted free.
Many people think snakes and lizards are interesting creatures and maybe even fun pets to own. If you fall into this category, you should check out the show on Saturday. A wide array of reptiles will be on display as part of the popular exhibition, which is an annual event that is closing in on its silver anniversary.
One of the show's main attractions is a sales exhibit area featuring a large number of vendors with live reptiles, amphibians and arachnids as well as food items, supplies, books, cages, and related accessories.
The roster of very diverse vendors includes AZO Reptiles, Rose's Reptiles, Livecargo Pets & Supplies, Dale's Bearded Dragons, Blake's Exotic Reptiles, RKZ Rodents. Monstar Reptiles,  PM Herps, Jay Jacoby Serpent Propagation, Black Jungle Terrarium Supply, Serpents Plus, Heath's Frog Farm, Franken Chams, MCO Reptiles and Fins, Feathers, Paws & Claws.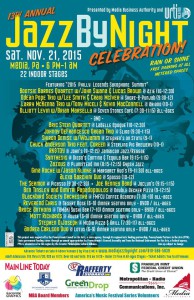 On November 21, Media will host the 13th Anniversary Jazz by Night Celebration (State Street, Media,
610-566-5039, www.mediajazzbynight.com) from 6 p.m.-1 a.m. The music will be performed on 22 indoor stages around the downtown area.
The roster of top-flight jazz acts performing at the Celebration includes Bootsie Barnes Quartet, Odean PopeTrio, Shiron Denise & Wojamm, Eric Stein Quartet, Reverend Chris & The High Rollers, Johnny DeFrancsco Organ Trio, Joe Kenney Band, Bruce Anthony, The Midnighters, and Andrea Carlson Trio.
The talent-laden line-up also includes Stephen DiJoseph, Larry McKenna Trio, Elliott Levin, Chuck Anderson Trio, RK$TDY, Synthesis, Zazous, Gina Roche, Alexa Barchini Duo, The Sermon, Ben Tinsley and Dimitri Papadopoulos, Blackbird Society Orchestra, Reverend Chris and Matt Richards.
Tickets are $15 in advance and $20 day of show.
The Lehigh Valley Wine Trail (http://lehighvalleywinetrail.com) is presenting its annual "Nouveau Weekend" on November21 and 22. "Nouveau Weekend" is a free event but some of the wineries charge for wine tastings. Event hours at all of the wineries are Saturday from 10 a.m.-5 p.m. and Sunday from noon-5 p.m.
The nine wineries of the Lehigh Valley Wine Trail will debut the first wines from the new vintage during Nouveau Weekend. Wineries will also feature food and wine pairings for visitors to sample. Nouveau wines are bottled very young without barrel aging and, as a result, exhibit lots of fruitiness. These selections are light and fruity red wines that range from semi-dry to dry.
Participating wineries are Amore, Big Creek, Blue Mountain, Clover Hill, Franklin Hill, Galen Glen, Tolino, Vynecrest and Pinnacle Ridge.
Amore will serve chicken medallions with a variety of dipping sauces, paired with their new release of Chambourcin Reserve. Big Creek will release a Nouvelle Frontenac Gris paired with mini cupcakes made with a wine-based icing courtesy of MMM Cookies.
Blue Mountain Vineyards is releasing their 2015 Nouveau Beaujolais, which is produced from Gamay grapes grown in their vineyards. They will pair it with a vegetarian lentil stew. In addition, they will offer complimentary live entertainment on Saturday. On Sunday, Adam Motto performs live music from 2-5 p.m. Reservations for Sunday are required; admission is $5 (includes wine tasting).
Clover Hill Winery is ready to celebrate the first release from their 2015 grape harvest — a new, limited release Chocolate Cherry Chambourcin. Franklin Hill will celebrate Nouveau Weekend with the release of their 2015 Seyval Blanc. And, they'll be celebrating the release of their newest wine, Potion X, a pumpkin spice wine, and the release of their Hard Cider.
Galen Glen will offer a complimentary pairing of their Thankful White Lasagna paired with one of their aromatic white wines. Pinnacle Ridge produces a small amount of their NuVo wine made from 100 per cent 2015 Chambourcin. Their NuVo is typically only available for several weeks due to the small quantities.
Tolino will release their 2014 Chambourcin and pair it with vegetarian chili. There will be live music in the tank room by Erin McClelland on Saturday and Tom Vicario on Sunday and wine making tours at 2 and 4 p.m.
Vynecrest will serve their new release of Nouveau Beaujolais made from the Gamay Beaujolais grape. Nouveau Beaujolais is a young, fruity unoaked red wine, the first of harvest season 2015. It will be paired with Sugar 'n Spice French onion dip on a baguette.
The Strasburg Railroad (Route 741, Strasburg, 717-687-7522, www.strasburgrailroad.com) is getting ready for its holiday attractions but has one more special event to offer before then.
One of the most popular special events each year at the Strasburg Railroad is "Day Out With Thomas." Kids and Thomas the Tank Engine have a mutual love affair and it's in full bloom when Thomas encounters his fans up-close during his visits to the Strasburg Railroad.
Every year, the steam locomotive named Thomas makes several visits to Lancaster County where he entertains enthusiastic children and their parents. The locomotive, which has its own PBS television series, will be in Strasburg now through November 22 to participate in "Day Out With Thomas."
For more than 50 years, Thomas the Tank Engine and his Island of Sodor friends have been favorites of preschoolers and their parents. Based on "The Railway Series" (classic stories authored by a father who loved trains and wanted a shared experience with his son), "Thomas & Friends" has evolved into a rite of passage that inspires imagination.
America's favorite little blue engine will bring along a special guest for his stay in Lancaster County — his pal Percy. The locomotive named Percy has travelled from the Island of Sodor made his national debut in Strasburg last year.
Tickets for "Day Out With Thomas," which are $21, include the train ride with Thomas the Tank Engine, the opportunity to meet Percy and a bonus train ride aboard Strasburg Railroad's miniature steam train "The Pint-Sized Pufferbelly."  For an additional $5, a trip with Percy can be added to the package.
If your holiday shopping list includes friends or family who are collectors of antiques — or if you just like to shop for antiques for yourself — there is a special event this weekend that you should check out.
The Antiques at Kimberton Show will be held at the Kimberton Fire Company (61 Fire House Lane (off Kimberton Road), Kimberton, http://antiquesatkimberton.vpweb.com) on November 21 and 22. The popular annual event will run from 9 a.m.-5 p.m. on Saturday and 11 a.m.-4 p.m. on Sunday with a $7 admission fee and free parking.
The well-attended annual event will feature more than 65 dealers whose booths will occupy over 10,000 square feet of exhibition space. Visitors will be able to shop for items from a wide variety of antiques categories, including furniture, paintings, jewelry, books and historical items. Additionally, dealers will be on hand to discuss their items and chat about antiques-related topics.
Another good option for gift hunting is the Pennsylvania German Folk Art Sale which is presented each year by the Lancaster Mennonite Historical Society (2215 Millstream Road, Lancaster, 717- 393-9745, www.lmhs.org). The event will open this weekend and run through December 31.
The annual sale kicks off on Friday with an opening reception on November 20 from 6-8:30 p.m. The reception features craft demonstrations, live music, a variety of refreshments and displays of the work of more than 20 Pennsylvania artists.
The local artists will display their wares, covering a broad swath of traditional art forms originating in the communities of Swiss and German immigrants to Pennsylvania. This includes fraktur, a "broken" method of lettering originally developed to illuminate manuscripts; redware, low-fired ceramics made with red clay; and scherenschnitte, intricate patterns and scenes cut out of paper.
There will also be painted boxes, including traditional patterns and those featuring false graining; hand-woven textiles; and hand-quilted wall hangings. In addition to utilitarian offerings, some have a touch of whimsy, such as hand-carved wooden birds.
Two artists will display their methods during the opening reception. Willa Beidler, a fourteen-year-old weaver, will demonstrate spinning angora wool right off a live rabbit. Emily Smucker-Beidler will be demonstrating how to fold paper Moravian ornaments for the young and young at heart to take home with them.
One of the best holiday events in the area is the annual "Yuletide at Winterthur." This year's 37th annual staging of the event, which runs from November 21 through January 3 at Winterthur Museum, Garden & Library (Route 52, Wilmington, Delaware,800-448-3883, www.winterthur.org).
Awe-inspiring trees are a signature part of every Yuletide and pattern holds true this year. In celebration of 30 years of Winterthur's famous dried-flower tree, the site is showcasing this annual favorite in the Conservatory, where it will be surrounded by a living tribute of flowers and blooming plants.
There will be more colorful trees to delight the eyes this season, including two new trees. One will be celebrating the garden in autumn and is inspired by the colors of the season and H. F. du Pont's boyhood collections of rocks, shells, and other trophies. The other, which pays tribute to the exhibition "Tiffany Glass: Painting with Color and Light," will sparkle with stained glass.
In honor of another exhibition — "A Colorful Folk" — there are displays that explore holiday practices of the Pennsylvania Germans, who introduced Americans to such seasonal standards as the Christmas tree, the charity bazaar, and the tradition of the gift giver. Another tree seen in Pennsylvania German homes in the 1800s was a laurel tree stripped of its leaves and wrapped in cotton batting to form a snowy backdrop for a display of colorful ornaments.
Winterthur's cotton tree adorns the scene in one room where the early Germanic gift giver called Belsnickle is just arriving to surprise the children with his rewards for good behavior. Also featured will be a mid-19th-century holiday bazaar.
Visitors will be able to view other du Pont family traditions. They can see what a New Year's gathering in the 1890s looked like when women of the family displayed the gifts they had received from the male relations who had called on them throughout the day. Visitors will also have the opportunity to look at an extravagant dinner party that celebrated the family's first 100 years in America, which was held on New Year's Day 1900 with as many as 100 family members attending.
Another tradition on display will explore celebrations to honor the staff who worked behind the scenes to make the holidays at Winterthur a delightful experience for the family and their guests. These include the annual staff parties held through the 1950s, at which all of the estate families received gifts from the du Ponts in front of a tree bedecked with new-fangled "bubble" lights.
Special family activities include "Glass Matters Wine Seminar and Tasting" (December 16), "Family Workshops" (December 6 and 13), "Brunch with Santa" (December 12, 13, 19 and 20) and the "Yuletide Touch-It Room" (Monday–Friday, 2:30-4:30 p.m.; weekends, 12:30-4:30 p.m.).
There will also be a series of four "Yuletide Jazz & Wine Concerts" — Cartoon Christmas Trio (November 25), Gina Roché (December 2), Sharon & Shawn (December 9) and Tony Smith Trio (December 16). Another special attraction will be a theatrical presentation of Charles Dickens' "A Christmas Carol" on December 10 at 1 and 6 p.m.
Timed Yuletide Tour reservations are required. Admission to Yuletide at Winterthur is $20.
The special events at Longwood Gardens (Route 1, Kennett Square, 610-388-1000, www.longwoodgardens.org) are getting ready to go through a "Changing of the Guard."
The 34th Annual Mum Fest, a top-flight exhibit featuring more than 20,000 colorful, blooming chrysanthemums in Longwood's huge conservatory, is running now through November 22. So, if you want to check it out, you have just a few days left.
The horticulturalists at Longwood Gardens have grown and developed the mums into a variety of unusual forms. They have groomed chrysanthemums to resemble clouds, torches, spirals, fans, 13-foot arches and more. The stars of the show are Longwood Gardens' "Thousand Bloom" mums.
Next on the agenda for the popular tourist attraction in Kennett Square is "A Longwood Gardens Christmas."
The festive holiday display at Longwood Gardens, which opens on Thanksgiving Day (November 26) and continues through January 10, features spectacular lights, lavish decorations, holiday music and colorful displays featuring thousands of brilliant poinsettias, brightly decorated trees and fragrant flowers — all inside the heated Conservatory.
The colorful annual event, which appeals to the entire family, also has a lot of outdoor attractions such as fountain shows and nighttime light displays. Longwood's Christmas celebration also includes a wide array of seasonal music — holiday concerts, organ sing-alongs and carillon performances.
The organ sing-alongs will be featured in the Ballroom either three or six times a day. There will also be performances by choirs and musicians almost every evening throughout December 20. Other special performances this weekend will feature Le Vent du Nord on November 20 and Peter Richard Conte November 21.
When darkness arrives at Longwood, a night-blooming garden of more than a half-million lights strung on close to 100 trees with approximately 40 miles of wire comes to life. A carillon with 62 cast bells plays holiday music every half hour during daylight hours. Longwood's Open Air Theatre fountains dance to holiday music each half hour — temperature permitting.
As always, admission by "Timed Ticket" — tickets issued for specific dates and times. Timed ticketing limits the number of people in the Gardens at any given time and allows guests to enjoy minimal lines and a better viewing experience. There are different prices for "Peak" and "Off Peak" times.
Visitors to "A Longwood Gardens Christmas" can also check out Longwood's Garden Railway — a whimsical display set into motion with G-scale model trains. This is the 14th year that the railway has delighted visitors with special water features and custom trains traveling in and out of bridges and tunnels.
Admission to Longwood Gardens is $20 (non-peak), $27 (peak) for adults, $17/$24 for seniors (ages 62 and older) and $10/$13; students (ages 5-18).
Two of Montgomery County's scenic historic sites are ready to begin celebrating the 2014 Christmas holiday season this weekend.
Pennypacker Mills (3 Haldeman Road, Perkiomenville, 610- 287-9349, www.historicsites.montcopa.org) is hosting "Victorian Holiday Tours" now through January 10 while "Twelfth Night Tours at Pottsgrove Manor" (100 West King Street, Pottstown, 610-326-4014, www.historicsites.montcopa.org) are running from November 27- January 10.
For the next seven weeks, Pennypacker Mills will offer free tours of the 18-century mansion used by General George Washington as temporary headquarters during the Revolutionary War. The home will be decorated for an old-fashioned Victorian Christmas and will feature the warm glow of oil lamps, festive decorations and a candy-making demonstration.
The event at Pottsgrove Manor features guided tours through an elegant 18th-century Georgian mansion that is decked out in period holiday decorations. Tour guides will discuss Twelfth Night celebrations and Christmastide traditions.
Visitors will be able to view the parlor and kitchen as it would have been during colonial times when the Potts family prepared for their holiday guests. They will also be able to check out the servants' quarters and see the rustic holiday celebrations as enjoyed by the household staff.
The Montgomery County Park system will also present another special event in the upcoming week. Pennypacker Mills will be the site of a "Clear Toy Candy Demonstration" on November 21.
Participants in the event will be able to explore the history of clear toy candy and sugar in the Philadelphia area and see a demonstration of how clear toy candy is made.
Tips and recipes will be given out so attendees can make these candies at home. Other historic candies will also be covered. This event is not recommended for young children because of safety concerns.
Visitors to Peddler's Village (Routes 202 and 263, Lahaska, 215-794-4000, http://peddlersvillage.com) can get in the holiday spirit at the Village-wide Grand Illumination Celebration on November 21. Village shops will be open until 9 p.m. with a distinctive assortment of merchandise, special promotions and refreshments.
The Grand Illumination Celebration, which officially arrives with a burst of color at 6:15 p.m., will showcase thousands of tiny white lights outlining the Village's buildings, colorful lights with less-than-common colors (teal, peach, and fuscia) adorning the trees and shrubs and a landscaped backdrop featuring a group of reindeer glowing in white light.
Santa will arrive to turn on the lights and officially mark the beginning of the event. After the lights go on, visitors will be treated to free cider and toasted marshmallows.
After the Grand Illumination Switch-on, families are invited bring the kids to Giggleberry Fair for "Photos with Santa." The Giggleberry Fair will be open through December 23.
November 20 also marks the start of Peddler's Village "Gingerbread House Competition and Display." Slated to run through January 2, the "Gingerbread House Competition" features over $2,000 in cash prizes in such categories as Traditional and Authentic Reproduction of a Significant Building.
The Historic Odessa Foundation's 2015 Christmas Holiday Tour is one that is guaranteed to appeal to kids of all ages. The tours will be presented now through December 31 in Odessa's historic district (Main Street, Odessa, Delaware, 302-378-4119, www.historicodessa.org). The Historic Houses of Odessa's National Historic Register Wilson-Warner House has been transformed into vignettes inspired by Lewis Carroll's famous book, "Alice's Adventures in Wonderland."
This year marks the 150th anniversary of "Alice's Adventures in Wonderland," which was published in time for Christmas in 1865. Visitors to the Historic Houses of Odessa will be transported into Alice's dream through each of the period rooms of the foundation's 246-year-old Wilson-Warner House made.
Another popular attraction is the "Storybook Trees Exhibit," which is a festive display of Christmas trees that reflect books and works of children's literature. The trees have been decorated by local families, schools and organizations.
All of the Historic Odessa Foundation's properties will be open and on display for the holiday season. A special feature will be the "Holiday Highlights from Christmas Past Photography Exhibit."
Special events and tours will be held throughout the holiday season including "Fairy Tale Time" on December 2, "Candlelight Tours" on December 3 and 10, the "Mad Hatter Tea Party" on December 13 and "Festive Foods/Hearth Cooking Demonstration" on December 12 and 19.
Nemours Mansion & Gardens (Route 141 South, Alapocas Drive, Wilmington, Delaware, 302-651-6912, www.nemoursmansion.org) is welcoming visitors for the Christmas holidays with special holiday-themed tours. The three-hour tours are held Tuesdays through Sundays and run now through January 3.
Originally constructed in 1910, Nemours Mansion is one of Delaware's grandest buildings and includes the largest formal French garden in North America.
During the holiday period, the guided tours will include several stories of the house and part of the gardens. Many of the rooms featured in the tour will be decorated as they would have been when DuPont resided there in the early 1900s while some will retain their traditional period decorations.
Tickets for the tour at Nemours are $15.
Koziar's Christmas Village (782 Christmas Village Road, Bernville, 610-488-1110, www.koziarschristmasvillage.com) has started its 68th annual season and it will remain open every night through January 2 — including Christmas Eve, Christmas Night, New Year's Eve and New Year's Night.
The village is a visual wonderland with a large amount of holiday displays and special attractions including "Santa's Post Office," "Christmas in the Jungle," "Toy Maker and his Toy Shop" and "Christmas in Other Lands. Other attractions are a huge model train display, a toy shop, a country kitchen, indoor and outdoor Christmas displays. Admission to Christmas Village is $10 for adults, $9 for seniors (65 and older) and $8 for children (ages 4-10).
From a theatrical standpoint, the holiday season has definitely arrived in Lancaster County.
The American Music Theatre (2425 Lincoln Highway East, Lancaster, 800-0 648-4102, www.AMTshows.com) has its holiday show running now through December 30 and the Rainbow Dinner Theatre (3065 Lincoln Highway East, Paradise, 800-292-4301, www.rainbowcomedy.com) is presenting its holiday production now through December 27.
The AMT's 2015 show "Deck the Halls" is an all-new presentation of favorite sacred and secular holiday songs performed by professional artists from across the country. The show will feature spectacular vocal harmonies, elaborate scenery, lively musical arrangements, impressive dancing, the music of the AMT Orchestra, elegant costumes and a theater decked out with holiday decorations.