Also: Art Trust's 'Gifted' Show opens Friday
By Lele Galer, Columnist, The Times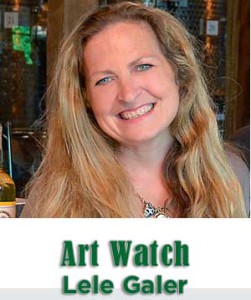 The Unionville High School Art Gala celebrates its 40th year of presenting a variety of innovative local artists alongside talented young high school art students from Unionville High School. This wonderful blend of student and professional art always creates such a fun upbeat energy to the show, and it is something that I happily look forward to every year, especially now that I do not have to run it. This year's new Art Gala Chairperson is Carol Apicella, who has run the Gala's Silent auction for many successful years, and is also a participating mosaic artist. Carol's attention to detail, color and aesthetics is as evident in her artwork as it is in her leadership of this great local art show.
The chosen featured oil painter is Margaret Matuszewski, who shows her work often in Chester County and is known for her impressionistic application of paint and beautiful color choices of naturalistic scenes. Her themes are primarily landscapes and flower still lifes, which have been popular choices for collectors at the Gala for many years. This annual event showcases local celebrated working artists, UHS Alumni, and current UHS Students along with live music and great food. The Unionville Art Gala strives to include a variety of artists – both new and more established individuals – who express their talents through diverse mediums including painting, photography, glass, metal, and wood.
To celebrate the Art Gala's 40th year, the show will feature 100% donation pieces. Many participating artists will designate one piece of art for "Donation" which means that all the proceeds from that piece will directly benefit the Unionville High School's PTO, which raises money for academic projects and programs. These donation pieces will be at a discounted price, providing the public with a rare opportunity to purchase beautiful and original artwork at a great value, and support education at the same time. The Art Gala opens Friday November 20th, from 6-9pm at Unionville High School, with live music and appetizers, and continues through Saturday November 21 from 11am to 4pm.
Also opening on Friday November 20th from 5-8:30 pm is The Art Trust at Meridian Bank's "Gifted" Show, which is in its 8th year. Each Board member of The Art Trust invites a group of exceptional local artists to contribute art valued at $500 and below, no larger than 24 x 24 inches. The walls of the Meridian Bank on Market Street in West Chester will be full of wonderful, unique, reasonably priced local works of art that are perfect for gift-giving. As the sales continue to mount through January 10, "Gifted" artists will be replacing their sold works with new selections, so keep visiting often to see what is new!
The art theme for the Brandywine Artisan Wine Trail in November is "The Art of Ceramics", and on Saturday November 21st, one of the oldest wineries in the Brandywine Valley, Stargazers Vineyard at 1024 Wheatland Drive in Coatesville, will be celebrating their annual "Dornfelder Day" which introduces the first wine of the vintage and includes an exhibition of ceramics from artist Suzanne Kent. Celebrations start at noon at Stargazers! Also along the trail, on Sunday November 22nd, Galer Estate Vineyard and Winery in Kennett Square will be having an opening reception for renown ceramic artists Rhoda Kahler and Emily Manko from 3-7pm. Their work will be shown at Galer through the end of the month. Flickerwood Winery's location in Kennett Square will show the myth inspired clay work of Peggy Oltman in their Kennett Square location during November, and display Deanna Haldeman's ceramics in their Oxford location from November 6 – 20th. Wilson Vineyard will highlight the detailed work of Ki Crittenden at their Wilson Art Gallery and Ten Gallon Hat Winery in Chadds Ford will feature the ceramic work of Bob Deane all month long. For more arts news from the Brandywine Artisan Wine Trail, or to participate in any of the themed events, check out www.brandywineartisanwinetrail.com.