Nancy Weber makes her KHS directorial debut next week
The bard will hit the boards next week as Kennett High School presents its version of I Hate Shakespeare! Friday and Saturday, November 13 and 14.
The comedy, written by Steph DeFerie, is billed as "a hilarious and fast-paced introduction to Shakespeare — with a modern twist." The work has proven incredibly popular with a plot that features allusions to Shakespearean classics Romeo and Juliet, Hamlet, Macbeth, Othello, and more.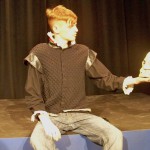 Nance Weber, parent of Kennett grads A.J. (class of 2013) and Jack (class of 2015), is an accomplished director, though she makes her KHS directorial debut with this production.  Christy Wyatt and Missy Wyatt are in charge of costumes and properties; teacher Michael Anastas is supervising light and sound; and, Weber will also provide her expertise with makeup.
"There are no specific lead roles in this play, so it gives all the kids an opportunity to shine. It's a wonderful script that uses outrageous humor and silliness to draw attention, and at the same time brings clarity and understanding to many who might think Shakespeare's works too difficult and complex to understand," said Weber.  "And, working with Kennett kids has been a wonderful experience."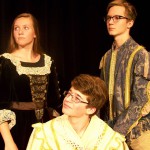 Both the cast and stage crew include students from all grades.
Curtain time is 7:30 PM for both shows. Tickets can be purchased at the door; $5 for students and senior citizens, and $8 for adults.