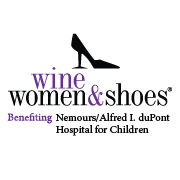 About 15 years ago, the rapid diagnosis of a peanut allergy saved the life of a young child, and in the process earned the admiration of a local family. When Jim Sipala and his wife, Danielle, rushed their then-18-month-old son Alex to the Nemours/Alfred I. duPont Hospital for Children emergency room, Alex was already very weak and in respiratory distress. "We were very scared, but it did not take long before for them to diagnose the issue," Danielle Sipala recalls. "The doctors and staff were incredible, and we have never forgotten that."
Now, the two Jim Sipala Kia dealerships – Kia of West Chester and Kia of Coatesville – are major sponsors of the inaugural Wine Women & Shoes event benefiting the hospital the Sipalas hold in such high esteem. The festivities will be held on Friday, November 6 at the Hercules Plaza on Market Street in Wilmington, Delaware.
"We're excited to help raise money for the hospital, because they provide top-of-the-line care and service for all kids, regardless of their parents' financial status," Mrs. Sipala added. "They have recently completed a major project, remodeling the rooms in the extended stay wing. These renovations have resulted in the rooms being much more accommodating to families, making the hospital more accommodating to them during their time of need."
The Nemours/Alfred I. duPont Hospital for Children is Delaware's only Pediatric Trauma Center. It offers advanced inpatient and outpatient pediatric care in more than 30 specialties, and this year marks the 75th year of its existence.
Not only will the Wine Women & Shoes event benefit a good cause, it also carries with it a "can't-miss" status. Guests can mingle with friends while shopping the marketplace and sampling some of the area's finest local cuisine. Meanwhile, they can also participate in the Key to the Closet raffle … and the highlight of the evening is a fashion show presented by Nicole Miller.
Cost is $100, or $150 for VIP entry.  For ticket information please call (302) 651-4383.
The folks at Kia of West Chester and Kia of Coatesville say they are are dedicated to conducting business in a way that promotes the highest principles of integrity. They offer a large selection of both new Kia vehicles and pre-owned cars, trucks and SUVs. For more information on the Jim Sipala Kia dealerships or to schedule an interview, please visit www.kiaofwestchester.com or www.kiaofcoatesville.com.