Also: West Chester Restaurant Festival and much, much more
By Denny Dyroff, Staff Writer, The Times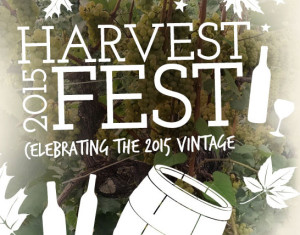 The leaves will be starting to change color soon and that means that the season of harvest festivals has arrived. One of the first will be the Chaddsford Winery Harvest Festival which will be held September 19 and 20 at the Chaddsford Winery (632 Baltimore Pike, Chadds Ford, 610-388-6221, http://www.chaddsford.com).
The winery will be celebrating its 2015 harvest with interactive tastings, food, tours and live music.  Features for this weekend include special, complimentary guided tours at 2 and 4 p.m. (featuring the rare opportunity to taste fresh-pressed Chardonnay grapes from the 2015 vintage and sample the current 2013 Barrel Select Chardonnay) and the standard progressive wine tasting ($10) that includes Chaddsford Hard Cider paired with Northbrook MarketPlace hard cider donuts.
A special attraction will be the reserve tasting ($20) that features the small batch, Artisan Series 2014 Dry Rosé and 2013 Chambourcin — plus a very exclusive tasting of the winery's 2005 Jansen Estate Chambourcin.
Glass artist Gregory T. Tomb will be selling his nationally-recognized glass pumpkins. He also will serve as the site's resident glass expert for the weekend.
Food will be available from Fresh Truck Bistro. Admission to the grounds is free and all tasting programs and food selections are "pay-as-you go."
On September 20, "Yoga in the Vineyard: Wine, Body, and Soul 2015" will be presented by
Penns Woods Winery (124 Beaver Valley Rd, Chadds Ford, 610-459-0808, www.pennswoodswinery.com) at 11 a.m.
According to Penns Woods people, the aging of wine is a noble process that can serve as a metaphor for healthy aging of a human being.
Ao, they are inviting visitors to enjoy a 60-minute gentle yoga class with MERRYoga in their vineyard followed by a wine tasting and local light bites farmers plate. The experience will emphasize youth, not as skin and muscle tone, but as "the vibrancy of spirit when balance is practiced."
Each class is $35.00 and includes the yoga class; wine tasting of five wines with plate including a selection of fresh and local veggies, cheeses, and crackers; a Penns Woods Winery souvenir wine glass; and 10% off all wine purchases after the class.
Participants are instructed to wear comfortable clothing, dress for the weather and bring a yoga mat.
Galer Estate Winery (700 Folly Hill Road, Kennett Square, 484-899-8013, www.galerestate.com) also has a yoga event happening this weekend.
On September 20, "Brandywine Yoga" will be presented at noon. It will be the winery's final yoga event of the summer. There will also be an art display with sculptures by Lele Galer as the featured exhibit.
The award-winning winery near Longwood Gardens has two live music shows scheduled for this weekend starting on September 18 with the "Mike & Shanna Albarino Farewell Special" from 5-7 p.m. On September 19, Galer Estate Winery will feature music by Chris Ferron.
This is the time of the year when you can treat your taste buds to a wide array of authentic cuisines from around the world and never have to step foot inside a restaurant.
When autumn arrives, there are ethnic food festivals almost every weekend. This weekend's schedule has events representing one South American country — Brazil — and three European nations — Germany, Greece and Poland.
On September 20, visitors to the Great Plaza at Penn's Landing (Delaware Avenue, Philadelphia, www.delawareriverwaterfront.com) will be able to celebrate Brazilian Independence Day during Brazilian Day Philadelphia.
With dancing, music, food and souvenirs, this free, family-oriented event will focus on the best of Brazilian culture. From 1-7 p.m., the Great Plaza at Penn's Landing will be transformed into a Brazilian street fair.
The annual festival showcases Brazilian dance and music styles such as samba, capoeira, forro, pagode and samba-reggae. There will also be a wide array of vendors will be selling Brazilian merchandise and traditional cuisine such as Feijoada and Polenta.
Brazilian Day Philadelphia is the celebration of the Brazilian Independence Day — the day that Brazil formally withdrew from Portugal just under two centuries ago. The mission of Brazilian Day Philadelphia is to celebrate the wonderful culture and traditions of Brazil and to share with the public the diverse ethnic heritage that makes Brazil unique and rich in cultural pride.
You can enjoy the tastes of Germany this weekend without ever leaving the tri-state area. The Delaware Saengerbund's Oktoberfest (Saengerbund festival grounds, 49 Salem Church Road, Newark, Delaware, 302-366-9454, www.delawaresaengerbund.org) is running from September 18-20.
The Delaware Saengerbund's festival is a traditional Munich-style Oktoberfest featuring a wide array of tasty German food delicacies, including Bratwurst, Weisswuurst, soft pretzels, Rollmops (marinated herring served with rye bread), Kartoffelsalad (potato salad), sauerkraut as well as dessert items such as Torten and traditional plum cake.
On September 18, the opening parade will be held at 7 p.m. The lid-lifting event features the "Muenchner Kindl" (Munich Child — the symbol of the city of Munich) who is dressed in brown monk's garb with golden stripes, similar to that of the Benedictine order (founders of the City of Munich).
The "Enzian Volkstanzgruppe", the Bavarian dance group of the Delaware Saengerbund, will entertain throughout the three days of the festival. When the EVTG is not dancing, German music will be provided by "Almwind" on Friday and Saturday nights and again on Sunday afternoon. "Heidi and Heimat Echo" will perform on Saturday afternoon.
There will also be concessions with an array of imported German gifts and souvenirs, as well as Oktoberfest souvenirs and Bavarian specialty clothes. Included in the admission price of $8 are unlimited free amusement rides. Hours are 5-11 p.m. on Friday, noon-11 p.m. on Saturdays and noon-6 p.m. on Sunday.
The Eighth Annual Boyertown Oktoberfest (Municipal Parking Lot, Reading Avenue, Boyertown. 610-369-3054, www.boyertownoktoberfest.com) is scheduled for September 18 and 19. The event will kick off with a "Homecoming Celebration" on Friday evening and live music by Free Way.
Activities on September 19 include the tapping of the ceremonial keg, German music and entertainment, food, and wine and beer. Live entertainment will be provided by Auerhahn Schuplatter Dancers, Stephanie Grace and MudPuppy.
Hours are 5-9 p.m. on Friday, 11 a.m.-9 p.m. on Saturday. The rain date for the free event is September 20.
If you like European cuisine that features a lot of meat — especially sausages — you'll also like St. Hedwig's Polish Festival (Frawley Stadium parking lot, Wilmington Riverfront, Wilmington, Delaware, 302-594-1400 or www.polishfestival.net) which from September 21-26.
The 58th annual staging of the festival offers a variety of Polish treats including  placki (pancakes), pierogis (dough filled with cheese and/or potato, holubki (stuffed cabbage), kielbasa (sausage) and chruschicki (bow cookies).
The free festival will feature a full slate of live entertainment featuring Ed Lipka on September 21, Walt Wagner on September 22, John Stevens' Doubleshot on September 23, TKO Band on September 24, Crab Town Sounds on September 25 and the Golden Tones on September 26.
Dinner will be served Thursday and Friday from 5-10 p.m. and Saturday from 3-10 p.m. Additionally, lunch will be served on September 24 and 25 from 11 a.m.-2 p.m. each day. The Midway, which is a large midway with over 20 rides along with a variety of amusement games, will open at 6 p.m. each night. 
The 38th Annual Greek Affair at St. Luke's Greek Orthodox Church (35 North Malin Road, Broomall, 610-353-1592, www.st-luke.org) is running now through September 20.
The free festival focuses on food — tasty Greek main dishes such as moussaka (eggplant dish), shish-ka-bob (meat and vegetables on skewers) and placki (fish) and Greek dessert treats including baklava (phyllo, nuts and honey) and kataifi (shredded wheat and nuts).
Other activities at the free popular annual event are midway rides, vendors with crafts and Greek items, live music by Greek-American bands and folk dancing demonstrations. Additionally, the Taverna will be open from 9 p.m.-midnight on Friday and Saturday and there will be live music by Stoxos Entertainment on Friday and Atlantis of Philadelphia on Saturday.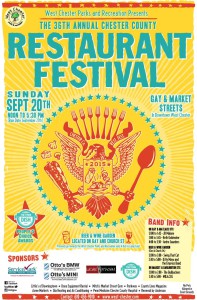 If you have more domestic slant to your tastes in food, you're also in luck this weekend. There's a food festival coming to West Chester that could be just what you're seeking.
For more than three decades, the Chester County Restaurant Festival (Gay Street and downtown area, West Chester, 610-436-9010, http://chestercountyrestaurantfestival.com) has been treating visitors with the opportunity to sample a wide variety of gourmet treats.
This year, the free festival, which will be held on September 20 from noon-5:30 p.m. in downtown West Chester, is celebrating its 36th anniversary.
Many of the area's top restaurants — more than 65 altogether — will have booths where visitors can purchase samples of a mouth-watering array of culinary delights and gourmet food items. There also will be approximately 110 vendor booths featuring arts and crafts, three stage areas for live music and the "Church Street Café," where patrons can sit and relax with a pint of refreshing brew.
Some this year's participating restaurants are Saloon 151, La Mamba BYOB, The Mediterranean, Ryan's Pub, The Pita Pit, Old Original Nick's Roast Beef, Mercato Ristorante & Bar, Lulu's Café, Mas Mexicali Cantina, Sherri's Crab Cakes, Dia Doce, Southbound BBQ, Root's Café, Pietro's Prime, Twenty 9 Restaurant and Bar, and Kooma.
The massive and diverse roster also features Maui Wowi, Teca, Yori's Church Street Bakery, Captn Dick's BBQ, Sabatino's Grille, Gemelli Artisanal Gelato and Dessert Café, Saloon 151, The Couch Tomato Café, Limoncello, Bees Knees,Amani's BYOB, Doc Magrogans Oyster House, The Bacon Press, The Cow and the Curd, Gemelli Artisanal Gelato and Dessert Café, The Classic Diner and Taste of Puebla .
Live entertainment will be presented throughout the day with a line-up featuring JD Malone, Beth Goldwater, Andre Saunders, Swing that Cat, Kitty Mayo and the Emperess Band, The Bullbuckers, and MK&COL.
Parking in all Borough of West Chester garages is $5 for all day.
This is also the perfect weather for drinking beer — and also the perfect weather to stage a brewfest.
The Second Annual Delaware River Craft Brewfest (PPL Park, One Stadium Drive, Chester, 610-859-3100, http://www.philadelphiaunion.com/ppl-park/craft-brew-fest) will be held on September 19 with a "Super VIP Session" starting at 2 p.m. and a General Session taking place from 3-6 p.m.
The Super VIP Tickets will include an event T-shirt, a 16 oz. souvenir glass and an all-inclusive buffet in the TruMark Financial Club. VIP Session tickets will kick off the festival from 2-3 p.m. with VIP Parking, and the ability to talk to brewers and taste exclusive beers that will not be served in the general session.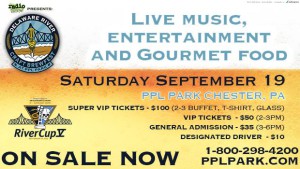 The Delaware River Craft Brewfest will feature live music and entertainment, gourmet food options and more than 100 different beers. The event offers the opportunity to partake in a sampling of the best crafts, imports and ciders from the United States and around the world.
Ticket prices, which are $60 for the VIP Session and $45 for the General Session, include a souvenir tasting cup marked with a 2 oz. pour line. Tickets are $10 for "Designated Drivers" and there is free parking for all.
On September 19, the American Helicopter Museum & Education Center (1220 American Blvd., Brandywine Airport, West Chester, 610-436-9600, www.helicoptermuseum.org) will host a special event called "Hops and Helicopters."
The event, which will run from 1-5 p.m., features craft beer sampling from local breweries, wine tasting, helicopter rides (extra cost), snacks, games and food trucks on site.
The list of participating breweries includes Victory Beer, Yards Brewing Company, Sly Fox Brewhouse & Eatery, Crowded Castle Beer Company, Kennett Brewing Company, Round Guys Brewing Company and Pub and Stable 12 Brewing Company.
Live music will be provided by Music by Prime Time dance band and the participating food trucks will be Sabatino's and Pretzelria.
Tickets are priced at $35 for participants and $10 for "Designated Drivers" and there is free parking for all.
One of the most popular annual events at the Hagley Museum and Library (Route 141, Wilmington, 302-658-2400, www.hagley.org) is the Hagley Car Show. The historic site, which is located in Delaware just a few miles south of Kennett Square, will host its 2015 Car Show on September 20 from 10 a.m.-4 p.m.
Each year, the show focuses on a different topic. This year's 20th annual staging of the show has "Fins, Chrome, and the Rocket Age" as its theme.
Visitors to the show will be able to browse through more than 500 antique and restored cars that date from the early 1900s-1980s. The show features vehicle parades, motoring music, video and go-kart racing and a festival food court. Activities are on Hagley's upper property.
Wristbands purchased at the Car Show will be $10 for adults and $5 for children (ages 6-14). Admission is free for Hagley members and children five and under. The event will be held rain or shine. Visitors are instructed to use Hagley's main entrance off Route 141.
Horse-related events in this area usually start happening when the weather gets warm and them stop when the temperatures drop in late autumn. With the 2015 schedule heading down the homestretch, one of the final events on the calendar is slated for this weekend.
But, it's not an equestrian event — no jumpers, no dressage and no steeplechase activity. This event is a rodeo.
In the western part of the United States, rodeos are fairly common. Rodeo action takes place every weekend in just about every western state. But, in the eastern part of the country, live rodeos are few and far between.
If you want to catch a live rodeo performance locally, you can do it this weekend. Now through September 20, the Liberty Pro Rodeo is being staged on the grounds of the LuLu Temple (5140 Butler Pike, Plymouth Meeting, 800-898-LULU, http://libertyprorodeo.com).
The 27th Annual Liberty Pro Rodeo features professional rodeo cowboys and cowgirls from all over the country competing in their respective events including bull riding, barrel racing and saddle bronco riding. At this year's rodeo, competitors from the national level as well as those from the local First Frontier circuit will compete for thousands of dollars in prize money.
The gates open at 6 p.m. and the rodeo gets underway at 7:30 p.m. on Friday and Saturday. On Sunday, the gates open at 12:30 p.m. and show time is scheduled for 2 p.m. There will be live entertainment each day.
There will also be a number of concession booths with a wide array of carnival food, including funnel cakes, meatball sandwiches, hot dogs, cotton candy, ice cream, nachos and cheese, snow cones, pizza, walking tacos, popcorn, French fries, pickle-on-a-stick and soft pretzels.
Tickets are $24 for adults and $12 for children (age 11 and under).
On September 19, a special fun and educational event will be presented at Pottsgrove Manor (100 West King Street, Pottstown, 610-326-4014, www.montcopa.org) — an "Open Hearth Cooking Demonstration" titled "Time for Tea."
Before declaring their independence, American colonists loved tea as much as their English relatives still across the pond. Visitors to Pottsgrove Manor this Saturday can learn about tea in 18th-century America.
As an added attraction, guests will have the opportunity to watch historic cook Ed Hulmes make foods that Ruth Potts may have served to her family back in the mid-1700s.
Admission is free but there is a suggested $2 per person donation to the family-friendly event.  
Another event that takes a look back a different era in American history will take place on September 19 and 20 at the Colonial Pennsylvania Plantation (Ridley Creek State Park off Route 3, Media, 510-566-1725, www.colonialplantation.org). The historic site just outside Media will host its annual "Civil War Battle and Camp."
The South is invading Pennsylvania again. Visitors to the Colonial Pennsylvania Plantation will have the opportunity to observe firearm demonstrations, drills, a burial squad, camp life and use of herbs in the 1860s.
There will be a period fashions on display as well as glimpses at what civilian life was like during that era. Battles will take place on Saturday at noon and 4 p.m.  Sunday's battle will be at 2 p.m. In the skirmishes, the army of the North will attempt to defend the plantation against the invading forces from old Dixie.
The Colonial Pennsylvania Plantation is an 18th-century living history farm museum located within Ridley Creek State Park. It is most easily reached via the park's Route 3 entrance just west of Newtown Square. The event will run from 11 a.m.-5 p.m. on Saturday and 11 a.m.-3 p.m. on Sunday. Admission is $10 for adults and $8 for children (ages 4-12).
It's never too early to start your holiday shopping. That's what advertisers want you to believe. But, it's true. Start early and you have a better selection. There are no crowds and you don't have massive expenditures all at once.
If you're thinking about buying jewelry or gemstones for someone on your holiday shopping list, you'll find a lot of gift ideas under one roof this weekend at the Greater Philadelphia Expo Center (100 Station Avenue, Oaks, 484-754-EXPO, http://www.phillyexpocenter.com.)
From September 18-20, the exhibition space is hosting the International Gem & Jewelry. The event will feature exhibitors from around the world who will be presenting a wide array of first-quality items at reasonable prices.
Visitors to the show will be able to shop for diamonds, silver jewelry, colored gemstones, watches and gold items in a wide range of prices — from $5 items to magnificent works in the $500,000 range.
The huge selection of jewelry will include rings, necklaces, earrings, pendants, bracelets and custom settings. The show offers one-of-a-kind jewelry creations, exotic gems, beads, pearls, exquisite fine jewelry, estate collections and much more.
Featuring more than 150 booths, the event will showcase an amazing variety of beautiful jewelry — all in one place. Visitors to the show also have the opportunity to bring along their own pieces of jewelry for on-site services such as jewelry sizing, cleaning and repair.
Show hours are noon-6 p.m. on September 18, 10 a.m.-6 p.m. on September 19 and 11a.m.-5 p.m. on September 20. Tickets for the event are $8.
The Greater Philadelphia Expo Center will be a bustle of activity this weekend as it is also hosting the Pennsylvania National Quilt Extravaganza now through September 20.
The event, which is billed as "the largest and most prominent textile arts event on the East Coast all under one roof," has been around so long that it now uses Roman Numerals to designate its vintage. This year's show is the Pennsylvania National Quilt Extravaganza XXII
On exhibit at the Extravaganza will be more than 600 quilts and garments presented in gallery style. There will also be more than 200 vendor booths with items including completed quilts and garments as well as the supplies and equipment used in making them.
The Pennsylvania National Quilt Extravaganza will also offer a wide array of lectures and workshops presented by some of the top professionals in the field of quilting and the textile arts, including Linda Hahn, Pat Yamin, Jenny Rayment and Lenore Crawford.
Show hours are 10 a.m.-6 p.m. on Friday and Saturday and 10 a.m.-4 p.m. on Sunday. Tickets for adults are $14 on Friday and Saturday and $12 on Sunday. Children under the age 16 are admitted free.
The Strasburg Railroad (Route 741, Strasburg, 717-687-7522, www.strasburgrailroad.com) is a great family destination at anytime during the year — but some weekends are special.
One of the most popular special events each year at the Strasburg Railroad is "Day Out With Thomas." Kids love Thomas the Tank Engine and Thomas the Tank Engine loves them back — especially when he encounters them up-close during his visits to the Strasburg Railroad.
Every year, the steam locomotive named Thomas makes several visits to Lancaster County where he entertains enthusiastic children and their parents. The locomotive, which has its own PBS television series, will be in Strasburg now through September 20 to participate in "Day Out With Thomas." Hr will also make a return visit from November 20-22.
For more than 50 years, Thomas the Tank Engine and his Island of Sodor friends have been favorites of preschoolers and their parents. Based on "The Railway Series" (classic stories authored by a father who loved trains and wanted a shared experience with his son), "Thomas & Friends" has evolved into a rite of passage that inspires imagination.
America's favorite little blue engine will bring along a special guest for his stay in Lancaster County — his pal Percy. The locomotive named Percy has travelled from the Island of Sodor made his national debut in Strasburg last year.
Tickets for "Day Out With Thomas," which are $21, include the train ride with Thomas the Tank Engine, the opportunity to meet Percy and a bonus train ride aboard Strasburg Railroad's miniature steam train "The Pint-Sized Pufferbelly."
On September 19, there will be a "Pancake Breakfast and Hayride" at the Crows Nest Preserve (201 Piersol Road, Elverson,  www.natlands.org/events).
With this event, "if you snooze, you lose" because it is only running from 8 a.m. until noon.
Early risers will be rewarded with a relaxing, outdoor breakfast surrounded by 621 acres of woodlands, meadow and meandering French Creek.
The schedule calls for hiking a short distance to enjoy pancakes cooked over a campfire and then jumping on the haywagon for a fun return ride.
In between flipping short-stacks, Natural Lands Trust staff and volunteers will share their knowledge of the land — highlighting the wildlife and people communities that thrive in this expansive landscape.
Visitors are encouraged to bring your appetites and cameras.
Admission is $10 for adults and $7 for kids. Rain date is October 3.
The Kitchen Kettle Village Tailgating Festival is scheduled for September 18 and 19 from 10 a.m.-6 p.m. each day at Kitchen Kettle Village (3529 Old Philadelphia Pike, Intercourse, 800-732-3538, http://www.kitchenkettle.com).
Special activities include "Whoopie Pie Filling Contest," Balloon twisting for the kids with the "Balunguy," sampling locally-made apple cider from Kauffman's Fruit Farm, touring a sports-themed scarecrow display and watching a "Tailgate Parade" through the Village.
Live entertainment is scheduled with continuous performances throughout the day with Banjo Jimmy & his Sidemen, The Conestoga Tunesmiths, strolling entertainer Geist, Summitt Hill, the Dixieland Band and Jim Connors.
There will also be a "Tailgate Games" area featuring a bounce house, inflatable basketball hoop shoot, face painting and more. This area has a $5 entrance fee with all funds raised benefitting local sports teams and booster clubs.