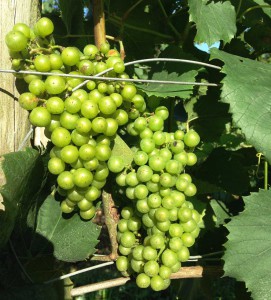 The new Brandywine Artisan Wine Trail officially kicked off this month. The Trail incorporates all Brandywine Valley wine-based businesses including wineries, vineyards and wine bars, and celebrates the art of wine and the artistic heritage of the beautiful Brandywine Region by providing artisanal themes every month during the year.
The Brandywine Artisan Wine Trail brings attention to local artists, sculptors, ceramic artists and small farm run artisan food products, as they show and sell their art and produce at our local award winning wineries. The website (http://www.brandywineartisanwinetrail.com) will also offer a detailed list of the grape varieties grown in this region, with commentary by vineyard owners and managers as well as interviews posted with the winery owners, managers, wine makers and wine bloggers of our area. As the Brandywine Valley Wine industry expands, the new wine trail can provide the information that consumers and wine enthusiasts need to know about what makes this area of Pennsylvania such a great place to grow grapes and make award winning wines.
"Linking artists, artisans and wineries just seems like a natural combination to me" said Artisan Trail Manager Lele Galer. "This area has so many interesting home-grown things going on, great wine, beer, food, and art, and so many fantastic people creating marvelous local products – it just makes sense that we should all work together and showcase what we have that is unique to the Brandywine Valley and Chester County." Galer also notes that the tourism industry is thriving here, and that "wonderful organizations like the Brandywine Visitor's Center" help to make this area a destination location for wine, the arts, music, food and other local artisan products.
The Brandywine Artisan Wine Trail offers a different artisan theme every month. To kick off the trail this August, "Paintings" is the theme, where the majority of the wine establishments are showcasing various local painters throughout the month or in "Pop up" Art shows in their tasting rooms. Kreutz Creek Winery is showing the paintings of Anita Routzahn in their tasting room in downtown West Chester, and the paintings of Beverly Ann Kratzel in their winery location in Oxford. Wilson Vineyards has an onsite gallery curated by artist Sally Wilson, sister of the owner Nancy Wilson and aunt to Zach and James Wilson who both run the vineyard and winery. Galer Estate Winery has pop up art shows every Thursday from 5-8pm, where painters Laurie Murray, Diane Cannon and Carla Pastore are showing this month, as well as co-owner Lele Galer will also be exhibiting her paintings throughout August. When searching for an artist to showcase at Penns Woods Winery, Carley Razzi, asked her close friend, painter Sarah Russell. Ten Gallon Hat Winery is showing the paintings of local esteemed artist Frank DiPietro.
The September artisan theme for the Brandywine Artisan Wine Trail will be "Sculptures." "The Art of Food" is the theme for October where The Trail will celebrate National Cheese Month with wine pairing offerings with local award-winning cheeses from The Chester County Cheese Artisans association.
As for the future of this new exciting Trail, Galer states, "we are evolving, and will continue to grow with the participation and input from our local artists, wineries, and other wine-related businesses." With new vineyards and wineries springing up every year in the Brandywine Valley, there was no existing Trail that made our community and tourists aware of all of these exciting new and established wine businesses. Particularly for small wineries or wineries off the beaten path, they need to have their locations listed in one comprehensive Wine Trail to draw visitors. This new free Brandywine Artisan Wine Trail site hopefully helps to draw new customers to wine businesses for the enjoyment of both great wines and great art. "We are lucky to live in a very artistically rich community, and we hope that the Brandywine Artisan Wine Trail will help strengthen that sense of a creative community for our area and as a destination location for visitors travelling here".
For information check out www.brandywineartisanwinetrail.com.