By Denny Dyroff, Staff Writer, The Times
Two major factors a band needs to achieve success and longevity are the ability to write good songs and the maintenance of a high level of friendship among band members.
Three bands who will be performing in the area, over the next week, have met this criteria along with solo artist, Lloyd Cole, who went back to old friends and his old way of writing songs to make a refreshing new album.

If people don't pay close attention, it's easy for them to get false impressions about Lloyd Cole, who was the leader of Lloyd Cole and the Commotions from 1984-1989, and has been a solo artist ever since. For example, a lot of people think that Cole is Scottish because he formed Lloyd Cole and the Commotions when he and the rest of the band were students at the University of Glasgow. The truth is — he's British.

"I grew up in a small town just south of Manchester, England," said Cole, during a phone interview Tuesday morning from his home in western Massachusetts. "Later, my family and I moved to Scotland."

Cole is a huge fan of the Premiership, the top tier competition of British football (soccer). Logically, people might assume that — based on where he grew up — he probably was a fan of one of Manchester's two big football clubs — Manchester United or Manchester City. "I wasn't a fan of either of the Manchester teams," said Cole. "My favorite team has always been Chelsea. I'm still a very big Chelsea fan."

And, because several of Cole's more recent albums were reflective solo works rather than rock-oriented discs, people might be thinking that Cole has settled in to making comfortable "age appropriate" music. That is also far from the truth. Cole, who will be performing on July 7 at World Café Live (3025 Walnut Street, Philadelphia, 215-222-1400, philly.worldcafelive.com), released his latest record "Standards" a few months ago on Omnivore Recordings and the album rocks — flat-out rocks.

It's been 30 years since Cole and The Commotions released their impressive, hard-hitting, debut album "Rattlesnakes." Cole has enjoyed something of a renaissance with "Standards," which is described as "a gloriously electric rock 'n' roll record that fans and critics alike have hailed as his best work since 'Rattlesnakes.'"

"A big influence on the making of my new album was 'The Tempest' album by Bob Dylan," said Cole. "There are great songs on that record. I don't think Bob Dylan has any idea how old he is. It made me think about 'age appropriate' music. I never wanted to make the error of trying to hold on to a link. I think maybe I got too cautious with my music there for awhile. On the new album, I wrote songs I didn't expect. I took the risk. As a songwriter, I couldn't exist without Ray Davies (Kinks), Lou Reed (Velvet Underground) and Bob Dylan. I'm one of those people who came after Dylan. But, I don't think my music is really Dylanesque. There is a similar flamboyance with language. I have fun with language. The language becomes the entertainment value of the song. I've always leaned toward that. I've always thought that the sonic value of words is important. Initially, I wasn't thinking of the songs in a band format. But, I was leaning toward a rock record. I thought — if I'm going to make a rock record, I need a rhythm section."

The band Cole put together to record "Standards" featured Fred Maher (drums) and Matthew Sweet (bass) — the rhythm section from Lloyd's first two solo albums in the early 1990s — along with Joan (As Police Woman) Wasser (piano, backing vocals), Commotions' keyboardist, Blair Cowan, and guitarists Will Cole (Lloyd's son), Mark Schwaber, and Matt Cullen.

"The last time I recorded with Fred and Matthew was in 1991," said Cole. "I contacted them and both said they wanted to do it. When we were making the record, Fred's wife was due to have a baby. So, I had eight-to-nine weeks to finish all the songs. I was working 8-to-10 hours a day. It's easier when you know what you're writing for. So, this album wasn't difficult to make. I made sure I had all the lyrics finished before I headed to L.A. Some of the songs took hours to write and there were some that took years to finish." The album was recorded in late 2012 and early 2013.
"We had fun," said Cole. "No demos — we just went in and played. A deadline is great because you know you have to finish. After doing the rhythm tracks with Fred and Matthew, I had about three months to work on finishing the tracks. The album came out in Europe in 2014 but it didn't come out here until this year. I won't be playing with a band on this tour. I've been 95 per cent solo for the last few years. About 15 years ago, I was in a band with some New York musicians called the Negatives. Now, there is talk of some Negatives shows in the foreseeable future." Video link for Lloyd Cole — https://www.youtube.com/watch?feature=player_detailpage&v=YCBJ8BVy49w. Cole's show at the World Café Live on July 7 will start at 8 p.m. with tickets priced at $25. On July 8, the club will host Janeane Garofalo.
Mariana Trench is deep — the deepest known ocean trench, and the deepest known location on Earth itself. The band, Marianas Trench, is also deep — just listen to the band's lyrics. Marianas Trench, which will be performing on July 2 at the Theatre of the Living Arts (334 South Street, Philadelphia, 215-222-1011, http://www.lnphilly.com), is an indie-pop band based in British Columbia. The group broke into the Canadian music scene in 2006 and met with immediate success.

Over the years, the four-piece band from Vancouver — Josh Ramsay (lead vocalist, rhythm guitarist, pianist, songwriter), Matt Webb (lead guitarist, backing vocals), Mike Ayley (bass guitar, backing vocals) and Ian Casselman (drums, percussion, backing vocals) — has been making inroads in the American market. Two years ago, Marianas Trench made its first real tour of the U.S. — a tour that included a stop in Philly at the TLA. Now, the band is coming back to the TLA with a bunch of new songs and an album called "Astoria" waiting in the wings.

"The album is ready," said Ayley, during a recent phone interview from his home in Vancouver. "We're finally done recording it. We've been grinding away. We'll do all of the album's mixing when we get back to B.C. We have 12 new songs that no-one has heard. We'll be playing four of the new ones live on this tour. It's great. There are symphonic parts with string sections. It's a concept thing."

Marianas Trench has released three albums in Canada — "Fix Me" (2006), "Masterpiece Theater" (2009) and "Ever After" (2011). Two years ago, the band won the Juno Award (the Canadian equivalent of the Grammys) for "Group of the Year."
"Our first album 'Fix Me' was just an album with 11 or 12 songs," said Ayley. "Our second album 'Masterpiece Theater' had just three songs — beginning, middle and end. They were longer songs — more like Act I, Act II and Act III. The last one played as a continuous piece of music. As soon as one track ended, the next one began. A lot of it was written after the initial recording to make the songs flow together. Some we knew would go well into the next, while others, we had to work on connections. The new one has string sections linking songs that were written while we were recording. They are almost like soundtrack moments — moments to set tones or indicate a change in direction. We also used a full brass section…Josh writes all the songs and we approve of what he writes 99 per cent of the time. He writes the song and then we do the tracking for our own instruments. All the songs have all our fingerprints."

Ramsay has already had a serious introduction to America's young music audience. He was producer and co-writer of Carly Rae Jepsen's smash hit single "Call Me Maybe" — a song that topped the pop charts in over 30 countries last year. With worldwide sales of over 13 million copies as of May 2013, "Call Me Maybe" was one of the best-selling singles of all time.
The band's frontman owns a recording studio in Vancouver called The Umbrella Factory and it is there that Marianas Trench makes its records. Ramsay plays a large number of instruments and frequently plays all of the instruments on the songs he produces for other artists.

Ramsey tackled some deep topics on the soon-to-be-released album. "This is a real chapter of Josh's life," said Ayley. "It's about personal relationships, family stuff and health issues…We've been recording it for quite awhile, but the bulk of it was done over the last six months. We did eight of the songs in the last six months. I don't know if we'll play the album front-to-back. In Canada, we have three albums out already so there are songs that our fans definitely want to hear us play. It's not quite that way in America, yet. Our U.S. fan base is more diverse. In Canada, we play arenas. I would really love to do a tour where we play the new album start-to-finish. With an album like the one we just recorded, it's something that definitely should be done."
Video link for Marianas Trench — https://www.youtube.com/watch?feature=player_detailpage&v=EKIPh1w4s18. The Marianas Trench show at the TLA will start at 7 p.m. with Ivy Levan, Mariana Trench's label mate at Cherrytree Records, as the opener. Tickets are $23.On July 7, the TLA will present Raekwon, Ghostface Killah, Dillon Coope and Darq.
Most of the rock music tours this summer feature line-ups with bands that have similar audiences — line-ups such as Smashing Pumpkins, with Marilyn Manson; or Steely Dan, with Elvis Costello and The Imposters. But, there are exceptions. One glaring exception is the "Kid Rock's First Kiss: Cheap Date Tour" that touches down on July 7 at the Susquehanna Bank Center (1 Harbour Boulevard, Camden, New Jersey, 800-745-300, http://www.lnphilly.com).

Obviously, Kid Rock is the headliner. Robert James Ritchie, known by his stage name Kid Rock, is an American singer, rapper, songwriter, multi-instrumentalist, producer, and actor. His biggest success has been in the rap-rock genre. The middle act in the show is Foreigner, a British classic rock band that has been around in one incarnation or another since 1976. The band has had numerous mega-hits — the biggest of which has been "I Want to Know What Love Is." And, in the opening slot is Packway Handle Band, a five-piece bluegrass band from Athens, Georgia featuring Josh Erwin (guitar), Tom Baker (banjo), Andrew Heaton (fiddle), Michael Paynter (mandolin) and Zach McCoy (bass).

It almost makes you want to ask — what's wrong with this picture? "We've always been able to fit into different types of lineups and festivals," said McCoy, during a phone interview Tuesday from a tour stop in North Jersey. "This tour's show is interesting from start to finish with a wide range of music."
In 2008, Packway Handle Band released a self-titled album and followed with its sophomore album — "What Are We Gonna Do Now?" in 2010. The band continues to play frequently in the Southeastern United States.

In a press release, McCoy commented on a parallel to this tour and the album title "What Are We Gonna Do Now?" McCoy was quoted as saying, "I think I can finally answer that question. We are going to flood millions of ears this summer with the wisdom and charisma that is the Packway Handle Band…Seriously though, the reason we're here is because of our fans, and we'd like to show our appreciation by being the best damn band we can be for them this summer. At least until Foreigner and Kid Rock take the stage."

In Tuesday's interview, McCoy said, "We played with Kid Rock on his last two cruises. On this tour, we play for awhile, moving around the stadium grounds and then we go up onstage for the final 20 minutes of our set. Then, Foreigner comes on with this huge amount of equipment and this massive sound. They've had a lot of hits over the years and fans love them. They are a really good band. After that, Kid Rock comes on with his band and plays a two-hour set."

Packway Handle Band is closing in on its 10th anniversary but the band's roots go back a lot further, "We were all in grade school together in Georgia," said McCoy. "We've known each other for as long, long time. That's the biggest reason we're still a band. We've been friends for so long we have the ability to get past the rough days and the flaring of tempers. Andrew, our fiddle player, is the only outsider. We went to Virginia Tech. The rest of us went to UGa (University of Georgia) in Athens. That's where we started — playing music on the side just to have fun. We started playing locally in Athens. Our old bass player initiated the whole band thing but then he left the band to pursue other things. We had our first outing as a full-time band in February 2006. We were finalists three consecutive years at the Telluride Bluegrass Festival Band Competition in Colorado, and finished fourth, third and second."

Packway Handle Band released its debut album "Chaff Harvest" in 2004. "Our music has evolved a lot," said McCoy. "The early music was a mix of traditional and original. And, the music was all bluegrass. With the bluegrass songs back then, we all gathered around and sang into one microphone. A lot has changed since then. "We've added electronic instruments and percussion. And now, everyone has his own mic and monitor. Michael is our songwriter and his writing has matured a lot over the years — not just with the lyrics but also with the arrangements. Ironically, we've all become better soloists but we do less soloing."

The band's latest recording is the Jim White-produced album "Take It Like A Man," which blends the roots poet/Southern surrealist Jim White with the straight ahead bluegrass of the Packway Handle Band. The collaboration is billed as "Jim White vs. the Packway Handle Band."

"We had been fans of Jim White's music for awhile and then we realized he had moved to Athens," said McCoy. "He approached us to be his backing band on the song 'Israelites.' Then, we approached him to produce our album. He agreed and then asked to share the album half-and-half. We thought it was a great idea." Video link for Packway Handle Band — https://www.youtube.com/watch?feature=player_detailpage&v=9OYK9DFrC_c./ Packway Handle Band, along with Foreigner and Kid Rock, will start their show in Camden at 6:45 p.m. on July 7. All tickets are $20.

Too Close to Touch is a fitting name for a band that is playing a show at a club called the Voltage Lounge. — A show with the potential for an 'electrifying' performance.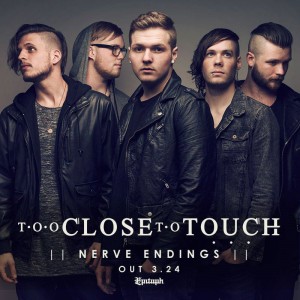 The Kentucky-based band Too Close to Touch will visit the area on July 8 for a show with I the Mighty at the Voltage Lounge (421 North Seventh Street, Philadelphia, 215- 964-9602, www.facebook.com/Voltagelounge). The band's line-up includes guitarists Mason Marble and Thomas Kidd, bassist Travis Moore, drummer Kenneth Downey, and vocalist Keaton Pierce.

"We're just a bunch of friends who were hanging out in Lexington," said Marble, during a recent phone interview from Fort Collins, Colorado (where the band was waiting for its broken-down van to have its transmission repaired). Me, Ken and Travis were here in Lexington. Keaton moved up from Benton, Kentucky and Thomas had moved to the area from Arizona. We just all clicked immediately. The music just came out of the overflow of our friendship. We started writing songs together three years ago and the first gig with this line-up was in late summer 2014. We write songs all different random ways."

The band's chemistry was obvious from the start. "When you get a bunch of creative people together, it just happens," said Moore, who was also in on the interview. "Our first hit 'Deep End' was one of the first songs we wrote. It didn't take us long to vibe off each other."
On this tour, Too Close To Touch will be performing in support of its debut record "Nerve Endings." which came out on Epitaph in April. "For this record, we picked a finite direction where we wanted to go," said Moore. "Everyone in the band had this idea of what they wanted us to be and we're all in tune with that. We wanted to focus on the emotions as well as the catchiness of the songs. We met with our producer Erik Ron in California. He kept us in line — and co-wrote some songs. The album was written over the course of a year and we went out to L.A. three times to work in the studio with Erik…At first, we had a five-song EP. Then, we needed some additional content. We recorded more songs and expanded the EP to a full-length. With three trips out west, we had grown a little more each time. It brought diversity to the record and allowed us to focus on each segment." Video link for Too Close to Touch — https://www.youtube.com/watch?feature=player_detailpage&v=x20a3n__zuk. The Too Close to Touch show at the Voltage Lounge will start at 8 p.m. and will also feature I the Mighty, Hail The Sun, Kaonashi and Brock Landers. Tickets are $10 in advance and $13 at the door.
On July 3, Harrah's Casino Philadelphia (777 Harrah's Boulevard, Chester, 484- 490-1800, https://www.caesars.com/harrahs-philly) will host a free "1990s Dance Party" at its brand new music venue, The Block Entertainment Center, at 8 p.m. This holiday party will feature dance megastars Freedom Williams from C&C Music Factory and Rob Base as the headliners.
The show will also feature with the legendary DJ Jeff Rice from the once-popular-and-now-long-gone dance club "Pulsations." Rice will be spinning all of the dance favorites from that unforgettable decade. The show's line-up will also include local hit maker Felicia Punzo, a popular singer from South Philadelphia. The show on July 3 will be a free event, but attendees must be 21 years or older and tickets are required to enter the show. Video link for C&C Music Factory — https://www.youtube.com/watch?feature=player_detailpage&v=LaTGrV58wec. To reserve a free general admission ticket, which includes $10 in Casino Match Play, and a free valet parking voucher courtesy of Harrah's Philadelphia, click on this link — http://msk-events–design.ticketleap.com/rob-base–cc-music-factory-concert-at-harrahs-philadelphia/
Other area performances include:

The Keswick Theater (291 N. Keswick Avenue, Glenside, 215-572-7650, www.keswicktheatre.com) presents legendary blues guitarist Buddy Guy, on July 3, with Quinn Sullivan as the opening act.

On July 3, 4 and 5, the Ardmore Music Hall (23 East Lancaster Avenue, Ardmore, 610-649-8389, www.ardmoremusic.com) will present "A Celebration of the Grateful Dead's 50th Year" with live music by Dead tribute band Splintered Sunlight along with a live stream of "GD50 Chicago."

The Steel City Coffee House (203 Bridge Street, Phoenixville, 610-933-4043, www.steelcitycoffeehouse.com) will host a pair of "Steel City Local Artists Nights" with Bacton Hill and Armani Mayberry on July 3 and the Pecan Sandies on July 4.

Chaplin's (66 North Main Street, Spring City, 610-792-4110, http://chaplinslive.com) will host a "Bluegrass Jam" on July 2; Last Chance, Jake Currie and Eric Reavey on July 3 and Hooch, Brick Nova and Just The Architects on July 4.

The Sellersville Theater (24 West Temple Avenue, Sellersville, 215-257-5808, www.st94.com) will have Les Dudek on July 2, Red Molly on July 3, Calan on July 7 and Mike Zeto & The Wheel on July 8.

The Grand Opera House (818 North Market Street, Wilmington, Delaware, 302-652-5577, www.thegrandwilmington.org) will host the legendary Ukrainian dance company Kazka on July 7.

The Chameleon Club (223 North Water Street, Lancaster, 717-299-9684, http://www.chameleonclub.net) will have Quincy Mumford & The Reason Why on July 2, former Skid Row lead singer Sebastian Bach on July 5, and Say Anything on July 6.

The Rainbow Dinner Theatre (3065 Lincoln Highway East, Paradise, 800-292-4301, www.RainbowDinnerTheatre.com) is presenting "Too Many Cooks" now through August 8. Matinee performances are every Tuesday, Wednesday, Thursday and selected Saturdays. Evening performances are every Friday, Saturday and selected Thursdays.