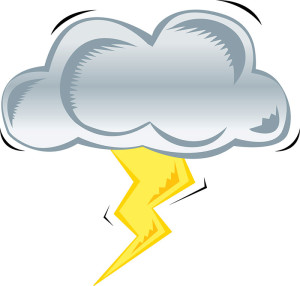 Utility and local officials continue to work to restore power to thousands of residents in Chester County still without power after Tuesday's "macroburst" storm wrecked havoc around the region, particularly in southeastern Chester County and western Delaware County.
The National Weather Service said that the storm did not appear to spawn any tornados, but did have sudden winds of as high as 80 MPH — what they termed a "microburst."
The storm tore trees up, taking down utility lines, blocking roadways and in some cases, trapping motorists.
Damage appears to have been centered along a line from Caln down through into Delaware County, including West Chester, Pocopson and Western Delco, where Chadds Ford, Concord and Chester Heights were hit hard by the storm.
PECO said Thursday that it had retired power to all but a little more than 20,000 users — with restoration for more than 110,000 users initially knocked out. Most of those still without power will likely see restoration by Friday, although some area residents have been quoted with Monday or later as restoration times by the company. PECO brought in crews from a number of neighboring states to assist with the repair work.
Verizon Wireless said Wednesday it had restored service to its mobile users after losing parts of its network following the storm.
The cleanup continues with tree branches and debris still littering the area, but the worst damage appears not to be in Chester County, by nearby in western Delaware County. As of Thursday morning, US-1 remained closed in Chester Heights, with a number of trees down, power lines down and cars trapped in the middle. Officials were working to get the roadway open on Thursday. Parts of Delaware County were declared a disaster area.
The situation in much of Chester County is much less acute, although pockets of residential areas continue to struggle to get back to normal.
Pennsylvania American Water, at the request of the Chester Co Emergency Operations Center, is stationing a pair of tankers with potable water to assist residents whose homes have been impacted by power outages. The tankers are intended to provide relief to homeowners with wells, since their wells are inoperable without electricity for pumping. The tankers will be located at the West Brandywine Township Bldg, at 198 Lafayette Rd, starting at 3:30 p.m. Residents are asked to bring their own containers.
The company said they were not aware of customers losing water service, but if customers experience any service disruption, we ask they should contact American Water's customer service center at 800-565-7292.
Residents are urged to call their utility company to report power outages and NOT to call 9-1-1;  PECO 1-800-841-4141, PPL 1-800-342-5775, MetED 1-888-544-4877. After some initial issues, PECO's phone system is working and customers can get regular updates on the latest repair estimates.