Also: Brandywine Food and Wine and multiple ethnic festivals in the area 
By Denny Dyroff, Staff Writer, The Times
Summertime is the time for a lot of fun events — especially festivals and country fairs. The lights on a Ferris wheel, the noise of arcades and the smell of cotton candy all are an integral part of summer for kids of all ages.
From June 16-20, the sights, sounds and smells of a fair will be filling the air in Downingtown when Saint Joseph Church (338 Manor Avenue, Downingtown, 610-269-8294, www.stjoesfestivlal.com) hosts its annual "Community Festival."
The event will feature all the traditional things associated with a festival such as exciting rides and amusement games. There will also be food concessions featuring all the standard festival fare including cotton candy, ice cream, hot dogs, hamburgers, popcorn, corn dogs, soft pretzels and cheese fries along with mozzarella sticks, tomato pie and hot roast beef sandwiches.
There will be live music every day beginning with Lindsay McKay Band on June 16. The schedule also features School of Rock and Nolan Wible Band (June 17), 4-Play (June 18), Bulldogs (June 19) and Fern Rock and Survivors (June 20).
A gala fireworks show is slated for June 19 with a rain date of June 20. Festival hours are 6-10 p.m. June 16-18 and 6-11 p.m. on June 19 and 20.
The Brandywine Food & Wine Festival, which is still a relatively new entry on the area calendar, is an event that just keeps getting bigger and better. The 2015 edition of festival, which is being presented by the Brandywine Valley Wine Trail, has moved to a new location.
Scheduled for June 13, the festival will run from noon-6 p.m. at the Greater Chester Valley Sports Association (137 Line Road, Malvern, 610-444-3842, www.pawinefestival.com).
The event will feature local wines, foods, crafts and music. There will be a wide array of wineries from the area taking part in this year's festival with free tastings of local Pennsylvania wines and sales of wine by the glass or the bottle.
There will be 12 wineries participating in the event this year — Kreutz Creek Vineyard, Black Walnut Winery, Paradocx Vineyard, Grace Winery, Penns Woods Winery, Borderland Vineyard, Ten Gallon Hat Winery, Auburn Road Vineyards, Bellview Winery, Harvest Ridge Winery, KOG Hill Winery and Stone Barn Cellars Winery.
Gourmet food offerings will be available for purchase from a number of local restaurants and caterers, including Amani's BYOB, Forno Inferno, Sherri's Crab Cakes, Ka-Chi Truck, Bridge Street Chocolates, Conebella Farm Cheese, Dia Doce Gourmet Cupcakes, Farm Fromage, Flour and Oats Artisan Cookies and Fresh Truck Bistro'
Also featured will be Kilby Cream, MacDougall's Irish Victory Cakes, Maui Wowi Hawaiian Coffees & Smoothies, Mistress of Spice, M & M Catering, Saint Lucifer Spice, Spices & Stuff, Taste Artisanal Market, The Desmond, Thunder Ridge Kettle Corn, Waffatopia and Wandering Chef.
The Chester County Beekeepers Association will provide information on bees, beekeeping and local honey and award-winning Chester County Chef Jon Amann of Amani's BYOB will demonstrate how to prepare fresh seasonal fare. Live music will be provided by Brian Brazil and the Hard Case Blues Band and Powerhouse.
Tickets are $25 for adults and $5 for children (ages 10-120) and designated drivers.
St. Anthony's Italian Festival (St. Anthony of Padua Church, 901 North DuPont Street, Wilmington, Delaware, 302-421-2790, www.stanthonysfestival.com is entering its home stretch and will close on June 14. The event features cafes, carnival rides, live Italian music and amusement games.
This festival is more than just a carnival with rides and food. It also is an educational experience with a focus each year on a different cultural region in Italy. This year, the focus is on the Abruzzo region. Many members of the St. Anthony's community, and many Italian-Americans in the Delaware region, trace their origins back to the Abruzzo.
The festival has become famous for its array of tasty Italian food. Visitors will be able to enjoy such taste treats as spezzato, pizza, sausage and peppers, panzarotti, porkette, clams and spaghetti, pasta fagioli, pizza frita, meatball sandwiches, mozzarella sticks, calamari rings, spaghetti dinners and fresh espresso and cappuccino.
There is a $5 admission fee for all visitors ages 14-61. Seniors (age 61 and older) and children (age 13 and under who are accompanied by parent or guardian 18 or older) will be admitted free.
Another attractive ethnic festival is St. Maron's Lebanese and Middle East Cultural Festival (10th and Ellsworth streets, Philadelphia, 215-389-1000, http://www.saintmaron.org).
The popular event, which runs from June 12-14, offers a wide variety of tasty Middle Eastern dishes such as kibbe (bulghur, minced onions and finely ground lean beef or lamb), baba ghanoush (eggplant mixed with onions, tomatoes, olive oil and various seasonings) and tabbouleh (vegetarian dish with bulgur, tomatoes, finely chopped parsley, mint, and onion).
Also featured will be be hummus (food dip made from cooked, mashed chickpeas blended with tahini, olive oil, lemon juice and garlic) and freshly-cooked shish kabobs and chicken kabobs. A kabob is a Middle Eastern dish featuring pieces of meat, fish, onions and peppers grilled on a skewer).
Some of the other attractions at St. Maron's free festival will be folkloric exhibits, arts and crafts booths, hookahs, children's games, a performance by Dabke Troop, cash prize raffles and live music by Andre Ibrahim, St. Maron Dabke Troupe and DJ Georgie S.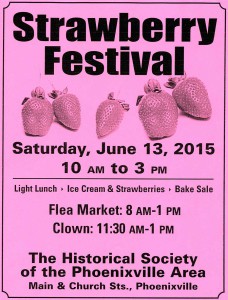 Another food-based festival this weekend is the annual Strawberry Festival and Flea Market. The event will be presented by the Historical Society of the Phoenixville Area (204 Church Street, Phoenixville, 610-935-7646, hspa-pa.org) on June 13.
Festival hours are listed as 10 a.m.-3 p.m. but activity will really get underway with the opening of the flea market at 8 a.m. The actual Strawberry Festival, starts at 10 a.m. and features strawberries, ice cream and cake.
In addition to its month-long "Summer Spectacular" in June, Longwood Gardens (Route 1, Kennett Square, 610-388-1000, www.longwood gardens.org) is hosting a special live production by the Savoy Company on June 12 and 13.
The Savoy Company, which is the oldest amateur theater company in the world, is dedicated solely to the production of the works of Gilbert and Sullivan. This weekend's performances will feature "Patience or Bunthorne's Bride."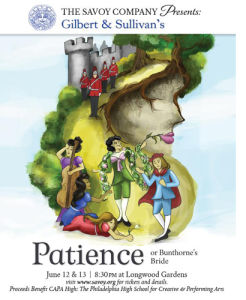 A big hit in England, "Patience" satirizes the 1870s' and 1880s' "aesthetic movement" based on the principle of art for art's sake. All the well-born young ladies in the village rapturously caught up in aestheticism, find themselves lovesick over two contrasting aesthetic poets — Bunthorne, a "fleshly" poet and Grosvenor, an "idyllic" poet.
Both poets are in love with Patience, the simple village milkmaid, who cares nothing for poetry. The ladies' military suitors — Officers of the Dragoon Guards — don't understand aesthetics, but give it a try to win their ladies' hearts.  With a comic turn of events, everyone ends up with a suitable partner — even if it is only a tulip or lily.
The performances at Longwood Gardens' Open-Air Theatre begin at 8:30 p.m. each night. Tickets are $29 and the ticket price includes all day admission to Longwood Gardens.
Hagley Museum and Library (200 Hagley Creek Road, Wilmington, Delaware, 302-658-2400, www.hagley.org), the site of the former DuPont Powder Mill, offers a wide array of special events for visitors every summer.
There will be two different walking tours this weekend — "What's for Dinner? A Tale of Two Gardens" on June 13 and "Rocks and Roll Mills" on June 14. Each tour will leave twice — at 11 a.m. and again at 2 p.m.
"What's for Dinner? A Tale of Two Gardens" will visit two very different gardens — one fed the du Pont family and the other DuPont Company workers in the 1800s. This tour explores the cultural and economic factors influencing the architecture, produce, and the philosophies of each garden.
On the "Rocks and Roll Mills" tour, visitors will explore the geology of the Brandywine Valley and its impact on the milling industry — and take home a piece of Delaware Blue Rock as a souvenir.
Both tours involve walking on uneven ground.
On June 13 from 1-4 p.m., Hagley will present "Science Saturday: Boom! The Science of Explosions." Families work creatively together to solve a problem or make an improvement. From spark to combustion, families will discover how explosions light up the world.
Admission to Hagley is $14 for adults, $10 for students and seniors, $5 for children (ages 6-14) and free for children (age 5 and under).
From May through October, Rock Ford Plantation (881 Rockford Rd., Lancaster, 717-392-7223, www.rockfordplantation.org) is hosting "Second Sunday Living History Events" that include a guided tour of the mansion. Rock Ford Plantation focuses on life in the late 18th Century.
As part of the series, Rock Ford Plantation will present "Love & Romance" on June 14, from 11 a.m.-3 p.m. Visitors will be able to learn about the ways of courtship in the time of Federal America and experience a tour of the mansion with a specific focus on an aspect of life in the 18th Century.
Admission is $8 for adults, $7 for seniors (age 65 and older), $6 for children (ages 6-12) and free for children (under 6). All proceeds from the Second Sunday Living History Series will benefit the ongoing preservation and operation of Rock Ford Plantation.
The Pennsylvania Guild of Craftsmen will host its Second Annual "MAKERSfest" on the 300 block of North Queen Street in Lancaster on June 14 from 10 a.m.-4 p.m.
The popular street festival celebrates the beauty of a finished object — along with the act of making the object. The Guild invites everyone to come for the day and start making crafts — and to acquire a piece from a master craftsman.
The event features more than 50 craftsmen, live music, food trucks, and hands-on activities that focus on the artistry and ingenuity of making. There will be a variety of genres represented including ceramics, jewelry, handmade clothing, weaving, artisan furniture and functional objects.
If you bring your own blank shirt with you, the festival staff will help you screen print the "Lancaster City of Makers" design.
Kids (ages 10 and older) can learn how to solder by making a little MakerBot pin. Each budding maker will be individually guided by an expert maker. The budding maker gets a turn soldering together the pin face to the tie-tack, and the red LED lights. Once finished, the robot pin will blink and can be worn home.
The show features free admission. For additional information, call (717) 431-8706 or visit http://www.pacrafts.org.
There will be crafts of an entirely different type at a special event in Philadelphia this weekend. On June 14, the 40th Annual Odunde Festival (215-732-8510, http://odundefestival.org) will be held from 10 a.m.-8 p.m. at 23rd and South streets in downtown Philadelphia.
Odunde attracts close to 500,000 people each year, covers 12 city blocks and is one of the largest African-American street festivals in the country. Its authentic African marketplace features vendors from around the world selling merchandise from many African nations, the Caribbean and Brazil.
The free festival, whose concept originates from the Yoruba people of Nigeria, West Africa, celebrates the coming of another year. One of the highlights each year is a colorful procession from 23rd and South streets to the Schuylkill River where an offering of fruit and flowers is made to Oshun, the Yoruba goddess of the river.
There will be continuous live music throughout the day. Some of the featured performers will be Kulu Mele, the African Heritage Dancers, Universal African Dance and Drum Ensemble, Rennie Harris, Troupe DaDa, Diva Dollz, The Saints, Philadanco and Kurtis Blow.
Special things are happening this weekend at the Delaware Museum of Natural History (4840 Kennett Pike, Wilmington, 302-658-9111, http://www.delmnh.org) — "Family Fun Day" and the opening of a new exhibit.
"Family Fun Day," which is scheduled for June 13 from 9:30a.m.-4:30 p.m., will feature a fossil dig, a puppet show, face painting, Lego robots, nature craft activities, a demonstration on how to press flowers, hands-on science experiments and an insect/arachnid display with live and preserved arthropods.
The new exhibit is "Dr. Entomo's Palace of Exotic Wonders," which is set to open on June 13 and run through September 7.
Resembling an old-fashioned circus sideshow, this exhibit explores the truth, myths, and mysteries surrounding some of nature's most curious creatures — many of them alive and on view.
Visitors to the exhibit will learn about the deceptive and treacherous techniques insects can wield on unsuspecting predators. They will learn about how the harmless-looking Giant African Millipede can unleash a harmful cyanide secretion. The "Devil with Two Heads" — also known as the Vietnamese Centipede — exposes how it can confound predators with a tail that looks just like its head.
To capture the essence of the traveling circus, large, colorful hand-painted banners introduce the visitor to the inhabitants they are about to meet. They also give the first impression of the topic about to be explored, and delineate each section of the exhibit.
Exhibit highlights include "Rogues Gallery," "Glowing Terror," "Theatre of the Macabre," "The Gaff" and "Dr. E's Kitchen Cabinet of Curiosities."
Museum admission is $9 for adults, $8 for seniors (60 and older) and $7 for children (ages 3-17).
When the weather gets warm, the entertainment calendar sees a spike in outdoor musicevents.
Chaddsford Winery (Route 1, Chadds Ford, 610-388-6221, www.chaddsford.com) will present two days of free open-air music when it hosts its annual Bluegrass Music Festival on June 13 and 14.
The festival will run from 11 a.m.-9 p.m. on June 13 with Mason Porter (noon-2 p.m.), Man About A Horse (2:30-5 p.m.) and Noggin Hill (5:30-8:30 p.m.). The hours for June 14 are 11 a.m.-8 p.m. with Four Prophet String Band (noon-2 p.m.), The White Cheddar Boys (2:30-4:30 p.m.) and Keystone Mountain Boys (5-7:30 p.m.).
The guest food vendors will be Luigi & Giovanni's on June 13 and The Happy Pita on June 14. The festival will be held rain or shine.
From June 16-20, the 27th Annual Clifford Brown Jazz Festival will be held in Rodney Square (11th and Market streets, Wilmington, 302-576-3095, www.cliffordbrownjazzfest.com). The free festival will start on June 16 with Jackie Brown Jazz Band, Clifford Brown Trumpet Consortium and Aniya Jazz.
On June 17, the concert at Rodney Square will showcase an ensemble featuring Denise Montana, Ray Drummond, Sharp Radway, Shirazette Tinnen, Jermey Pelt, Jason Curry, Leon Jordan, Jr., Daniel Bauerkemper, Wayne Escoffery, Jason Marshall and Robin Eubanks .
The concert on June 18 will feature Edgardo Cintron & The Cintron Band and the Tito Puente, Jr. Orchestra. On June 19, the festival will host John "Sax" Williams, Point Blank and Leela James. Acts slated to perform on June 20 are Norman Conners, Pieces of a Dream and the Jeff Lorber Fusion with Eric Marienthal, Chuck Loeb, Jimmy Haslip and Khari Parker.
The 15th Annual State Street Blues Stroll (www.statestreetblues.com) will be held along State Street in Media on June 13 from 6 p.m.-1 a.m.
Some of the headline acts will be the Lonnie Shields Band, Deb Callahan Band, Eryn Shewell & The Whiskey Devils, Dukes of Destiny, Bickel Brothers County Seat Band, Stevie & The Bluescasters, Fred Miller Band,  Andrea Carlson, Johnny Never & Zep Harpo, BC Combo featuring Bev Conklin, DapTune, Blues Brothers & A Sister, Don Evans Band, Norman Taylor and Sonoma Sound.
Tickets for the State Street Blues Stroll are $20. For additional information, call (610) 566-5039 or visit www.statestreetblues.com.
On June 13, blues will also be featured in the Lehigh Valley when Allentown hosts its "Eighth Annual Blues, Brews & Barbecue" (http://www.downtownallentown.com) three outdoor stages in the downtown area of the city.
The free event, which will run from noon-10 p.m., features Joe Louis Walker, Edward David Anderson, Clarence Spady Band, Craig Thatcher Trio, Supra Ayers Quartet, Steve Brosky & Jimmy Meyer, Tavern Two, the Blue Professors and The BC Combo.
"Blues, Brews & Barbecue" also features delicious barbecue from all around the United States along with a wide selection of craft and domestic brews. Additionally, a number of local artisans will be selling their wares at the one-day festival.
Some of this year's featured vendors are "Aw Shucks" Roasted Corn, Inc., Allentown Brew Works, Kloby's Smokehouse, The Nutty Bavarian & Little Jimmy's Italian Ice, Baby Got "Que," Roosevelt's 21st, Jerkies "Jamaican BBQ," Bob-B-Q Sliders & Sides Truck, Grumpy's BBQ, Danny's Fine Foods, Fire & Spice BBQ and J&J Kettlekorn.
The Garden State Discovery Museum: (2040 Springdale Road, Cherry Hill, New Jersey, 856-424-1233, www.discoverymuseum.com) is presenting a special program called "Fun & Fit Weekend" on June 13 and 14 from 11 a.m.-3 p.m. each day. The children-oriented museum in South Jersey will have several special events happening all weekend long.]
Cooper Children's Regional Hospital will be having a "Teddy Bear Clinic." Children can bring their favorite teddy bears or stuffed animals for Cooper Nurses to check out. The "Teddy Bear Clinic" will be open from 11:30 a.m.-1 p.m. both days.
Join My Gym will present special exercise demonstrations just for kids from 11:30 a.m.-1 p.m. each day. On June 14 from 1-3 p.m., Safe Kids Southern New Jersey will be at the Garden State Discovery Museum with a special bike obstacle course. There will be a helmet fitting and plenty of opportunities to ask questions about bike safety.