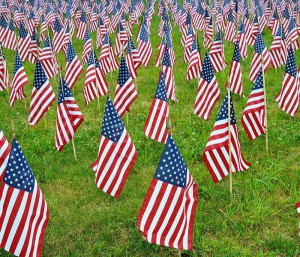 Although for many of us Memorial Day marks the unofficial start of summer, it remains a solemn reminder of all who served and especially those who made the ultimate sacrifice on behalf of their country. In and around Chester County, there will be various parades and remembrances to honor these heroes.
Among the more somber remembrances will be tribute to local residents in gave their all in protecting America since Sept. 11, 2001's attack on the World Trade Center, The Pentagon and Flight 93. On Memorial Day weekend, St. Peter Parish in West Brandywine will honor six Chester County heroes who gave their lives in combat after 9/11:  
David R. Bernstein, 1st Lt., U.S. Army
Kyle J. Renehan, Corporal, U.S. Marine Corps
Brandon M. Hardy, Corporal, U.S. Marine Corps
David R. Verbeke, Aviation Boatswain Mate 3rd Class, U.S. Navy
Anthony L. Williams, Corporal, U.S. Marine Corps
Louis R. Fastuca, Specialist, U.S. Army
The bell will toll for each hero in a solemn Roll Call reading. All are welcome.Mass times:  Saturday, 5 p.m.; Sunday: 8:30 a.m., 10:30 a.m., and 12:00 pm.  St. Peter Parish is located at 2835 Manor Road (Rt. 82), W. Brandywine, PA 19320
Another Chester County Memorial Day tradition are parades and two of the best in the county will take place on Monday in Kennett Square and in Marshallton.
A new twist for those going to the Kennett Square Memorial Day Parade this year: food for sale along the route.
The local merchants and restaurant owners of Kennett Square Borough say they strongly recommend attending this special event, as it is the largest Memorial Day Parade in the region. The Kennett Square Memorial Day Parade features hundreds of different units marching through Kennett Square to honor the men and women who have served our nation in the military, past and present.
While the parade marches through the borough, the Kennett Area Merchants and Restaurant Association (KARMA) are selling hot dogs, chips, pretzels and drinks at locations throughout the Borough. Stop by to quench your family's hunger pangs and support KARMA. Sponsoring the food sales are National Penn Bank and Tastykake.
The Kennett Square Memorial Day Parade kicks-off at 10 am on Monday, May 25 from Union and South streets. The route continues north on Union Street, turns right on Cypress, left at Broad, left on State, and right at Union. It ends at Union Hill Cemetery where a Memorial Service will be held at the end of the parade.
The 2015 Marshallton Memorial Day Parade and activities will be held on Sunday, May 24, beginning at 1:30 pm.  This great community event honors the men and women who made the ultimate sacrifice in service to our nation.
The parade route starts at the Goddard School on Sugarsbridge Road in Marshallton, then travels west along West Strasburg Road to Northbrook Road, before ending at the Bradford Cemetery.  The parade will include veterans, scout troops, antique cars, fire engines, the Lukens Band and more.  There will also be a cash prize for the best decorated bike, trike or wagon.
A Memorial Day service with guest speakers will begin at 2:00pm at the cemetery.   In the event of rain, the service will be held in the Marshallton United Methodist Church sanctuary.  Following the service all are invited to attend a reception at the historic Martin's Tavern.  Refreshments will be served.
The Marshallton Memorial Day Parade is proudly sponsored by the Marshallton Conservation Trust.
For more details on the parade and registration information for the bicycle contest, please visit www.marshalltonconservationtrust.org