From Steeplechases to local stages, there's lots to do with Mom this weekend
By Denny Dyroff, Staff Writer, The Times
It's Mother's Day on May 10 and you can go the traditional route and take mom out to a nice dinner.
But, if you're looking for something different to do with mom on Mother's Day, take her to an equestrian event in the country — take her to the Willowdale Steeplechase (Steeplechase grounds, routes 82 and 926, Unionville, 610-444-1582, http://willowdalesteeplechase.org).
The 23rd Annual Willowdale Steeplechase will be held on May 10 from 10 a.m.-6 p.m. The "Tailgate Competition" and the "Antique and Unique Car Display" are both slated to run all day. The initial competition will be the "Jack Russell Races" at 11a.m. followed by the "Small Pony Race" at 12:15 p.m. and the "Large Pony Race" at 12:30 p.m.
The first of seven steeplechase races will begin at 1:30 p.m. and the racing is scheduled to end between 4:30 and 5 p.m. Gates will close at 6 p.m. The Willowdale Steeplechase is a first-class steeplechase course that features an uphill approach to the fences. This encourages less speed and more jumping and, as a result, causes less wear and tear on the horses.
The Willowdale Steeplechase Tailgate Competition is sponsored by The Whip Tavern and Studio 882. This year's Willowdale Steeplechase has several beneficiaries — Quest Therapeutic Riding Services, Inc., The Stroud Water Research Center and The University of Pennsylvania School of Veterinary Medicine at New Bolton Center. Tickets are $30.
If you're celebrating Mother's Day with a dinner engagement and you want to carry the celebration on into the evening — or if you're just looking in general for something fun to do when the sun goes down — consider making a trip to an area theater to catch a live stage show.
Fortunately, there are plenty of top-flight choices right now including top-flight productions such as "Kinky Boots" in Philadelphia, "Hello Dolly" in Media and "Guys and Dolls" in Wilmington.
The national tour of "Guys and Dolls" will open on May 12 and run through May 17 at the Playhouse on Rodney Square (10th and Market streets, Wilmington, Delaware, 302-888-0200, www.theplayhousede.org).
"Guys and Dolls" is one of the all-time classics of American musical theater. It features music and lyrics by Frank Loesser and book by Jo Swerling and Abe Burrows and is based on a pair of short stories by Damon Runyon.
The hit musical opened on Broadway in 1950, ran for more than 1,200 performances and won five Tony Awards in 1951 — Best Musical, Best Performance by a Leading Actor in a Musical, Best Performance by a Featured Actress in a Musical, Best Choreography and Best Direction of a Musical.
Runyon's short stories, which were written in the 1920s and 1930s, featured gangsters, gamblers and other assorted unsavory characters from New York's seedy underworld. Runyon was known for the unique dialect he employed in his stories — a mixture of highly formal language and slang.
The show revolves around four main characters — Miss Adelaide, a veteran night club performer; Sky Masterson, a professional gambler addicted to his profession; Sergeant Sarah Brown, a prim and proper member of a Salvation Army style band; and Nathan Detroit, who runs an illegal floating crap game.
The talented cast of the national tour stars Kayleen Seidl as Sarah Brown, Christopher Swan as Nathan Detroit, Lauren Weinberg as Miss Adelaide and Matt Taylor as Sky Masterson.
"This tour has been out since December," said Taylor, during a phone interview Thursday afternoon from his home in Beaumont, Texas. "It's the first time out for this incarnation. The last time was 6-7 years ago and that was based on the most recent Broadway revival.
"I was very familiar with 'Guys and Dolls.' It was the first show I ever did in high school. In terms of the story, this show is extremely true to the original from 1950. The only main difference is the song 'Sit Down, You're Rocking the Boat,' which has been given a different spin. We actually created it in rehearsal.
"This show is not like the Broadway revival from a few years ago. That show tried to take a darker version of New York. Ours is lighter — pretty much the version you would have seen in 1950."
The national tour's production of the classic show is lighter, warmer and more down-to-earth.
"There are more human elements between Nathan and Adelaide," said Taylor. "Sometimes, they are portrayed as testy but not so much here. These two (Swan and Weinberg) are both comedic geniuses. Within a few lines, you really feel sympathetic for Adelaide.
"And, 10 minutes into the story, Nathan falls in love with Adelaide. It's really funny to watch Nathan struggle with the plot point. He's been running a crap game since he was a kid. It's the only thing he knows.
"Sarah and I are quintessential ingénue characters. Just like Nathan and Adelaide, with us you have the story of two people who love each other and shouldn't. Sky embodies everything that Sarah is trying to destroy in the world. Kayleen does a great job with the role — and she's awful pretty.
"What I like most about Sky is how genuine he is. It's easy to play him as a ruthless card shark but he is so much more. He sort-of lies to Sarah — but he's still a genuine guy. He has an open heart and he gets his heart broken."
"Guys and Dolls" is a show that became instantly popular when it premiered on Broadway and has remains very popular for more than six decades. It has had Broadway revivals in 1976, 1992 and 2009. It opened in London in 1953 and has had West End revivals in 1982, 1996 and 2005. There was also a 1955 film adaptation starring Marlon Brando, Jean Simmons, Frank Sinatra and Vivian Blaine.
"One of the biggest reasons for the show's continuing popularity is the music," said Taylor. "The score is really good. Every single song in the show has become a standard. I even heard 'Luck Be a Lady' at a Lady Gaga concert the other night.
"And, there is something classical and Shakespearean about the way the characters struggle with what they can't have. The characters are just as valid today as they were in the 1950s."
Video link for "Guys and Dolls" — https://vimeo.com/117971086.
"Guys and Dolls" will be performed at 7:30 p.m. on May 12, 13 and 14, 8 p.m. on May 15 and 16, and 2 p.m. on May 13, 16 and 17. Tickets range from $35-$79.
"Kinky Boots" will run through May 10 at the Forrest Theatre (1114 Walnut Street, Philadelphia, 800-447-7400, http://www.forrest-theatre.com). The inspirational story tells the tale of a shoe factory owner facing bankruptcy who works to turn his business around with help from Lola, a fabulous entertainer in need of some sturdy stilettos.
"Steel Magnolias" will begin six-week run through June 21 at the Candlelight Theater (2208 Millers Road, Arden, Delaware, 302- 475-2313, www.candlelighttheatredelaware.org) beginning on May 9.
The Media Theatre (104 E. State Street, Media, 610-891-0100, mediatheatre.org) is presenting "Hello Dolly" now through May 24. Not only is the show one of Broadway's all-time favorite musicals, it is a production that features Broadway star Andrea McArdle, who was the original "Annie" when the show opened on Broadway many years ago.
People's Light & Theatre (39 Conestoga Road, Malvern, 610-644-3500, PeoplesLight.org) is performing Neil Simon's "Biloxi Blues" now through May 24. The show is Simon's semi-autobiographical Tony Award-winning classic coming-of-age tale.
Now, let's go back to looking at outdoor events.
(Baltimore Pike, Chadds Ford, 610-388-2700, www.brandywinemuseum.org) hosts a number of special events each year. One of the most popular is the annual "Wildflower, Native Plant & Seed Sale."
The well-attended annual event will be held on May 9 and 10 on the Museum's grounds along the banks of the Brandywine Creek in Chadds Ford. Visitors to the "Wildflower, Native Plant & Seed Sale" will be able to select items from a wide array of categories and varieties. No plants are collected from the wild and most of them are propagated by Conservancy volunteers.
Many of the plants and seeds on sale at this weekend's event are difficult — and some are impossible — to find in retail garden centers. As an added attraction, Conservancy staff and volunteers will be available to answer questions and provide planting and horticultural information.
All proceeds from the sale benefit the Conservancy's diverse and beautiful gardens. Admission to the plant sale is free. For a complete list of the flowers and seeds available for purchase, go to http://www.brandywinemuseum.org/documents/PlantSaleList2015.pdf.
If you're interested in antique, classic or custom autos, there are two special events on this week's calendar that are sure to pique your interest — "Historic Autos at Winterthur" and "Cruise Night" at Herr's Snack Foods.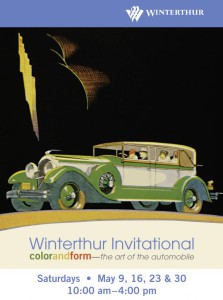 "Historic Autos at Winterthur" (Route 52, Wilmington, Delaware, 302-888-4600, www.winterthur.org), which is included free with museum admission, provides visitors with the opportunity to see a variety of vehicles from the past that have been maintained in pristine condition. There will be different displays every Saturday through the month of May.
The theme for May 9 is "Classic General Motors in the "Duco Era — A New World of Color, 1924-1948." The themes for the other three Saturdays are "Historic Automobiles — Trends in Preservation" (May 16), "In Grand Style: Rolls Royce and Bentley" (May 23) and "Cars and Colors: 1950-1961–61" (May 30).
Some of the prime autos featured in recent years have been 1928 Mercedes-Benz S 2-Door Touring, 1933 DeSoto Rumble Seat Coupe, 1936 Packard 120 Convertible Sedan, 1938 Buick Limited 90 Limousine, 1941 Cadillac 9-Passenger Touring Sedan, 1955 Rolls-Royce Silver Dawn 4-door Saloon, 1956 Lincoln and 1969 Rolls-Royce Silver Shadow LWB Formal Sedan.
On May 9, Winterthur will also be presenting "Azaleas and Bluebells Day." Visitors to the site will be able to enjoy the spectacle of thousands of azalea blossoms and acres of wildflowers.
The day's events will include the opportunity to take photos with Mom in Azalea Woods, shop at plant sales at the Museum Store, and participate in guided and self-guided tours through the azalea display.
Admission to Winterthur is $20 for adults, $18 for seniors and students, and $5 for children (ages 2-11).
A different breed of automobile will be featured on May 14 during "Cruise Night" at Herr's Snack Foods, (20 Herr Drive, Routes 272 and 1, Nottingham, 610-932-9330, www.herrs.com).
This year, Herr's Snack Foods is hosting its 16th Annual Cruise Night. Visitors to the event will find that "cruising" is welcomed rather than frowned upon in so many of the area's municipalities. The popular annual event, which features free admission and free parking, will get underway at 5 p.m. and continue until dusk.
More than 300 classic cars and hot rods will be on display. Car owners are encouraged to register in the people's choice contest for first, second and third place "Best of Show" trophies. Spectators will be able to vote for their favorite classic car between 5-7 p.m.
The free event will also feature factory tours, food booths with festival fare, children's games, music by a disc jockey and a variety of door prizes.
This weekend, collectors of comics, toys, gaming or non-sport trading cards will be making their annual pilgrimage to Philadelphia to attend Wizard World Philadelphia Comic Con at the Pennsylvania Convention Center (1101 Arch Street, Philadelphia, 215-418-4700, www.wizardworld.com).
One of the country's top pop culture conventions, the annual event, which is running now through May 10, is the largest event of its type on the East Coast and is expected to draw a crowd of over 25,000 fans.
Wizard World Philadelphia Comic Con will feature movies, comics, toys, video gaming, television, anime, manga, horror, sports, original art, collectibles, contests and movie screenings — along with more than 150 celebrities who will be greeting fans and autographing items and industry professionals representing the best in today's pop culture.
The long and diverse list of special guests includes Burt Reynolds, M. Night Shyamalan, Frankie Muniz, Dee Snider, Randy Orton, Billie Piper, Karl Urban, Sting (WWE), Katie Cassidy, Lou Ferrigno ("The Incredible Hulk"), Keshia Knight Pulliam, Hayley Atwell and many, many more celebrities from the entertainment world.
Other special attractions include comics-themed panels, portfolio reviews, costume contests and "Kids Day" on Sunday with an array of panels and events designed especially for children. Children and adult attendees are encouraged to come dressed as their favorite villain, superhero or pop culture personality for the chance to win special prizes in daily costume contests.
The show also will host hundreds of exhibitors who will be displaying and selling action figures, Anime, movie posters, trading cards, clothing, memorabilia, original artwork and comics.
Tickets are $45 on Friday and Sunday and $55 on Saturday.
Longwood Gardens (Route 1, Kennett Square, 610-388-1000, www.longwoodgardens.org) has "Spring Blooms" running through May 23. Visitors can enjoy hundreds of lush acres featuring burgeoning gardens of daffodils, tulips, magnolias, azaleas, flowering cherries and more than 240,000 flowering bulbs.
Daily visitor programs, including gardening demonstrations, behind-the-scenes tours, and talks add to Longwood's charms. Children will enjoy the many activities in the outdoor Children's Area, and the imaginative fun of the Indoor Children's Garden.
Admission to Longwood Gardens is $20 for adults, $17 for seniors and $10 for students.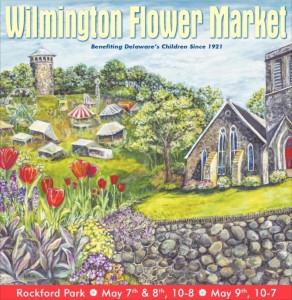 Usually, the Wilmington Flower Market, which is held in early May every year, is an event that almost always seems to bring wet weather. So, it comes as a bit of surprise that no rain showers have been forecasted for this weekend.
This year, the 95th Annual Wilmington Flower Market returns to Rockford Park (Park Drive, Wilmington, Delaware, 302-995-5699, www.wilmingtonflowermarket.org) on May 8 and 9. The Flower Market, which always runs in conjunction with Mother's Day, benefits over 50 children's charities in Delaware.
The 2015 Wilmington Flower Market, which is free and open to the public, will be held today from 10 a.m.-8 p.m. and Saturday from 10 a.m.-7 p.m. each day. As is the tradition, the event features crafts, booths, rides, food, fun, live entertainment and plenty of flowers.
Friday's roster of performers on the Concert Stage includes Nature Jams, Mascot Mania, Danielle & Jennifer, Chorduroy, the Veronicas and Lifehouse. Saturday's schedule features Olympiad Gymnasts, Elene Delle Donne, Alex B., Statesmen, Ginfer Coyle, Ju-Taun, Young Rising Sons and North of Nine.
The Yellow Springs Art Show, which now features over 175 participating artists, will run through May 10 in Historic Yellow Springs Lincoln Building (Art School Road, Chester Springs, 610-827-7414 or www.yellowsprings.org). Show hours for the free event are from 10 a.m.-4 p.m. daily.
The 2015 show has on display over 3,000 pieces of fine art in a wide range of media and styles – oils, watercolors, bronze sculptures, pastels, landscapes, still life, seascapes and abstracts. All proceeds benefit arts education, environmental protection and historic preservation of the 300-year-old village of Historic Yellow Springs.
If longevity is a sign of success for an area festival, Phoenixville's annual Dogwood Festival has to be one of the most successful — without challenge.  This year's festival, which runs from May 11-16, is the 72nd annual staging of the springtime fair.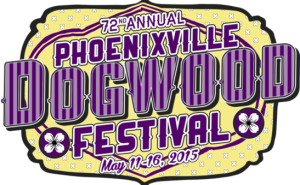 The 2015 Dogwood Festival and Parade will take place at the historic Reeves Park Bandshell (Main Street between third and Fourth avenues, Phoenixville, 484-928-0052, www.phoenixvillejaycees.org) with live entertainment each night.
The performance schedule starts May 11 Gene Galligan and They Know. The Hytha Family Band and Kendall Phillips are set to perform on May 12 and the schedule for May 13 features Gene Galligan, the Audubon Symphony Orchestra and the Prince and Princess Contest.
On May 14, there will be performances by Facetime Creative Soles Dance Studio, Grace Assembly of God Fine Arts Team and Ray Owen. May 15's schedule offers Rock & Roll After School and The Flower Power Band. On May 16, entertainment will be provided by John Valerio, Dave Sullivan and Rougarou.
The main day for activities at the free festival will be May 16 with a parade and other festivities running from noon-3 p.m. and live entertainment starting at 4 p.m. The parade, which is one of the festival's showcase events, is slated to get underway at 1 p.m.
On May 9, the Chesmont Astronomical Society will host a "Star Party" at French Creek State Park (1027 Park Rd, Elverson, 610-469-8646, http://www.chesmontastro.org). The public is welcome and the event, which offers activities for the entire family, is free.
Participants will meet in the park's lower parking lot around 7 p.m. and the party will run from 8-11:59 p.m. Those attending will be able to view the nighttime sky using society members' telescopes and live view star cameras.
Potential targets for this weekend's event include the planet Jupiter; galaxies M81, M82 (Cigar Galaxy), M51 (Whirlpool Galaxy); planetary nebulae M57 (Ring Nebula), NGC 6543 (Cat's Eye Nebula); and globular clusters M13 (Keystone Cluster), M3, M5 — all depending on sky conditions.
There will also be parties at the same site on June 6, July 11, September 5 and October 3. The Chesmont Astronomical Society will have similar "Star Party" events at Marsh Creek State Park on June 27, July 25, August 22, September 19 and October 24.
The Marsh Creek parties are held near the first lunar quarter and focus on observing the moon, the planets and bright deep sky objects. Marsh Creek Star Parties end at 11 p.m. while French Creek Star Parties end after midnight.
Because these events need a clear, dark sky to be successful, they are dependent on the weather. Therefore, it is recommended to check the society's website (www.chesmontastro.org) after 5 p.m. for last minute schedule changes.
The Pennsylvania Guild of Craftsmen offers a number of craft fairs throughout the state each year. One of the most popular fairs is scheduled for this weekend. Now through May 10, the Guild will present the Fine Craft Fair (Rittenhouse Square, Philadelphia, 717-431-8706, www.pacrafts.org).
Through a partnership with the Friends of Rittenhouse Square and in conjunction with the Philadelphia Parks & Recreation, the Pennsylvania Guild of Craftsmen will bring its signature premier Fine Craft Fair to the scenic park in Center City Philadelphia.
Founded in 1944 at the recommendation of Eleanor Roosevelt, the Pennsylvania Guild is one of the nation's largest and most recognized craft guilds, specializing in the advocacy and support of more than 1,400 members whose handwork is known for its unparalleled skill and artistry.
Fine craft is often defined as the hand and mind transformation of raw materials into inspired works of art. The finished products may be either traditional or contemporary in style and design. This weekend's event will feature more than 145 of the Guild's finest craft artists.
The Fine Craft Fair, which is free and open to the public, will focus on hand-crafted jewelry, contemporary furniture, functional and decorative pottery, designer clothing, fine porcelain, blown glass, limited edition photography, sculpture, paintings, watercolors, oils, graphite and pastels.
Fair hours are 11 a.m.-7 p.m. on Friday and Saturday and 11 a.m.-5 p.m. on Sunday. Admission is free. Street and garage parking is readily available.
One of the more interesting traditional springtime events in Pennsylvania Dutch country is the Rough and Tumble Engineers Historical Association's annual "Spring Stream Up" (Rough and Tumble, 4977 Lincoln Highway East, Kinzers, 717-442-4249, www.roughandtumble.org).
"Spring Steam-Up" is scheduled for May 8 and 9 from 7 a.m.-5 p.m. each day. One of the highlights will be sessions of "Plowing with Steam and Gas Tractors." This activity will be held only if weather is favorable to plow.
There will be a variety of displays featuring steam engines, gas engines, steam tractors, gas tractors and antique cars. Also featured will be a model shop, a saw mill, two steam trains and blacksmithing demonstrations at the museum's blacksmith shop.
"Tractor Games" are scheduled for Friday at 4 p.m. A "Parade of Power" will be presented on Saturday at 10:30 a.m. followed by a "Garden Tractor Pull" immediately after the parade. A "Children's Pedal Tractor Pull (35 lb – 80 lb)" will be held on Saturday at 1 p.m.
"Spring Steam-Up" is looked at as special event each year at Rough and Tumble — a time to get the steam engines out of hibernation and fire them up. It is also a time for the plowing to begin.
Video link for "Spring Stream Up" — https://www.youtube.com/watch?feature=player_embedded&v=p2mcLqqfKyk.
Tickets for "Spring Stream Up" are $5 for adults and $3 for children (ages 6-12).
On May 10, the public is invited to partake in the free activities at the "Grand Opening" of the new Copeland Maritime Center at the Kalmar Nyckel Shipyard (Seventh Street, Wilmington, Delaware, 302-429-7447, http://www.kalmarnyckel.org).
The event, which is scheduled to run from 1-4 p.m., will feature tours of the recently-constructed Maritime Center and the "Public Opening" of "The Forney Collection."
There will be a number of activities planned for the whole family — nautical-themed games, blacksmith and cannon firing demonstrations, "How to Set and Douse a Sail," and navigation lessons. The Opening Ceremony will begin promptly at 2 p.m.
The Maritime Center will be unveiling "Watercraft of the World," a major permanent exhibit in the education. These 72 model ships and boats were gathered by Bob and Marilyn Forney from their many travels around the world and represent over 60 foreign countries.
Visitors to Sunday's festivities will also be able to get on the water with tours aboard the Kalmar Nyckel, the official Tall Ship of Delaware. Water Taxi rides to and from Dravo Plaza and the Kalmar Nyckel Dock will also be available throughout the afternoon (additional fee required).