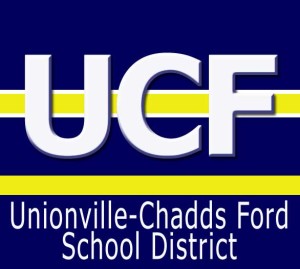 EAST MARLBOROUGH — The Unionville-Chadds Ford School District will hold a community conversation related to proposed budget cuts on April 14 at Unionville High School.
All community members are welcome at the event, which will take place at 7 – 9pm in the Unionville High School Cafeteria
Interested residents can reserve a seat here.
In his March 8, 2011 budget address, Governor Corbett announced state budget cuts which left Unionville-Chadds Ford and most school districts in Pennsylvania with a revenue shortage that their preliminary budgets, due in February, could not forecast. UCFSD must make up $1.1 million in projected revenue.
At the March 29th Special Finance Committee meeting, potential budget reductions (see proposed cuts here)  were presented to the School Board for their consideration. The potential reductions total more than the $1.1 million needed.
Before the budget is approved in June, it is important for district administration and the School Board to communicate the potential cuts, answer questions, and hear your input. This Community Conversation is devoted to this topic.
In the first hour, the proposed cuts will be presented and participants will have the opportunity to give comments to the entire group. In the second hour, you may join smaller group(s) to discuss specific areas of concern. The cuts are grouped into the following categories – Fiscal Restraints/Adjustments, Community Services, Facilities and Operations, Clerical/Paraprofessional Support, Pupil Services, Curricular Programs,
Unspecified Efficiencies.
Reserve a seat by clicking here.