Also: shows at small area venues dominate weekend's music scene
By Denny Dyroff, Staff Writer, The Times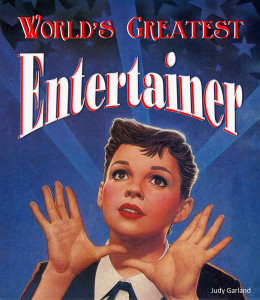 Over the next few weeks, a Delaware theater veteran will be providing audiences with an up-close look at an entertainment legend — with a lifesaving foundation as the beneficiary.
What's not to like about this?
Under the guidance of Greer Firestone, the Delaware-based production of "Judy Garland — World's Greatest Entertainer" will be staged in at four venues in Delaware.
The lively, entertaining show will start with a two-weekend run at the Candlelight Theater (2208 Millers Road, Arden, Delaware, 302- 475-2313, www.candlelighttheatredelaware.org). Evening performances at the theater in Arden are scheduled for April 24 and 25 and May 2 and matinee shows will be presented on April 26 and May 3.
Tickets, which include a tasty buffet dinner, are $59 for adults and $33 for children (ages 4-12). On Friday and Saturday nights, dinner starts at 6 p.m. and the show has an 8 p.m. curtain. On Sundays, the meal starts at 1 p.m. and the action onstage gets underway at 3 p.m.
"Judy Garland — The World's Greatest Entertainer" will also be performed at the Grand Opera House (818 North Market Street, Wilmington, Delaware, 302-652-5577, www.thegrandwilmington.org) on May 10 with shows scheduled for 2 and 7 p.m. There will also be a performance on May 16 (7 p.m.) and 17 (2 p.m.) at the Milton Theatre (110 Union Street, Milton, Delaware, 302- 684-3038, www.pcade.com).
"The show uses a format similar to Ralph Edward's "This Is Your Life," an old television show from the '60's," said Firestone, during a phone interview Wednesday afternoon from his Delaware home.
"I'm the emcee and Judy is the show's guest. But, instead of talking to the guest's teachers, preachers and friends like they did on the TV, we talk to Judy's friends Frank Sinatra, Dean Martin and Liza Minelli. The show is set in 1961, a couple weeks after her concert at Carnegie Hall."
Garland's concert appearance at Carnegie Hall on April 23, 1961, was one of the highlights of her career and is often referred to as "the greatest night in show business history."
The two-record "Judy at Carnegie Hall" album was a gold album that charted for 95 weeks on Billboard — including 13 weeks at number one. The album won four Grammy Awards including Album of the Year and Best Female Vocal of the Year and has never been out of print. In 2003, the album was one of 50 recordings chosen that year by the Library of Congress to be added to the National Recording Registry.
"I wrote the show and we premiered it in Wilmington in 2007," said Firestone. "It has been performed in community theaters all around the country. But, I didn't produce it and direct it until now.
"We have a fairly basic set with Judy sitting on a couch. Behind her is a scrim with 70 graphics that are cued to her life chronologically. There are graphics from her movies and pictures of her friends Dean and Frank.
"We talk about Louis B. Mayer (co-founder of Metro-Goldwyn-Mayer/MGM studios) who was a dictator. We take her through her movie career and her music career. We also look at the darker side. At age 15, Judy was a drug addict. MGM had its own staff doctor and she gave Judy amphetamines from age 14 on."
With a heavy schedule of making films back-to-back, Garland, Mickey Rooney and other young performers in MGM's stable were constantly given amphetamines to stay awake along with barbiturates to take before going to bed so they could sleep. In Garland's case, this regular dose of drugs led to addiction and a lifelong struggle that contributed to her untimely death.
"She suffered an irrevocable loss," said Firestone. "She never had a childhood. She never went to a prom. These things come out in our show through an interview with Judy and me.
"But, this show is not a sad show. It's a fun show with a lot of great music. There are 39 songs in the show — Judy's classic songs as well as signature songs by her friends such as Sinatra's 'My Way' and Dean's 'Ain't That a Kick in the Head.' There are also some duets. Frank and Dean come on the first act and we've incorporated our Rat Pack shtick. Part of the set is actually a bar.
"We got Shop-Rite and the Kenny Foundation to sponsor these shows. And, we have a faux sponsor that we sue in the show. We incorporate three ads for Luster Crème Shampoo. The beneficiary for the show is for a non-profit I have called Heart in the Game (http://www.heartinthegame.org)."
The catalyst for the founding of Heart in the Game came from a near-tragedy Firestone experienced a few years ago.
"My daughter Grace was a three-sport athlete who had won 15 varsity letters at Tower Hill School," said Firestone. "Two days after her graduation, she suffered cardiac arrest. The New Castle County EMS saved her life. They were there in four minutes to administer help."
Gracie was paddled 6 times. The EMS team drilled into her shin to gain access to the veins that were shutting down. Gracie's heart stopped three times. On the way to Christiana Hospital she stopped breathing.
"An hour later, in an ER room, a doctor got on his knee in front of us and told us that there was a good chance we'd lose her. Gracie was put on a ventilator and coma was induced. They did a body freeze.
"Three days later she stood up. Ten days later she walked out the door of Christiana Hospital. Amazingly, she survived and there was no cognitive damage. She now attends the University of Delaware and is the captain of UD's club soccer team.
"Heart in the Game has free events at schools around the state including free EKG screenings. These screenings are not part of high school health exams and frequentlt cost between $100 and $150 dollars. The events also have volunteer pediatric cardiologist who read the screenings.
"So, when people come to our Judy Garland shows, the first thing is the great entertainment. And, they also get to help Heart in the Game."
What's not to like?
The Flash (102 Sycamore Alley, Kennett Square, 484-732-8295, http://www.kennettflash.org) will present Jeffrey Gaines with David Stango on April 24 and Gretchen Emery and Dirty Boots on April 25.
The Steel City Coffee House (203 Bridge Street, Phoenixville, 610-933-4043, www.steelcitycoffeehouse.com) will host "The Pogs Play the 90s" on April 24, J.D. Malone & the Experts on April 25 and the Phoenixville Psychedelic Society on April 26.
On April 24, Point Entertainment will present comedian Ralphie May at the Colonial Theatre (Bridge Street, Phoenixville, 610- 917-1228, www.thecolonialtheatre.com).
Chaplin's (66 North Main Street, Spring City, 610-792-4110, http://chaplinslive.com) will have Kate Says, Shabbey Road, and Timy Mengle on April 24 and Stu & The Gurus and Don Clune on April 25.
On April 23, two highly entertaining music acts — Frank Viele and Wray — will be treating their fans to rousing shows in small clubs venues in Philly.
Viele, who built his reputation performing with his band the Manhattan Project, will be playing an intimate solo show at Bull Shooters Saloon (14000 Bustleton Avenue, Philadelphia, http://dvtevents.com).
Viele will be focusing on songs from his recently-released album "Fall Your Way," which was produced at Horizon Studios in Connecticut by Vic Steffens. The album features guest appearances from blues-rock guitar great Joe Bonamassa, jazz saxophonist Kris Jensen and members of Manhattan Project.
"While there were a lot of musicians and instruments used on making the album, because they are songs, they can translate well to an acoustic show," said Viele, during a recent phone interview. "Some fans prefer band and some prefer solo but, either way, the songs tend to engage people. For me as an artist, I try to make sure each is engaging."
Viele has music embedded in his DNA.
"Music was around me for awhile," said Viele. "I had a brother who was nine years older so I listened to what he listened to. My grandmother was a stride piano player form Macon, Georgia.
"When I was a kid, my stepfather owned a restaurant and every Saturday night was karaoke night. I said I want to sing so they let me sing. I loved soul music. In high school, I lost my stepdad. The guitar was sitting there and it became a release for me. Music was important for me spiritually. And, other people liked my music.
"In college, I started as a pre-med major at Stonehill College in Maine. I missed music so I transferred to Marist College where I was a business major with a music performance minor. For me, it's not that I want music — I need it. I put myself through college by playing guitar."
Viele spent eight years as a high-ranking sales executive at WB Mason. All the while, music still was his major interest.
"Manhattan Project's album came out on 2010," said Viele. "When MP started to fizzle, I started to play more and more acoustic shows. The new record seems to be an eclectic cross between the MP album and my acoustic shows. I feel better playing solo shows. I grew up on old soul music so I appreciate songs. I have songs. The lyric and the melody are the most important tools of a song. Bill Withers did it great. He wrote great songs, he told stories and his band could groove. That's the line I always wanted to walk."
Video link for frank viele — https://www.youtube.com/watch?feature=player_detailpage&v=4L8lGe7FHOQ.
The all-ages show at Bull Shooters Saloon will start at 8 p.m. Tickets are $15 in advance and $20 at the door.
Wray, a rock band from Birmingham, Alabama, will visit the area for a show April 23 at Bourbon & Branch (705 North Second Street, Philadelphia, 215-238-0660,  http://www.bourbonandbranchphilly.com).
The trio — David Brown (bass, vocals), Blake Wimberly (drums) and David Swatzell (guitar, vocals) — has been compared to some of the classic krautrock bands such as Neu and Can.
"The other Dave and I played in bands together on-and-off," said David Brown, during aphone interview a few weeks ago.
"Dave and Blake are roommates. About two-and-a-half years ago, we were starting another project and we talked about playing repetitive music. Basically, they wanted me to play the same beat over and over. We were getting into krautrock."
Swatzell said, "We were playing psych rock and we wanted to do something different. It all happened kind of naturally."
Brown said, "No matter what people think, we are not a krautrock band. We're not from Germany. But, a lot of krautrock elements bleed through into punk rock and hardcore."
The band's eponymous album was released last July on the Communicating Vessels label.
"We jammed together for about a year before Wray happened," said Swatzell. "We tried out different bass players and it wasn't clicking so Dave switched from guitar to bass. We were writing together for awhile.
"We write together in practice. Usually, it starts with a jam. Somwet9mes, we'll verbally discuss where we want to take a song. Then, I'll record a copy of the song on my iPhone and then go back home to do the lyrics. It's always the music first. Whatever comes out just happens."
The band is still a relatively young band.
"We had our first live gig in April 2012," said Brown. "The album came out last summer and we've been working on a new album for the last six months. We're done recording and it's ready for the mixing stage.
"We recorded the first album at a friend's studio. With the new album, our label has an amazing studio at their headquarters in Woodlawn (a neighborhood in Birmingham, Alabama)."
Wimberly said, "A couple songs on the new album were two of the first three songs we ever wrote. We just changed them a little. Almost all of the other songs we've played live already. In our shows now, we're playing half of the new album.
"Listening to the music live, you wouldn't hear much of a difference between the two albums. But, the recording is definitely different — more structure than the first. We spent a lot of time on it. There are interludes and parts that hearken back to other parts."
Video link for Wray — https://www.youtube.com/watch?feature=player_detailpage&v=DwqHxWUGpdc.
The show at Bourbon & Branch, which starts at 8 p.m., also features The Burgeoning and Ceramic Animal. Tickets are $7 in advance and $10 at the door.
On April 24, Ars Nova Workshop will present a concert by Tim Berne's Snakeoil and give area jazz fans the rare opportunity to hear a live performance by an artist who was recently ranked in the Top 10 of Time Out New York's "Essential NYC Jazz Icons."
Snakeoil features pianist Matt Mitchell, clarinetist Oscar Noriega, percussionist Ches Smith, Ryan Ferreira on electric and acoustic guitars and Berne on alto sax. The band just released its third album "You've Been Watching Me" on ECM Records.
"We recorded the album in late December in upstate New York," said Berne, during a phone interview Wednesday morning from his home in Brooklyn. "David Torn, who produced it, lives up there. We used the Clubhouse Recording Studio in Rhinebeck. It's nice to get out of the city.
"David is an amazing guitarist but he didn't play on the album. He just produced it. We recorded at the studio and then he mixed it in his garage studio. We've been doing stuff together since the mid-'90s."
Berne recently played on Torn's soon-to-be-released album "Only Sky." That album will also be released on ECM Records and Torn will be in Philly on May 14 for a show at the Philadelphia Art Alliance.
"There's a lot of improve on the new Snakeoil album but the written stuff is pretty much set," said Berne. "We've been playing the songs live for a while. We've been together for a couple years and we've played these compositions a lot.
"When we got in the studio, most of the songs were done in one take. It's different without an audience — more concise. Another thing that's different is the sound. In the studio, you have more control of the sound."
Berne and his band's time in the Rhinebeck studio was very productive.
"We did two records in two days," said Berne."For the album that just came out, we recorded two-and-a-half hours of music and I picked the compositions I liked best. I used two shorter pieces because it's nice to have aural transitions between longer compositions.
"They work as moments of respite to break things up and set you for the next thing. The solo guitar thing — there's also a group version that will be on the next record. It worked nicely. It was the same way with the other shorter piece. I'm not doing it to make some easy ones. I'm doing it for the musical effect."
Snakeoil started as a quartet and Ferreira was added to the line-up last year.
"I just wanted to expand the texture of the sound and wanted someone with a collective approach," said Berne, who was a student of the late jazz sax legend Julius Hemphill. "He fit perfectly.
"When I'm composing, most of the time I'm thinking of the players. They're personalities. They're actors. I like the musicians to have as much impact as possible and to fit in. With this band, they're playing for the music — not to get attention."
Tim Berne's Snakeoil will perform at The Barnes Foundation (2025 Benjamin Franklin Parkway, Philadelphia, http://www.arsnovaworkshop.com) at 8 p.m. General Admission tickets are $15.
Most of the time, when Meghan Cary spends an evening entertaining her fans, it's as a singer-songwriter — a talented guitarist/vocalist with a pleasant voice and interesting songs.
Recently, there have been times when Cary has taken the stage in a different role — when she has entertained audiences as an actress performing a one-woman play.
On April 25, it will be time for another performance by Cary-as-actress whern she presents her play "On the Way to the Waterfall!" at Yoga Home (424 East Elm Street, Conshohocken, 484-344-5040, http://www.meghancary.com).
This autobiographical play with music was originally created as a short piece for E.A.T.'s One-Woman Standing play festival in NYC in 2013, and was developed into a full-length play this past summer by Hypothetical Theatre Company. In September, she performed it in the Boulder International Fringe Festival and received overwhelmingly positive feedback from the both the audience and the critics.
"When I lived in New York, I used to help this playwright Tina Howe," said Cary, during a recent phone interview. "She heard me playing mu music and told me — you have to write a play. I didn't know how to do it."
The play she was about to write was based on a personal tragedy.
While performing in the musical "Pump Boys and Dinettes" years ago, Cary met and fell in love with Matthew Black, one of the show's musicians. Cary performed with Black as his backup singer with occasional solos. The pair became engaged and things were going great. But, Black died suddenly in 1995 and Cary's life path took another unexpected twist.
"Music carried me through that time period," said Cary. "Matthew and I made music together. When he died, I lost everything I had for the future. Music was something that I could keep. I wanted to keep making music. But, I was writing songs with no intention of ever playing them for anyone.
"When I thought about the play, I knew had already written the story in songs. I had written music as a way to heal through this traumatic experience. The play is about going through the same thing — getting knocked off-course and ending up somewhere else.
"The piece debuted in New York City in fall 2013. It was a 20-minute piece. I didn't know if I could turn it into a full play — but I did it.
"I was in a play called "Hinckley" and the director was Amy Feinberg. Her specialty is developing new work. She was going to take 'Hinckley' to the Boulder Fringe Festival but 'Hinckley' didn't work out. She still wanted to take something there.
"In May 2014, she said she would take my play there in September. So, I wrote the full-length play over the summer. I developed it with Amy and her company, the Hypothetical Theatre Company. We put it on for two weeks at the Carsen Theater in Boulder."
Cary offered a description of what the play is about.
"When you know exactly what you're doing with your life and then there's this train wreck," said Cary. "When the smoke clears, you're on a completely different path. It's the story of how I went from the life I knew I was going to lead to something totally unknown.
"It's a play with music. Some of my songs are in the show but it's still directed. It's autobiographical but I definitely took some liberties. I started with a story that happened to me and made it into theater.
"I learned to let go of absolute facts for the story so that people can go through the emotional arc in 70 minutes. I had to leave the path of fact in order to do that. It took awhile for me to get far enough away from it."
The play will be presented salon-style at Yoga Home in a manner similar to a house concert.
"It's not being done in a theater because it's such an intimate show," said Cary. "There is a minimal set along with me and my guitar. There is nothing between the actor and the audience. The evening, which features a wine-and-cheese reception and a post-show discussion, will start at 6:30 p.m."
Admission for "On the Way to the Waterfall!" is $35 in advance or $45 at the door.
On April 26, The Reverend Peyton's Big Damn Band's "So Delicious Tour" will storm its way into the Delaware Valley for a show at the World Café Live (3025 Walnut Street, Philadelphia, 215-222-1400, philly.worldcafelive.com). The band is touring in support of "So Delicious," its fifth full-length original album.
The Reverend Peyton's Big Damn Band is a three-piece American country blues band band from Brown County, Indiana that features Rev. J. Peyton on guitars and vocals, Breezy Peyton on washboard and supporting vocals and Ben Bussell on drums and supporting vocals. "So Delicious" is their debut on Shanachie/Yazoo Records, a label known for the historic reissues of blues and other forms of old-time American music.
"I've been playing music since I was 12," said Rev. Peyton, during a recent phone interview from his rural home. "I played a lot of music and gave lessons. When I was 18, I was told by a doctor that I'd never be able to play again because I had issues with tendons in my hands."
Doctors told Peyton that he would never be able to hold his left hand in fretting position again. At that point, he gave up on music.
"Two years later, I found a doctor who would operate," said Peyton. "They had to cut away a bunch of scar tissue — in both hands. It was a miracle. Then, I met Breezy and the rest is history."
Not long after the surgery, he met Breezy and the couple's whirlwind romance and shared love of music inspired him to pursue his potential. Breezy took up the washboard, and by 2006 the members of the Rev. Peyton's Big Damn Band had sold their possessions and taken to the road.
"The timing was perfect," said Peyton. "I was in a pretty dark place because I had played guitar since I was a kid. It's who I was. When I met Breezy, my hands were still in bandages. Two weeks later, I was playing guitar again. Breezy believed in the music.
"I first started listening to anything — classic rock then blues guys like Johnny Winter. I wanted to know who they listened to and through that I discovered guys like Muddy Waters.
"When I first heard finger-style country blues, it blew my mind. I became obsessed. I went all the way back to Charlie Patton. I realized that this was the roots of it. Charlie's stuff is so fun — so great to listen to. Country blues is the root of it. Muddy Water and Howlin' Wolf wanted to be Charlie Patton. Rural blues lends itself to storytelling."
Peyton not only listened to rural blues, he lived the life of an old rural bluesman.
"We've been doing this for nine years," said Peyton. "The first few years, we were homeless and lived in a van. We never had a rich benefactor — never had a record label. Everything we ever did was because people saw it and realized it matters. I'm really proud of what we've done. We've performed in 27 countries and every state except Alaska and Hawaii.
"It's still possible to make blues music that is fresh. I want to make new music and keep this stuff going. With blues, you have to be yourself. I wanted to take country blues to a new level and I think that's what we've been able to do."
Video link for Rev. Peyton — https://www.youtube.com/watch?feature=player_embedded&v=bro2ajJbDWQ.
The Reverend Peyton's Big Damn Band's show at the World Café Live will start at 8 p.m. Tickets are $15 in advance and $17 at the door.
Speedy Ortiz is an indie rock band from Massachusetts that began in 2011 as Sadie Dupuis' solo project and gradually evolved into a full band. The group's current tour brings them to Philly on April 26 for a show at Johnny Brenda's (1201 North Frankford Avenue, Philadelphia, 215-739-9684, www.johnnybrendas.com).
The band, which features Mike Falcone, Darl Ferm, Devin McKnight and Dupuis, released its new album "Foil Deer" on April 21 on Carpark Records and began the support tour on April 24 in Connecticut.
"We recorded the album mostly in September 2014 and then did some more recording in November," said Ferm, during a phone interview from Northampton, Massachusetts on Tuesday.
Dupuis said, "We wrote most of it in July. Then, we worked on arranging before we went into the studio. Generally, I work on a song by myself. I send it around to the other band members and then we meet up."
Speedy Ortiz has released two albums — "Major Arcana" in 2013 and "Foil Deer" this week.
"We knew the new album was going to be more of a hi-fi affair — especially with the keyboards," said Dupuis. "Our first record was more guitar-heavy and had more of a live feel. The new album has more textures. It was specifically done that way.
"We're a full-time band now. On the previous record, we weren't. The band now has a checking account. Now, we can record in a studio. We're way more collaborative with the overdubs.
"But, in some ways, it's still a solo project. These new songs have more diversity. It was the most fun I've ever had making a record. There was a lot of rally fine tuning. We really got it to sound the way we wanted."
The show at Johnny Brenda's on April 26 is scheduled to start at 9 p.m. Tickets are $15.
On April 29, Dance Gavin Dance, a post-hardcore band from Sacramento, will play a show at Union Transfer (1026 Spring Garden Street, Philadelphia, 215-232-2100, www.utphilly.com).
The band, which features Jon Mess, Matt Mingus, Will Swan, Tim Feerick and Tilian Pearson, just released its new album "Instant Gratification" on Rise Records on April 13 and began the support tour the same day in Anaheim.
"The band was close to dissolving," said Swan, during a phone interview last week from his home in Sacramento. "It was getting stagnant. We didn't know what to do. Then, we got Jonny (Craig) back and it was rejuvenating."
Jonny Craig, who was the band's original lead singer, quit the band in 2007. In 2010, he rejoined the band and then flew the coop again in August 2012 and was replaced by Pearson.
On August 21, 2012, Dance Gavin Dance announced Craig's departure via Facebook saying "When Jonny rejoined DGD, we were about to call it quits. Tired of touring and being away from home for eight months of the year, we wanted to shake things up. We thought it'd be fun to do a "dbm" sequel with Jonny and go out on that. We recorded "dbm2" and felt it would be a disservice to our fans not to let them hear the new record live.
"We did a tour and felt rejuvenated but Jonny wasn't in a good place. After trying to convince him into getting help over warped tour, we canceled a headliner in November/December 2011 and told him we wouldn't tour until he sought out real help for his addiction. We got our good friend Matt Geise to fill in for a short run we did earlier this year while Jonny was in rehab. He was released and wanted to be out on the road immediately.
"We weren't sure how things would go so we only booked a small portion of the all stars tour to see if Jonny could still function as our lead singer. After a week and a half things were not going well. Everything came to a head when Jonny was publicly scolded by the owner of Sumerian Records for multiple offenses.
"It was then that we realized that our time with Jonny had reached its end. We wish Jonny the best in his future endeavors but he will no longer be a part of DGD. We however will continue playing and writing music because it's what we love doing."
Swan said, "Even after kicking him out, we were invigorated. We did a couple tours that we had already booked and then got Tillian as permanent lead singer. It just took awhile because he was still in Saosin (another hardcore band).
"We've carved out a niche. We've put albums out that were way more hardcore than 'Instant Gratification.' The new album is really hard to peg down. It's pop. It's funk. It's hardcore. Our fans are pretty accepting because we've changed with every record.
"On this 'Instant Gratification Tour,' we're not just playing all new stuff. I've seen bands do that and it pisses me off. We do four or five songs from the e new record and a good mix of old stuff. We definitely play our two singles — 'On the Run' and 'We Own the night.'"
Video link for Dance Gavin Dance — https://www.youtube.com/watch?feature=player_detailpage&v=83eZDZTHYfI.
Dance Gavin Dance's show on April 29 will start at 7 p.m. Tickets for the all-ages show are $15.