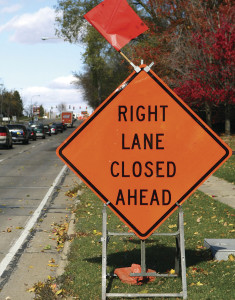 Spring means one thing on Pennsylvania's roadways.
Okay, two things: potholes and construction. While the former continues to be a concern in the Chester County area, the latter is starting up for the warm weather renovation season.
The Pennsylvania Department of Transportation (PennDOT) announced that there will be some road closures in the county in the coming weeks to accommodate utility work.
King Road in West Whiteland on Friday, May 1 through Friday, May 15, for gas main replacements by PECO will see lane restrictions.
Also, Waterloo Road in Easttown will see daytime closures starting Wednesday, April 29 from 9:00 AM to 3:00 PM, for water main replacement by Aqua Pennsylvania, the Pennsylvania Department of Transportation (PennDOT) today announced. The weekday closure will be in effect through June 12.
Motorists are advised to allow extra time when traveling through these areas or to consider alternate routes. And all schedules are dependent on the weather.
Motorists can check conditions on more than 40,000 roadway miles by visiting www.511PA.com. 511PA, which is free and available 24 hours a day, provides traffic delay warnings, weather forecasts, traffic speed information and access to more than 770 traffic cameras.