Businesses, Kids &  Organizations doing Good Stuff…Who do YOU know below?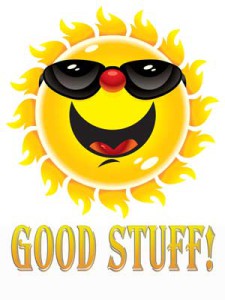 Got 'good stuff' to share?  Send it to kim@chescotimes.com, submissions due by the 15th & 30th monthly and are subject to editorial review.
Keep on Truckin'…SPOTTED: Trio Excavating's latest fleet addition – a giant aqua dump truck promoting ovarian cancer awareness. Look for owners Charley & Denise Gaebel's BIG message of "Faith, Hope, Love and Be Strong…You never know who you are inspiring…" (and, be sure to give a wave!) while on your travels across the County…
Namaste…Transcend Yoga – Chadds Ford, has moved away from charging traditional class fees to a "Sacred Offering Box" where clients can donate as much, or as little, as they choose.  The  goal is to 'give back' and making yoga classes accessible to everyone. Transcend says this approach "…helps us all practice mutual non-judgement, trust, and respect, as stated in the 8 limbs of yoga, fostering positive karmic energy for all." For a list of classes & more information about the Sacred Offering Box visit: transcendwellnessandyoga.com…
Sensational Scientists…Coatesville Area High students bring home high honors at the Chester County Science Fair 9th grade competition. Samantha Noland – 1st place Biochemistry, Janelle Pedroza – 2nd place Environmental Science, and Joshua Hallenbeck – 2nd place Earth Science….
Keepin' it 'REEL' …National Penn Bank generously gives back to the community with a $8k donation to Oxford Area High's Project 'REEL' Science initiative…
Not Without Merit…Kennett High proudly announces its National Merit Finalists: PJ O'Sullivan, Nichol Brown, Jonathan Baumel, Katherine Gallivan and Richard Doty. Nichol is heading to Arizona State to major in English and Linguistics, Katherine is heading to Philadelphia University to become a Physician's Assistant. The boys are each waiting to hear from their top choice schools…
A Thirst for More…Eighth grade students at CF Patton Middle School have raised more than $4,800 to build a well for a school in Uganda and a hand washing station and water filtration system for a school in the Dominican Republic. Funds were raised via a 'Walk for Water' 5k (the average distance people residing in developing countries have to walk for fresh water) and program partnership with the national H20 for Life charity.
Leading Ladies….Joan Holliday named the Southern Chester County Chamber of Commerce's 2014 Outstanding Citizen of the Year for her more than 23 years of community service….Chester County Chamber of Business & Industry names Holly Graver as its Female Business Leader of the Year. Holly serves as Fulton Bank's Sr. Vice President of Business Development – Brandywine Division.
Warriors Feed the World…80 Henderson High students recently packaged 11,034 meals for the hunger relief organization Stop Hunger Now. HH's World Language Honor Society students fundraised for approximately two months, exceeding their goal of $2,900, to purchase the necessary ingredients. Students worked together in an assembly line to place the ingredients in meal bags, add the bags to boxes, and load the boxes onto a truck. Stop Hunger Now will distribute the meals, which will feed up to 65,000 people, children and their families in countries all over the world…
Be Driven…Erin Fay has been asked to be the keynote speaker at this week's at the Kennett Y's Annual Dinner. Erin has a very inspiring journey to share…. We congratulate Erin on her personal and professional accomplishments; and also give the Y's Good Kids Campaign three cheers for the opportunities it provides to the youth and families of Chester County…
60 Years Young! Kings Highway Elementary School students and staff celebrate 60 years of educating great kids…Students watched a movie from 1955 that showed children entering a brand new school. During the celebration, teachers had students compare the old and the new buses, clothing, hairstyles, and much more…Word is, current teachers Julie Regenski, Eileen Leypoldt, and Patti Smith are also alumnae; carrying on the gift of great education…
Friends of a Feather Flock to Fundraising Together…Elk Ridge Elementary School's first grade held a fruit & veggie sale to raise funds to 'adopt' the Philadelphia Zoo's Bald Eagles. The adoption is in honor of all those who have served in the US Armed Forces, past and present …
Luck O' the Irish…Bishop Shanahan High defeats Lansdale Catholic 2:1 taking home the 1st girls' ice hockey title…quite the sweet 'icing' on the cake ladies!
What 'Wood' You Do?…Unionville High's Library just received a new 3-tiered book custom display table made by Mr. Linkmeyer's Woodworking and Construction classes. Mrs. Mustin, UHS Librarian, received a grant from the PTO to purchase the materials needed…handy-dandy indeed!
'Unmasked' Goodness…Oxford Area High's National Honor Society (NHS) recently hosted a Masquerade Ball to benefit the Leukemia & Lymphoma Society. The dance featured food and beverages donated by several area businesses, as well as a DJ and a "selfie booth"…the Ball raised and impressive $1,000…AND OAHS' Rotary Seniors of the Month are: Jennifer Coleman and Joshua Stillman…
Top Teachers…15 finalists have been announced for Citadel Bank's Heart of Learning Award; a prestigious, annual tradition that highlights teaching excellence across Chester County.  To view the full list of nominees and the finalists visit: https://www.citadelbanking.com/citadel-announces-15-finalists-for-the-citadel-heart-of-learning-award…
'Cradling' Success…Kennett Community Wrestling Club has its best season yet, taking 3rd out of 46 teams in the Inter-County Wrestling League.  Eight KCWC wrestlers qualified for the PA State Tournament: Caden Rutt, Blake Boyer, Dean Houser, Spencer Barnhart, Trent Kochersperger, Tyler Mousaw, Nick Barnhart and Nicholas Florschutz
FOR YOUR 'RADAR'…
Tail Waggin' FUN!…Chester County SPCA's Annual Walk for Paws fundraiser: Sunday, April 26, 8 AM- 1 PM Hibernia Park. Park Road, Coatesville, PA. For more details, to register or donate visit www.ccspca.org
Sunny Day, Sweepin' the Clouds Away…Sesame Place is hosting Autism Awareness Day – Sunday, April 26th. Open exclusively for autism advocacy groups Autism Speaks and Variety Club as part of Autism Awareness Month, Sesame Place will offer individuals diagnosed with autism and their families a fun-filled day at the park. Park officials are making special accommodations for guests with autism including designated quiet areas, low sensory shows and volume adjustments throughout the park. Tickets are available on a first come, first serve basis; for details visit:https://www.autismspeaks.org/events/autism-day-sesame-place-0