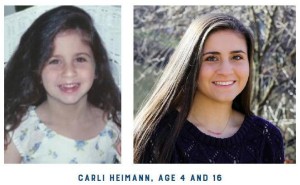 A Kennett Square family, Mark and Roni Heimann, will present the 2015 Fund A Cure speech at the JDRF Delaware Hope Ball: Derby After Dark on Saturday, April 25 at the Chase Center on the Riverfront. Mark and Roni's oldest daughter, Carli, was diagnosed with type 1 diabetes (T1D) when she was 4 years old. Now 16 years old, Carli is a sophomore at Kennett High School, where she plays lacrosse and is an active volunteer in her community.
The Fund A Cure presentation is JDRF's signature program and highlight of the Hope Ball. Each year a family shares their story with Hope Ball guests to educate attendees and demonstrate the importance of funding T1D research. The Heimann family's story will focus on overcoming challenges, their hopes for Carli's future and how the T1D affects all members of a family.
"Since Carli was 4 years old, she has been dependent on injecting insulin and diligently monitoring her blood glucose levels," says Roni Heimann. "When the world looks at our daughter, they see a healthy, vibrant, athletic young woman. But type 1 diabetes is a disease you can't always see. What that world doesn't see is the silent struggle and constant burden Carli endures day after day, year after year."
T1D is an autoimmune attack that destroys a pancreas' ability to naturally produce insulin. The disease usually strikes children, adolescents and young adults, but it can be diagnosed in adults as well. T1D comes on suddenly, causing dependence on injected or pumped insulin for life, and carries the constant threat of multiple devastating health complications.
More than 300 guests are expected to attend this year's annual Hope Ball in support of JDRF. Proceeds from the event will go towards research and treatments of type 1 diabetes. JDRF Delaware celebrates its 14th annual Hope Ball, which has raised a cumulative $4.8 Million since the ball first began in 2002.
The black tie event begins at 5:30pm and will include a cocktail reception; a multi-course dinner; silent and live auctions; JDRF's signature Fund A Cure program, during which contributions may be made directly to research; and live entertainment by Club Phred. The event also features a Late Party, beginning at 9:30pm and featuring a DJ, bourbon tasting and cocktails. Scott Klatzkin, the voice of the University of Delaware Blue Hens, will serve as the event's Master of Ceremonies.
Individual tickets are $250 each and table sponsorships are available. Tickets to the Late Party are $40. For more information on event details, please visit delaware.jdrf.org or contact Maura Sousa at JDRF Delaware at (302) 888-1117. To support Carli's campaign to raise funding for type 1 diabetes research, please visit delaware.jdrf.org.