Exhibits by Murray, Keane to brighten your outlook
By Lele Galer, Columnist, The Times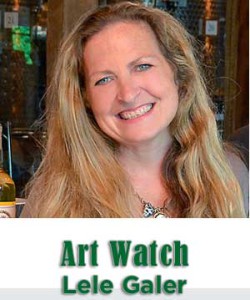 Now that the dreary grey days of Winter are behind us, I cannot get enough of color! This week has some terrific art shows that will get you in a colorful mood to welcome in the Spring. The Church Street Gallery in West Chester is showing the painted works of John Murray through April 19th. The opening for the show is this Friday, March 27th at 5pm.  I caught a glimpse of the show as the talented and friendly owners artist John Supplee and his wife Carol were setting up the paintings to be hung.
John Murray seems to take on any subject matter, from a bowl of fruit to a nude or French landscape, as if he is relishing the challenge with a passion to paint. With brush and palette knife, he color blocks, carves out form, sweeps his color, and pays homage to shape and line and canvas space. I am embarrassed that I have never heard of him before this show! Cheers to Church Street for always presenting a show that challenges us with great art, displayed in a perfect gallery setting.
Well known, award winning local painter Kathleen Keane will be showing a selection of her colorfully painted landscape scenes March 26th at  this Thursday's Pop up Art Show at Galer Estate Vineyard and Winery from 4-8pm. This is the first Galer Estate  Pop up Art Show of the year, where they will be regularly scheduled every Thursday at the winery from now through December.
Keane has had numerous solo shows and group exhibitions up and down the East Coast.  Her paintings always have a dynamic use of color and brushwork that makes her subject matter come alive. With brightly colored flowers and light-filled vistas, Kathleen's work is a perfect choice to welcome in a warm, colorful Spring!
With next weeks Art Watch overfull with art happenings for the beginning of April, I wanted to make sure to mention the brilliant artwork of Teresa Haag, who will be opening her new solo show next week on April 3rd in Phoenixville. Her show "Periphery" opens April 3rd from 5:30-9pm at the Phoenixville Art Center at 207 Bridge Street.
You may have seen her work at the Chadds Ford Art Show's "Art Salon" last week. Her brightly colored industrial and urban images are masterfully imagined and rendered. She paints with oil on wood board, where the board is collaged with imagery that relates to the painted subject matter.  I wanted to own every work that she exhibited! Her work is bright, fresh, colorful, thoughtful and crazy with talent. I am excited for this show and hope that I can decide which one to own…
This Friday from 5-8pm, the charming Sanderson Museum in Chadds Ford will be hosting a "Wine & Sign" event which will feature wine from Galer Estate, autographed books, signed prints and an art show with several local artists including Heather Davis, Kate Hodges, and Denise Vitollo. What a fun way to bring in a new crowd of visitors to this local treasure of a museum. It is easiest to park in back, near Brandywine Prime Restaurant.
In an effort to create a better gallery setting for the selected artists, Chester County Art Association Executive Director Karen Delaney has been hard at work renovating CCAA's Exton Mall Gallery. The walls have been painted and the rooms have been cleared to make a "much more open space and a huge improvement!" says Karen. Currently, the painted works of local painter Cary Galbraith are bringing new color and light to this freshly renovated exhibition space. 
http://www.churchstreetgallerywc.com/
http://www.chestercountyarts.org
http://carygalbraith.com/works
Lele Galer is a local artist who has chaired numerous art shows, taught art history and studio art, public art and has chaired, written and taught the Art in Action Art Appreciation series for the UCFD schools for the past 12 years. She worked at the Metropolitan Museum of Art, and wrote for the Associated Press in Rome.  She has been dedicated to Art History and art education for most of her adult life. Lele and her husband Brad own Galer Estate Winery in Kennett Square and she is on the Board of the Regional Center for Women in the Arts, Chester County Art Association and The Delaware Valley Art League.