Check out who YOU know in this week's Good Stuff!  
Got 'Good Stuff' to share? email kim@chescotimes.com.  (Submissions are due by the 15th & 30th monthly, and are subject to editorial review.)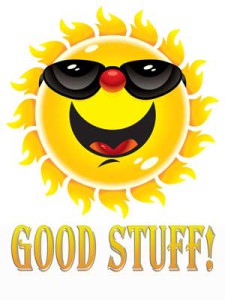 Furry friends unite…Exton Elementary student Ashton McLaughlin and teacher, Ms. Tina Buckel coordinated a very successful donation drive benefiting the Chester County SPCA. Lots of blankets, food, towels, toys and other important supplies were collected.   Our tails are wagging!
Errrbudddy in da' Club… is welcoming Jason Feller, the new General Manager of Kennett Square Golf and Country Club.  We wish former manager, Herb Redman, the very best in his recently announced retirement after his eight years of leadership and dedicated service.
First in Class…Coatesville Area High's Jennifer Brady is the FIRST student in Chester County to complete her Barber's and Cosmetologist License from the Technical County High School. With her eye-on-the-prize, Jennifer did it FIVE months ahead of schedule! She's currently working on her Cosmetologist Teacher's license; and is also an officer of the student organization SKILLS USA.
The long gray line…Kennett High's senior Hannah Shiflet is heading to the US Military Academy at West Point. Cadet Shiflet will play lacrosse, plans to major in engineering and embrace duty, honor, and service to country.  Congratulations and thank you Hannah!
INTELligent …Unionville High's Shashwat Kishore competed in the Intel Science Talent Search, the nation's most prestigious pre-college science and math competition. Shashwat won the 3rd Place Medal of Distinction – Basic Research. Shashwat's project focused on representing abstract algebras using matrices; he developed a new relationship between these matrices and topology; Shashwat was awarded a $35K scholarship.  Delaware Valley Science Council Awarded UHS' Jeff Phillips (math & chemistry), winner of the Harold F. Bernhardt Memorial Award ($900), presented by the Delaware Valley Science Council, and Shashwat (math & physics), winner of an Excellence in Science Award ($450), presented by the American Society of Mechanical Engineers, Greater Trenton Section.  Well done Shashwat & Jeff!
Final Answer, please…West Chester East's 'Quiz Bowl' teams A & B take 1st & 2nd place in Conestoga Valley Quiz Bowl. Questions span a range of topics, including history, literature, science, fine arts, current events, sports, and popular culture…we're giving these hard-working 'smarties' a shout out!
Most Generous…M & T Bank presented a $75,000 check to YMCA of Greater Brandywine. The funds will be used to support several YMCA initiatives including Girls on the Run and Stride for Boys.  M & T Bank will also be the Presenting Sponsor for the Y's annual Corporate Cup Golf Challenge, which provides financial assistance to enable seventh grade students to receive a free Y membership…Wow.
Drop it like it's hot….(off the griddle, that is!)…Unionville High's boys' lacrosse team is hosting a Flapjack Fundraiser, 8-10 AM, THIS Sunday, March 22nd at the Applebee's in Kennett Square. The breakfast includes all-you-can-eat pancakes, sausage, orange juice and coffee. Tickets are $7 and are available at the door.
"Hop" to it!…Coatesville Area Public Library is hosting a FREE Easter Party/Whacky Outift Day, April 4th 12:30 – 2:30 for kids ages 5-14 in its Community Room.  A parent or guardian must accompany children attending the event.
It's a bird…it's a plane, NO, it's 'S.D.' to the Rescue!… Spotted – Chadds Ford Elementary Principal, Shawn Dutkiewicz ('S.D.'), stopping  to change a colleague's tire…Shawn's never too 'tired' (nyuk-nyuk!) to help someone in need…nicely done Shawn!
Kind kids…Penns Grove Middle School participated in a campaign called "Think Kindness" and were challenged to "change the world in 15 days"  by setting a goal of 5,000 acts of kindness and collecting 1,000 pairs of shoes...the shoes will be donated to those in need in local communities and to an orphanage in Africa.
Honors…Congratulations to Longwood Rotary's Student of the Quarter – Unionville High's Samantha "Sami" Seidenberg…Sami's extensive leadership and involvement list is most impressive…way to go Sami!
Doing back flips…KMC Gymnastics boys' team wins PA State Gymnastics Championships.  Kyle Walchuk and Sean Salisbury earned 'all-around' state champions; Collin Cunane, Kieran Clark, Liam Bachman, TJ, Langdon, Henry Wagner, Max Madron, Spencer Biggs, Zachary Secord, Spencer Lewis, and Oliver March were individual event state champions. Level 8 and 10 teams won the first place trophy; level 4 team placed second. More than 350 boys from 22 gyms across the entire state of PA competed …SHAZAM KMC!
Guys and gals…Salesianum students,  along with help from sister schools, Padua & Ursuline Academies, have raised $71,000 this spring for the Delaware Center for Homeless Veterans (DCHV), beneficiaries of SALSthon 2015. Now in its third year, SALSthon stands for Students About Life Saving. This year, students aim to raise $200,000 to help DCHV  expand transitional housing for homeless veterans in the Wilmington area.  Great job!
Pool Cue… Avon Grove f-r-e-s-h-m-a-n,  Olivia Paoletti, continues to rule in the pool – taking 3rd in PIAA Class AAA PA State Swimming Championships in both the 200 IM and 100 breast stroke divisions…
Leafy greens…FREE Tree Care Lecture – THIS Thursday, March 19th, 7 PM – Pennsbury Township Building – 702 Baltimore Pike, Chadds Ford.  Presented by the Pennsbury Land Trust.
Professorial…Kennett Middle School's long time principal, Dr. John Carr, recently announces his retirement and moves on as West Chester University's Associate Director of Clinical Experiences – School of Education.
ON THE HORIZON:
The Garage Community & Youth Center Benefit Concert Featuring Renowned Violinist DAVID KIM April 17, 2015 at 7:00PM. Ticket Prices: General Admission Student $10/Adult $3, General Admission and Meet & Greet Student $15/Adult $35.  Pre-sale tickets can be purchased starting April 12th by visiting https://www.garagedavidkim.eventbrite.com or in person at the Kennett Garage located at 115 S. Union St. Kennett Square.
Unionville 5k Run for Our Sons 'END DUCHENNE' Muscular Dystrophy – Saturday, April 18th, C.F. Patton Middle School – Kennett Square, 8 AM registration, 9 AM race. Before April 4th, 2015:   $25 per person – $20 per student, after April 4th – $30 & $25.  Kids Dash – no paid registration required, free for kids 10 & under.  For more information and to donate visit: http://www.parentprojectmd.org/site/TR?fr_id=3670&pg=entry
Kennett Education Foundation "Diamond" 10th Annual Spring Dinner Friday, April 17th – Mendenhall Inn Grand Ballroom. The fun begins at 6 PM and includes dinner, dancing, Silent/Live Auction and a dazzling diamond raffle!  for more information and to purchase tickets, visit: www.kennetteducationfoundation.org