Show benefits Safe Harbor, Chester County Art Association
By Lele Galer, Columnist, The Times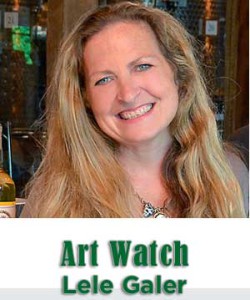 The 6th Annual Radley Run Art Show starts this Friday from 6-10pm, and then continues on Saturday  from 10am -3pm.  The Radley show is free admission and open to the public. It is a lively, wonderful show with great food and drink in a beautiful location.  If you have never been to The Radley Run Country Club, this is a nice chance to see this lovely bucolic property nestled amidst historical buildings, crumbling ruins and state of the art golf and tennis facilities.

Fifty local fine artists were juried into the show by curator Karen Delaney, who also is Executive Director of The Chester County Art Association.  This year the proceeds from the art sales will be divided by two non-profit recipients: Safe Harbor of  West Chester, and The Chester County Art Association.  If you are on a date, then you should show up on Friday night, and if you are with your children, then Saturday is the best day to come.  If you have time to spare, you might want to sign up for dinner or brunch at the club, which is always delicious and reasonably priced.
A great gallery show of steel sculpture opens at West Chester University this week.  Masterful abstract steel sculptor Stan Smokler will be exhibiting in the Knauer Art Gallery in the Swope Music Building at West Chester University from March 2- April 4. The opening reception is this Thursday, March 5 from 4-7pm. Stan has said that he might speak about his works at the opening;  let's encourage him to talk!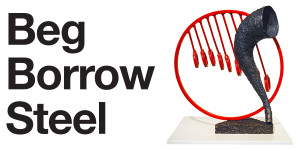 The exhibition of his large welded steel sculptures is titled "Beg, Borrow, Steel" which is a nifty title for artwork that is made from a combination of found and bought scrap metal.   While another person's garbage can be an artist's inspiring raw materials,  that cool metal scrap is not always so easy to find, and it is usually terribly heavy to cart away.  His work is referential to its found elements, but it never screams "Isn't this neat that is came from a tractor"; it is about the shape and form not where it came from. Stan's sculptures defy the weightiness of the parts, and seem to lightly, lyrically sing in the natural surroundings in which they are placed.
I can't wait to see what he has been working on! One of Stan Smokler's sculptural pieces will also be the entry piece to this year's famous Chadds Ford Art Show which will be held on March 20-21 at Chadds Ford Elementary School.  If you get inspired by his work, you might try to sign up for his amazing summer workshops where he and his many assistants help teach welding to eager students. You have to sign up at least a year in advance, so good luck!
As it is the first week in March, you should try wandering around the streets of West Chester and Kennett Square for the fun pop up art shows that occur every first Friday of the month.  Further afield, in downtown Phoenixville, you can drop by Diving Cat Studio Gallery on Saturday March 7th for a 7th Anniversary Party from 7:30- 11pm. There will be live music by The Holts, yummy food, champagne and lots of artwork to wear or showcase to make your life a bit more whimsical and artsy every day.
Also in Phoenixville is the opening for The Art Gallery at Franklin Commons  new show , "The Art of Science" which is curated by Katie Naber and includes over 50 artworks in a variety of mediums that highlight the connections between art and science. Diverse artwork ranges from paintings of skin cells under a microscope to depictions of oceanography, and sculptural FM radios. The opening reception is from 1-4pm on this Saturday and always features delicious food and wine, as well as the company of many exhibiting artists.
Last but not least, if you didn't get to last week's opening reception of The Chester County Art Association's Member's show and the Time Light Art Group "Four Seasons" show, you should check them out. Both openings were lots of fun, but the Time Light show opening was one of the very best photography shows that I have seen in Chester County.  The Time Light Art Group also very generously donated $500 to CCAA  on the night of the opening. CCAA shows will continue throughout the month so there is plenty of time to visit them before they go away.
The Time Light group is a mostly non-professional association of photographers who show their images together, when they are not working at their day jobs as professors, scientists and business executives.  The average IQ in that room was rather humbling. The images were astonishing, refreshing and powerful. I don't collect photography, but I still purchased two of them!  Stop by CCAA this month for a true visual treat, and become a member while you are there.
http://www.radleyruncountryclub.com
http://www.chestercountyarts.org
http://www.safeharborofgwc.org
http://www.stansmokler.com
http://cfes.ucfsd.org/artshow/
http://www.timelightart.org/
Lele Galer is an artist who has chaired numerous art shows, taught art history and studio art, public art and has chaired, written and taught the Art in Action Art Appreciation series for the UCFD schools for the past 14 years. She worked at the Metropolitan Museum of Art, and wrote for the Asociated Press in Rome.  She has been dedicated to Art History and art education for most of her adult life. Lele and her husband Brad own Galer Estate Winery in Kennett Square. You can see her artwork in local shows and at www.lelegaler.com.