Also: New WC brewery debuts, new exhibit at historical society
By Denny Dyroff, Staff Writer, The Times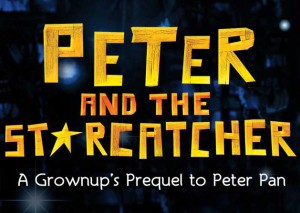 With outside temperatures hovering in single digits and wind chill factors dipping into the sub-zero range locally, there have been a lot of days that fall into the "good day to stay at home" category. But, for active people and parents with active kids, there is also a need to get out of the house and do something.
Fortunately, there are ways to accomplish both at the same time. One way is heading to a theater to see a show — not a Cineplex with 64 mini-theaters including five IMAX, three 3-D and two 3-D IMAX viewing rooms but a theater with a real stage and real actors. There are many options for attending live theater in this area.
If you hurry, you can have an opportunity to be a part of an historic local theater event — a patron at the first run of a touring Broadway show at the Playhouse on Rodney Square (10th and Market streets, Wilmington, Delaware, 302-888-0200, www.theplayhousede.org).
History was made this week when the theater, which is in the same building as the Hotel DuPont, debuted its latest incarnation by presenting the hit musical "Peter and the Star Catcher."  The six-day run began on February 17 and is running through February 22.
The theater, which has a lush Victorian vibe, is the oldest continuously operating theater for touring Broadway productions in the nation. Originally known as the Playhouse Theatre, it kept that name from 1913 until 2003 when the name was changed to the DuPont Theatre.
It was recently sold by the DuPont Company to the Grand Opera House, which has a two-theater building a few blocks south on Market Street in downtown Wilmington. The new owners quickly gave the venue its new name — The Playhouse on Rodney Square.
"Peter and the Starcatcher" is a play based on the 2006 novel of a similar name. The play provides a backstory for the character Peter Pan, and serves as a prequel to J. M. Barrie's "Peter and Wendy." It ran on Broadway from April 2012 through January 2013 and reopened Off-Broadway at New World Stages where it ran from March 2013until January 2014.
The show focuses on a poor orphaned child on the high seas simply called Boy and Molly, the daughter of famous Starcatcher Lord Astor. Molly's goals are to save the world and protect a treasure trunk of magical stuff from a greedy pirate named Black Stache.
"Peter and the Starcatcher" received nine Tony Awards nominations and placed first in five categories — Best Performance by a Featured Actor in a Play, Best Sound Design of a Play, Best Lighting Design of a Play, Best Costume Design of a Play and Best Scenic Design of a Play. It also won an Obie Award for Best Director.
Video link for tour — http://peterandthestarcatcher.com/about/synopsis.
The show is running through Sunday at the Playhouse on Rodney Square with evening performances on February 20 and 21 and matinee shows on February 21 and 22. Tickets range from $20-$79.
Another popular theater in northern Delaware is the Candlelight Theater (2208 Millers Road, Arden, Delaware, 302- 475-2313, www.nctstage.org). You'll also have to hurry this weekend because the final performances of "The New Mel Books Musical Young Frankenstein" are being presented this weekend. The ridiculously funny show is scheduled to run through February 22.
There is another trip to Delaware for a show requires immediate attention. The Delaware Theatre Company's production of "Nora," which is based on Ibsen's "A Doll's House", will close this weekend. The classic show will be performed at the company's theater (200 Water Street, Wilmington, Delaware, 302-594-1100, http://www.delawaretheatre.org). Tickets are $40 and $45.
There are also several options for live theater here in Chester County.
People's Light & Theatre (39 Conestoga Road, Malvern, 610-644-3500, PeoplesLight.org) is performing Emily Mann's adaptation of Chekhov's "The Cherry Orchard" now through March 8.
Academy Award nominees David Strathairn and Mary McDonnell play the major roles in Chekhov's story that tells how a bankrupt matriarch and her brother are offered a lucrative scheme to save their family estate. Tickets for this highly-acclaimed comedy-drama range from $37-$68.
Footlighters Theater (58 Main Avenue, Berwyn, 610-296-9245, http://www.footlighterstheater.com) will close out its run of "String of Pearls!" with performances on March 20 and 21. The play explores the possibilities that open up in the lives of an array of women as they come into contact with a certain sentimental necklace.
Tickets are $16 for adults and $8 for youth. The theatre's next production will be "A Piece of My Heart," which will run from April 17-May9.
Another top regional theater in this area is the Media Theatre (104 E. State Street, Media, 610-891-0100, mediatheatre.org) which is presenting "Ghost — The Musical" from March 4-29.  The show is based on the popular film from 1990 which featured Patrick Swayze, Demi Moore and an Oscar-winning performance by Whoopi Goldberg.
The Rainbow Dinner Theatre (3065 Lincoln Highway East, Paradise, 800-292-4301, www.RainbowDinnerTheatre.com) is presenting its new production "Squabbles" now through March 21.
Matinee performances are every Tuesday, Wednesday, Thursday and selected Saturdays with an 11:30 a.m. lunch and a 1 p.m. curtain. Evening performances are every Friday, Saturday and selected Thursdays with dinner at 6:30 p.m. and the show following at 8 p.m. There will also be "Twilight Performances" on selected Sundays with dinner at 2:30 p.m. and the show at 4 p.m. Ticket prices range from $30-$55.
Other local theater companies are Players Club of Swarthmore (614 Fairview Avenue, Swarthmore, 610-328-4271, http://www.pcstheater.org), Spotlight Theatre (129 Park Ave, Swarthmore, 610-328-1079, www.spotlighttheatrepa.org), Theatre Horizon (401 DeKalb Street, Norristown, 610-283-2230, www.theatrehorizon.org), Sight & Sound Theatre (300 Hartman Bridge Road, Strasburg, 800-377-1277, http://www.sight-sound.com/WebSite/home.do)and Hedgerow Theatre (64 Rose Valley Road,Media,610-565-4211, www.HedgerowTheatre.org).
If you're in the mood to head into Philadelphia, there is a long list of choices for live theater. Right now, the best choice is "The Illusionists — Witness the Impossible," which will have a six-day run from February 24-March 1 at the Academy of Music (Broad and Locust streets, Philadelphia, 215-731-3333, www.kimmelcenter.org).
The highly entertaining show features awe-inspiring acts of grand illusion, levitation, mind-reading, disappearance and, for the first time ever in history, a full view water torture escape.
The show's seven impressive acts are The Escapologist — Andrew Basso, The Manipulator — Yu Ho-Jin, The Anti-Conjuror — Dan Sperry, The Trickster — Jeff Hobson, The Inventor — Kevin James, The Warrior — Aaron Crow and The Futurist — Adam Trent.
Performances are February 24-26 at 7:30 p.m.; February 25 at 8 p.m.; February 26 at 2 and 8 p.m.; and March 1 at 1 and 6:30 p.m. Tickets range in price from $20-$105.50.
This weekend, the Chester County Historical Society, 225 North High Street, West Chester, 610-692-4800, http://www.chestercohistorical.org) will celebrate the opening of a new exhibit — "The 1960's Pop Culture: Movies, Memorabilia and The Media, The Steve and Michell Friedman Collection."
The exhibit will run from February 21 through August 29. Additionally, there will be an "Opening Reception" on February 20 from 5:30-8 p.m. with remarks at 6:15 p.m.
The new exhibition features over 150 pieces of movie memorabilia from the collection of the late Steve "Mr. Movie" Friedman and his wife Michell Friedman. This show will provide an interesting and reflective journey back into the 1960s using posters, press books and toys.
Levante Brewing Company (208 Carter Drive, Suite 2, West Chester, http://www.levantebrewing.com), one of eastern Pennsylvania's newest craft breweries,  will officially be open for business sometime in early 2015.Prior to its official opening, the brewery is hosting a special sampling event on February 21.
Visitors to the event will be able to meet the brewmasters, tour the brewery, get samples of the new beer and have growlers filled with the debut brews. Beers on tap at Saturday's event will be Bianco White Ale, Chief IPA, Norseman ESB and Pallido Pale Ale.
The Hands-on House Children's Museum (721 Landis Valley Road, Lancaster, 717-569-5437, http://www.handsonhouse.org) is hosting a special series running now through the end of March that it calls its "POP-In" programs.
The museum's classroom is open for these programs that are "packed with play!". Adults and children can participate and learn together — and they can "POP-in" anytime during the scheduled time.
The event is free with regular admission to Hands-on House and no pre-registration required. Admission to the museum is $9.50 for adults and children.
The current program is titled "Clowning Around." Participants will be able to interact with clowns and be influenced by the clowns' garb such as floppy shoes, red noses and big silly hats. Participants will be able to take one home with them in this "make it-take it" workshop.
Hours for the program this weekend are 5-7 p.m. on February 20 and 2-4 p.m. on February 21.The remaining two dates are March 15 and 21 from 2-4 p.m. each day. Other "POP-In" themes are "Who's Afraid of the Big Bad Wolf?" (March 3, 18 and 31), "Barnyard Buddies" (February 24, March 12 and 13) and "Where Do You Hide a Dinosaur?" (February 28, March 27).
The Greater Philadelphia Expo Center (100 Station Avenue, Oaks, 484-754-3976, www.phillyexpocenter.com) is hosting three special events this weekend — the Americana Indian Art & Jewelry Show, the Suburban Home and Garden Show and the Endurance Sports Expo.
A popular motif for home decorating in recent years has been American Indian art — especially artwork produced in the American Southwest. This weekend, you can find a lot of examples of this art style at the Americana Indian Art & Jewelry Show on Oaks.
The show is a great way to get a look at artifacts and other items related to the history of Native Americans. From February 20-22, the Greater Philadelphia Expo Center is hosting the 2015 edition of the Americana Indian Art & Jewelry Show. The show is presented by the Americana Indian and Western Gallery and admission is free.
The Americana Indian and Western Gallery had its beginning in 1947 when its founder Lee Anderson attended school on a Navajo reservation and worked after school for his uncle in the trading post. The family collected American Indian art such as Navajo rugs, pottery, baskets, and other Indian and western items.
Anderson's sells Navajo, Hopi, Zuni, and Santo Domingo jewelry, as well as Navajo rugs, Hopi and Zuni kachinas, baskets, pottery, art and collectibles. One of the most respected Native American art dealers in the United States, Americana Indian Shows brings thousands of items direct from the Southwest to the show attendees.
Show hours are 11 a.m.-9 p.m. on Friday, 10 a.m.-8 p.m. on Saturday and 10 a.m.-7 p.m. on Sunday and admission is free.
If you're considering working on your house this spring — repairing, refurbishing or upgrading your home — then you should consider attending the Suburban Home and Garden Show which is running now through February 22.
The event, which is produced by D&D Exhibitions, is targeted for homeowners in all stages of remodeling, landscaping and decorating their homes. Billed as "the perfect one-stop shopping environment to spark ideas for home projects indoors and out", it offers hundreds of exhibits featuring product demonstrations, sample displays of interior and exterior designs and a wide variety of related merchandise.
Attendees can check out new products and receive expert advice from professionals. There will be exhibitors representing a huge range of categories, including lighting, architects, masonry, lighting, painting, roofing, floors, home theaters, financing, appliances, plumbing, heating, paving, waterproofing and siding.
Show hours are noon-8 p.m. on February 20, 11 a.m.-8 p.m. on February 21 and 11 a.m.-5 p.m. on February 22. Admission is $10 with children (ages 12 and under) admitted free.
The 2015 Endurance Sports Expo, which will be held February 21 and 22,  is an event geared for the endurance sports athlete. It will feature the latest running gear, the hottest road and mountain bikes, the newest triathlon-related products and free advice from experts in the industry.
Billed as "the largest cycling, running and triathlon expo in the country," the Endurance Sports Expo will feature over 200 national and local vendors, brands, events, and endurance sports personalities.
National brands and local retailers will be on hand to help attendees find the right equipment and offer deals on top products. Cyclists, runners and triathletes will be able to find a great event to train for and a club to do it with.
On February 21, the Delaware Chinese American Association will present "Delaware Chinese New Year Celebration 2015" at John Dickinson High School (1801 Milltown Road, Hockessin, Delaware, 302-689-3235, www.dcaadelaware.org).
The festive annual event will feature traditional Chinese singing and dancing. The list of other activities at the one-day festival includes magic and variety shows, raffles, dim sum, and a Chinese artifact exhibit.
The celebration is slated to get underway at 2 p.m. on February 21 with a snow date scheduled for March 1. 免费, 欢迎大家光临 (which means this is a free event and all are welcome.
There is another free attraction to lure you to Delaware this weekend.
Now through March 13, Hagley Museum and Library (Route 141, Wilmington, Delaware, 302-658-2400, www.hagley.org) is offering free admission. This includes all exhibitions, site tours, weekend demonstrations and other activities — everything with the exception of ticketed events.
Visitors will be able to check out Hagley's current exhibits, explore demonstrations in the Powder Yard, tour the du Pont ancestral home, and enjoy walks along the scenic riverside. Exhibits and dioramas document the Brandywine Valley's early eras as well as the history of the DuPont Company.
The Chaddsford Winery (632 Baltimore Pike, Chadds Ford, 610-388-6221, www.chaddsford.com) will offer "Wine & Chocolate Samplings" on February 21, 22 and 28 and March 1.
The special tasting features Chaddsford Red with a milk chocolate covered vanilla cake pop. Pinot Grigio with a dark chocolate covered chocolate cake pop, Barrel Select Chardonnay with a dark chocolate covered kiwi and Pinot Noir with surprise chocolate and accompaniments.
Chocoholics should visit Hershey during the month of February for "Chocolate-Covered February in Hershey" (various locations around Hershey, 800-HERSHEY, www.chocolatecoveredfebruary.com). Hershey has decadent chocolate events planned throughout the month of February.
Visitors to the Hershey Store can try their hand at making their own heart-shaped milk chocolate confections and hand-made truffles. The "Hersheypark Chocolate Parade" will be held at the amusement park every Saturday and Sunday in February beginning at 2:30 p.m. each day. There will also be an "Interactive Story Time & Hot Cocoa" session at 1 p.m. and again at 3 p.m. at Hersheypark every Saturday and Sunday in February.
Activities throughout the month include "Hersheypark Chocolate Parade," "Hershey's Chocolate Dessert Journey," "Rainforest Adventure," "Chocolate and Spirits Pairing Class and Chef Demonstrations," "Chocolate Tea," "Hershey's Character Breakfast," "Wild Treats" at ZooAmerica, and "Hershey's Hot Chocolate Pajama Party."
Videofor Hershey festival — https://www.youtube.com/watch?v=bRxnlz9IJvI.
Longwood Gardens (Route 1, Kennett Square, 610-388-1000, www.longwoodgardens.org) is hosting its popular "Orchid Extravaganza" through March 29.
The celebration of the orchid species features thousands of orchid blooms along with a variety of displays and special exhibits throughout its four-acre conservatory. "Orchid Extravaganza" will also feature stunning displays of orchids in planting beds, containers and innovative exhibits.
Approximately 5,000 colorful orchids hang from baskets, create inspiring arrangements and adorn unique forms throughout "Orchid Extravaganza." Two of the most interesting exhibits are an oncidium waterfall display and an orchid meadow.
Admission to Longwood Gardens is $20 for adults, $17 for seniors and $10 for students.
The Delaware Museum of Natural History (4840 Kennett Pike, Wilmington, Delaware, 302-658-9111, http://www.delmnh.org) has a new attraction that is running through May 25 — "The Robot Zoo," which reveals the biomechanics of robot animals including a chameleon, a platypus and a giraffe.
Machinery in the robot animals simulates the body parts of their real-life counterparts.  In the robot animals, muscles become pistons, intestines become filtering pipes and brains become computers. Admission to the museum is $9 for adults, $7 for children (ages 3-17), $8 for seniors (age 60 and older) and free for children (under three).
Adventure Aquarium (1 Riverside Drive, Camden, New Jersey, 856-365-3300, www.adventureaquarium.com) is presenting "Dinosaurs of the Deep" now through July 5. This new exhibit that allows spectators to travel into an underwater world of millions of years ago when giant prehistoric monsters ruled the seas.
Other attractions at the Adventure Aquarium include "Hippo Haven," "Stingray Beach Club Feeding Experience," "Meet the Divers," "Hippo Feed and Talk," "Ocean Realm," "Caribbean Currents," "Shark Realm," "Penguin Island," "Creature Feature" and the Aquarium's "4D Theater" featuring the film "Sea Monsters."
Admission to the Adventure Aquarium is $25.95 for adults and $18.95 for children (ages 2-12). Children under two are admitted free with a paying adult.
Now through March 1, thousands of unsold Christmas trees are the focal point of "The Ultimate Recycled Maze," a popular event at Linvilla Orchards (137 West Knowlton Road, Media, 610-876-7116, www.linvilla.com).
A huge amount of unsold Christmas trees have been collected from around the region to create this exciting new attraction that is fun for all ages. The maze takes anywhere from 30 minutes to an hour to get through. Admission to the maze, which is open daily from 9 a.m.-5 p.m., is $5 — or $4 when purchased with a round of mini-golf.
Linvilla Orchard's "Fore! The Planet" is a highly interactive and playful museum exhibit created by the Academy of Natural Sciences in Philadelphia. This exhibition pairs important environmental issues with the fun of miniature golf.
It features 18 unique educational holes on a variety of topics — butterfly metamorphosis, a tropical rainforest, evolution, dinosaur extinction, food chains and more. Kids of all ages can enjoy playing miniature golf while learning about our environment on every hole.
The mini-course is open daily from 9 a.m. -5 p.m. Tickets are $6.95 (ages 11 and over) and $4.95 (ages 10 and under).
Video for"Fore the Planet" — https://www.youtube.com/watch?v=cpvV0OVrv5Y&list=UUcFK4FqIn0TGKhXt09cFrvQ.