The popular 'Good Stuff' column is here! Be sure to help us keep the 'Good Stuff' coming; email your positive 'stuff' to kim@chescotimes.com today.  Submissions are due the 15th & 30th monthly and are subject to editorial review.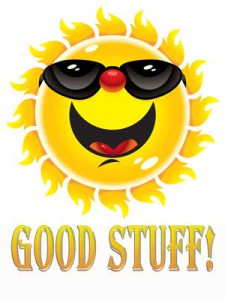 Leading "Lion"… Lincoln University's head football Coach, Ramon Flanigan 'gives back' by hosting a motivational session for the Coatesville Kids to College program. Kids listened while Coach Flannigan real-life examples of the importance of self-discipline, strong character & focusing on personal goals and how each play an important role in on ones bright future. 'Hats-off' Coach, we hear you R-O-A-R!
Front Page News … Unionville High  senior, Shashwat Kishore, made the front page of the Philadelphia Inquirer as a finalist in the Intel Science Talent Search. Shashwat is in an elite and very accomplished group of students from across the nation – as proclaimed in the Inquirer's article. Wow, way to go Shashwat!
Can't 'Quench' This Talent …Henderson High sophomore, Sydney Zandi, name 2014/2015 Gatorade PA Girls Soccer Player of the Year. Not only does Zandi lead on the field but in the classroom too…maintaining a 4.02 GPA and is also a member of Henderson's Latin Club.
A Way with Words…West Chester East sophomore, Anna Steinmetz, won first place in the 9th Annual Girls on Art High School Writing Competition… Patton Middle School 7th grader, Michael Walter-Dillon, earned a Silver Key in the Philadelphia Regional Competition of the Scholastic Art & Writing Awards. His poem"Just Like You," was one of 29 poems selected by a panel of writers, literary professionals and teachers to receive a Silver Key out of more than two-hundred entries from throughout the Philadelphia region.
Spotted – An SUV packed with donated, work-appropriate clothing, accessories, bags, shoes, and jewelry being delivered recently to the new Wings for Success KSQ office. We hear the 'drive' to help stock Wings for Success was organized by the Republican Women of Chester County…Women helping women, well done ladies!
Girls Night Out…at The Garage Community & Youth Center, KSQ for 6th, 7th & 8th grade Kennett Middle School girls this Friday, February 20th. Zumba, dinner & a movie will each provide focused objective: to foster camaraderie between grade levels with team building activities, a session on peer pressure refusal skills, and an open discussion on themes presented in the movie selection…
Sharpen Your Pencils, Please… 6th, 7th & 8th grade Patton Middle School students are competing for an awesome opportunity. Winners from 'Why I Want to Meet Jamie Wyeth' essay contest will be invited to spend the day at Brandywine River Museum with assistant curator Amanda C. Burdon and Jamie Wyeth. Activities will include a semi- private tour of the Jamie Wyeth Retrospective Exhibit, a casual conversation with Wyeth regarding his training and aspects of his work, and conclude with a scavenger hunt to help students remember their special day….Ummm, Can WE come?!?!?
Center Stage – The Jennersville YMCA is hosting a ribbon-cutting ceremony this Friday, February 20 at 4 PM celebrating its long-awaited expansion & completion of Smithson Center for Arts Theatre. The event includes theatre and band performances, tours of the facility, refreshments along with free special events for members and the community Saturday, February 21 thru Sunday, February 22.
Bringin' It – West Chester East Varsity Cheer Leading Squad placed 5th at the recent National HS Cheer Leading Championship – Orlando…NOT to be outdone, Rustin High's squad placed 4th in the non-tumbling division. The competition hosts 12,000 cheerleaders, and draws 645 teams from 38 states…
Makin' Music…Five Oxford Area HS students invited to perform at PMEA District & Regional Finals: Amanda Holmes, Kaleigh Marr, Thomas Sumner, Maddie Sapp & Larissa Smith. Thomas also qualified for the Reg. 6 Chorus Festival and was invited to perform at the National Association of Music Education Festival in Providence, RI and the National Honors Ensemble in Nashville, TN. Amanda also achieved additional honors by being invited to play French horn at the PMEA district 12 and Region 6 orchestra festivals…AND Six sixth-graders from Avon Grove Intermediate School were selected to perform in the 2015 Chester County Elementary School Band Fest, February 13, at Phoenixville Middle School. The band is comprised of 100 of the top second- and third-year instrumental music students in Chester County. Congratulations to Liliana Barbosa (French horn), Caleb Smith (percussion), Amelia Nur (trombone), Heather Penrose (clarinet), Nicole Wittman (flute), and Hayley Weber (clarinet).
Heart in The Game:  Salesianum invites all area middle and high school students to 'Heart in the Game,' a cardiac health event, in Sallie's main gym this Saturday 2/21 from 10 AM-2PM.  Students can get free EKG screenings from Nemours, receive hands-on CPR & AED traiing from New Castle County Emergency Services, Drinking, Driving & Disaster Prevention from AAA and healthy eating tips from Nemours.
On the Horizon:
Kennett Square Junior Cotillion: Cotillion offers lessons in social & dining etiquette, ethics, and social dance instruction and is open to local youth. Lessons take place on Sunday evenings at the Kennett Square Golf and Country Club from 5:30-6:45 PM for 3rd-5th graders, & from 7 PM-8:15 PM for 6th-8th graders: March 1st. 8th, 15th, & 22nd Program cost is $175.00 per child and there is a$10 discount for families registering more than one child; the same discount applies to the Boy Scouts/Girl Scouts programs. For more information and to register your child, please email Cotillion Coordinator, Maria Feeney: cac.artsconsultants@yahoo.com
Coatesville Kids to College is excited to host its first fundraising banquet March 28 at the Downingtown Country Club. For more information, to purchase tickets, and to get involved visit: www.CoatesvilleKidstoCollege.org
Kennett Education Foundation (KEF): will be hosting it's  10th Annual Spring Dinner 'Diamond' Celebration to be held on Friday April 17th. For more information and tickets visit: www.kennetteducationfoundation.org