Tri-county student talent delights
By Kim Chiomento, Staff Writer, The Times
KENNETT – This week, nearly 100 5th and 6th grade student-musicians from Philadelphia, Delaware and Chester Counties came together at Kennett High School to showcase their combined talents.
StringFest is an annual event sponsored by the PA Music Educators Association (PMEA); its goal is to bring together diverse, top-tier musicians and provide them a special opportunity to perform together. Participation is considered an honor; musicians are hand-picked by their respective orchestra directors. The students participating in this week's performance represent PMEA's District 12.
Marty Beech, Assistant Principal Second Violinist – Delaware Symphony Orchestra, was selected to direct the talented students. Beech, now retired, previously taught as a celebrated Orchestra Director and String Teacher in the Kennett Consolidated School District for 39 years.
"I am excited to have the opportunity to conduct this very special group of students," says Beech, "Hopefully, I will be able to share a lot of the great joy that music brings to my life as a performing musician. I know, from having many of my own students performing in groups such as this one over the years, that the students almost always return with more excitement in their playing along with an increase in technical facility."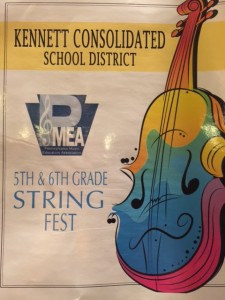 Co-hosts, Jessica Eves-Williams (Director, Kennett Consolidated School District Orchestras),  Paula Eichmann and Kadie Bond (Directors, Unionville-Chadds Ford School District Orchestras) helped facilitate many behind-the-scenes logistics including coordinating Tuesday's practice, communicating with participating school districts, distributing commemorative T-shirts,  and arranging for the student's pre-performance pizza party dinner.
Prior to Tuesday's practice, StringFest participants were given the performance selections to study at home; including Tchaikovsky's 'Swan Lake', Mozart's 'Contredanse en Rondeau', Smith's 'Star Spangled Banner' and a more contemporary, fun piece – Katy Perry's 'Firework.'  During the all day rehearsal, Beech worked through the performance pieces helping students refine their techniques and keep a focused eye on what making music is all about.
The students' efforts culminated in a celebratory performance for family, friends and the greater community Tuesday evening.