Six products to help you stay warm and comfy
By Kelly Hockenberry, Columnist, The Times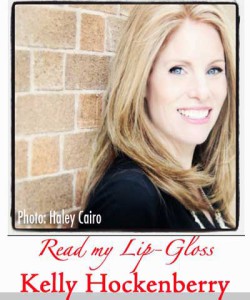 Happy New Year! With the chaos of the holidays behind us, it's time to focus on how miserable the weather will be.
Kidding! (not really)
I hate being cold. I am 100% a summer girl. I spend from the beginning of December to approximately mid April complaining that my hands and toes feel like icicles. Therefore, I have decided to create a January Super Six dedicated to staying cozy in the midst of it all…
1. Josie Maran Hot Oil Treatment ($36): available at Sephora, this self-warming elixir promises to create the soft, supple locks you have been dreaming of. Apply in the shower after washing and conditioning and leave on for approximately five minutes.
Can't wait to try!
2. Under Armour ColdGear Beanie ($26.99): available at Sports Authority. I love that these hats have a slit in the back for your pony tail! Ingenious. If you like to workout outdoors during the winter, something covering your head (and ears, especially) is a MUST. Crazy about this colorful pattern, too.
3. Pottery Barn Faux Fur Throw (on sale $159 – $199): There is nothing better than curling up to watch your favorite Real Housewives episode under a faux fur blanket. Not only is it functional, it's an interior design essential in my book. At last count, I am pretty sure there are five different versions in my house as I type.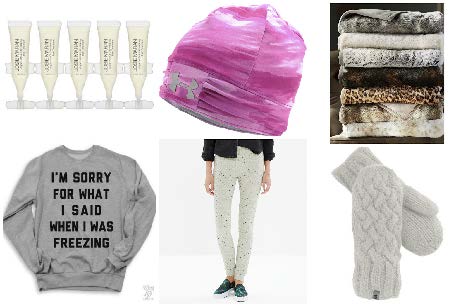 4. Thug Life Sweatshirt ($48.95): available on the Thug Life website (duh!) which is probably my favorite website, EVER. I AM sorry for what I say when I am freezing…because usually it is not very nice. When I'm cold, I tend to be irritable.
Happily, pairing this top with my fleece leggings and fur lined boots will give people ample notice of my mood.
5. Dreamweave Leggings (on sale $39.99): find them at Madewell! Going out to the store in pajama bottoms is a BIG, GIANT, fashion DON'T. No excuses. However, I do enjoy pants that can seamlessly transition into pajamas at the end of the day (translation: after 3pm). I would definitely wear these with a long black sweater and boots to run errands.
6. The North Face Cable Knit Mittens ($40): These are not text friendly….BUT, mittens do keep your hands warmer than gloves. I love this fleece lined pair. So cute!
I hope that the looooooong holiday vacation (HOORAY for back to school on Monday!) was relaxing and restorative. Cheers to a happy, healthy 2015!