Pre-holiday arts and craft shows start to pop up around the county, too
By Lele Galer, Columnist, The Times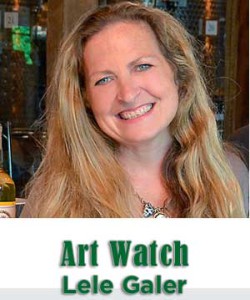 This week begins with a Pop up show at Galer Estate Winery featuring the vividly colorful and expressionistic paintings of popular local artist John Hannafin.
The pictured downtown West Chester winter scene is a show stopper- what a perfect Christmas card! It has the warmth and nostalgia of a Grandma Moses piece, but Hannafin's signature marks make the image fresh and lively. The row buildings appear to snuggle up next to one another in the cold, warming themselves by the head of the lamppost light. I can't wait to see what else he will bring to the show this Friday from 5-8pm!
Small preholiday arts and crafts shows are also popping  up this week. This Friday evening and Saturday at the Episcopal Church in Kennett Square, 15 artists and craftspeople including glass fusing artist Patsy Keller and mosaic artist Carol Apicella, will be selling their work to the public. The best gift is something hand-made, and it is always so much fun to see what people are passionate about making, so check it out on your way to get a cup of coffee at Philter.
Also Friday (10:30am – 7:30pm) and Saturday (10am-4pm) The Artist's Circle will have a group show and sale at Paoli Presbyterian Church at 225 s. Valley Road in Paoli. What is different about this show is that every single framed painting is $100 each! And unframed art and prints are an even greater value. This group of professional artists comes from Chester county and the Main Line areas, and sell regularly for much higher prices.
At the Chester County Art Association in West Chester, you can see a solo exhibition by amazing artist Melanie Fisher. Fisher paints layers of interwoven, layered tapestries that push back and forth between the solid forms. Tropical fish swim through patterns of color and line – like a crazy quilt made from post modern fabric swatches.  She is a story-teller who brings magic and life to dragons and other creatures by placing them in the most extraordinary world of hand painted patterns. You have to check this show out! While you are there, peek into the last weeks of the Tribute to Great Artist's show in the next gallery and see how 40 artists interpret the theme to pay tribute to another artist.
Calling all mural artists, there is a proposal deadline of December 19th for anyone interested in applying to head up  the Collegeville Mural Program's latest historical mural project. Check out www.collegevilledevelopment.org for more information. Good luck!
http://www.chestercountyarts.org
http://www.theartistscircle.net
Lele Galer is an artist who has chaired numerous art shows, taught art history and studio art, public art and has chaired, written and taught the Art in Action Art Appreciation series for the UCFD schools for the past 12 years. She worked at the Metropolitan Museum of Art, and wrote for the Asociated Press in Rome.  She has been dedicated to Art History and art education for most of her adult life. Lele and her husband Brad own Galer Estate Winery in Kennett Square.