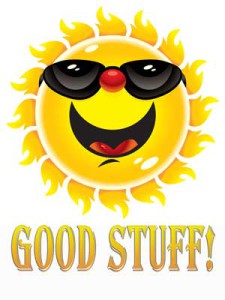 "Good Stuff' is back; highlighting positive happenings around Chester County packaged in a fun, easy-to-read-format.  Got 'good stuff' to share?  Like what you see? Let us know: email kim@chescotimes.com. (Submissions due by 15th and 30th monthly; all content subject to editorial review.)
Red Devil Pride:  Avon Grove High's Robert Evans, Anna Wright, Kira Russell and Adam Gaerity recently honored… Evans & Wright named as Avon Grove Lions' Club Student of the Month (October and November, respectively); while Russell and Gaerity were was named Avon Grove/West Grove Rotary Student of the month (October and November, respectively.)  Congrats to both of these hard working student leaders & community volunteers…
"On Par"…Congrats to Bishop Shanahan's talented, multi-sport athlete and National Honor Society Scholar, Kevin Conners, who will be playing golf for the Fighting Irish; recently announcing that he is the recipient of a Notre Dame scholarship…
Honors…Coatesville Area School District proudly inducted over 120 students into the National Honor Society (NHS.) The ceremony was led by NHS President, Caesar Asadi, NHS Vice-President, Theodore Mirenda III, Jared Henderson, NHS Secretary and Emily Sterner, NHS Treasurer…
Row, Row, Row your SCULL…Congrats to Kennett High's Brian Suchta & Max Judd (and their "home" Club – Newport Rowing Club) for taking home 2nd place medals in the in the Freshman 2x event during Philadelphia's prestigious Head of the Schuylkill Regatta…
In-Sync…Kennett and Unionville High's marching bands received top awards at the recent Calvacade of Bands End-of-Season Championships….Kennett taking 2nd place in the "Patriot A" Division, Unionville taking 3rd in the "Liberty Open" Division.  BOTH schools' color guards received the top honor "High Auxiliary" award for their divisions, and Unionville also received the Liberty Open Division's "high effect" award.  100's of bands from PA, NJ, DE, MD, VA & NY participate in the season-long Calvacade of Bands circuit…
Gridiron-grit…Rivals Coatesville and Downingtown East go face to face in the Divison 1-AAAA semifinals next weekend.  Bert Bell Youth League…Kennett-Unionville Titans take on Coatesville's Kid Raiders next weekend for 80lb Varsity Championship finals…Downingtown Young Whippets – 120lb & 150lb varsity teams head to the Championships as well…opponents TBA.
 "10.0" …KMC gymnastics-KSQ scores a big win and sticks a huge "landing," recently announcing it has been selected to host the PA 2015 USAIGC Gymnastics Championships: May 16 – 17.  For event details and updates visit www.kmcgymnastics.com…
Calling all Princesses, young & old!...Jennersville "Y"  Youth Theatre invites you to "Be Our Guest" for a performance of Disney's Beauty and The Beast Dec. 5th-7th.  A special celebration & Tea Party will be held Dec. 6th.  Tickets:  $8 adults 12 & up, $6 kids, $10 for a combined Tea Party & performance ticket.  Get your tix by phone 610-869-9622 -or- at the Jennersville Y Member Services desk.  All performances held at Penns Grove Middle School – Oxford.
December 7…A date that lives on in infamy, and, an afternoon to honor those who serve(d): Come enjoy The New London Community Choir's "1940's Christmas Homecoming: Remembering our Military" FREE concert: Sunday, December 7, 2014 – 4 PM, Guthries Hall, 1008 State Road, New London.  Members of the military are encouraged to come in uniform.  Activities for this event include lighting the New London Christmas tree, singing carols, and refreshments.
FREE CLOTHES…need a little help, or know someone who does, this season? … Visit the Kennett Clothing Closet (500 E. Cypress Street, KSQ) open Saturday, December 6, from 10 AM-2 PM….the Closet features gently used infant through adult clothing, shoes and accessories all offered for free to the community. Hot tip—the Closet was just re-stocked with lots of beautiful children's clothes thanks to Greenwood Elementary PTO's clothing re-sale and donation event. For more information call (610) 444-5774
Dine-out WITH and FOR "Friends" (The Friends Association for the Care and Protection of Children)…  THIS Wednesday, November 19, West Chester's Landmark Americana Tap & Grille (158 W. Gay Street,W.C.) will donate 25% of dining proceeds to support the Friends' mission of supporting homeless families with children.  Diners should print this flyer: http://www.friendsassoc.org/_pdfs/Landmark%20Form%20Oct-28-14.pdf  and present it to their server; dining proceeds will benefit the Friends' year-long Emergency Family Shelter and Homeless Prevention Programs.  To learn more, visit www.friendsassoc.org
We love a PARADE…Friday, November 28th, 6:15 PM Historic Kennett Square present its Annual Light Parade…help see KSQ come aglow in lights, welcome Santa & Mrs. Claus and help cheer-on the lighting of the Kennett Square Tree.  Parade is followed by merchant open houses and raffles.  All are encouraged to support Small Business Saturday, November 29th featuring free 3-hour parking in KSQ.
Shop-shop-S-H-O-P…Historic downtown Oxford is promoting Small Business Saturday Retail Train: Saturday, November 29th, 10 AM – 6 PM.  The day features an "Elves Workshop" (9am-12PM at the Oxford Library) where kids can create make and take gifts while parents shop.  Kids are asked to bring a canned good/non perishable item to help support Neighborhood Services. Merchants will be hosting special sales, raffles, and give-aways all day long.  More information on the day's events can be found by visiting: www.downtownoxfordpa.org/news_events.html
Thank your "Hostesses-with-the-Mostest-esses"… The Mushroom Cap- KSQ is selling commemorative "Midnight in the Square" ornaments for just $12 each. Why not bring your holiday hosts a gift that captures a piece of Chester County's unique, regional flare?  Proceeds help defray the cost of the very popular New Year's Eve "Midnight in the Square" celebration that features the Giant illuminated Mushroom Drop.  Get yours today, available online: themushroomcap.com or by stopping by the Mushroom Cap, 114 W. State Street.
Holiday Family FUN…Oxford Area High School Student Council is hosting a Holiday Festival for elementary age children & their families on Saturday, December 6th, 9 am – 12 p.m. at O.A.H.S. – 705 Waterway Road, Oxford. Crafts, activities, games, photos with Santa (bring your camera!) and light refreshments will be a part of the fun. A Secret Santa Shop and K-8 Book Fair (sponsored by the Oxford PTO) will be available for your shopping needs.  Event proceeds benefit the Leukemia Society. Admission is a new, unwrapped toy for Student Council's annual Toys for Tots drive.
Food Donations Needed: Chester County Food Back & Kennett Food Cupboard are in need of food donations.  Residents are asked to make donations today at drop-off locations throughout the County.  For more information on how you can help, visit: chestercountyfoodbank.org and www.kacsonline.net