23 acres would be used for open space and recreation
By Kris Firey-Poling, Correspondent, The Times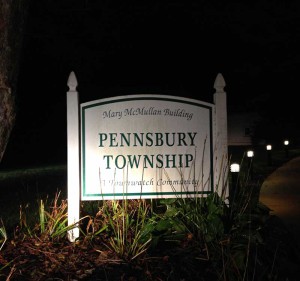 PENNSBURY — The township's Board of Supervisors passed resolutions to start the process to acquire 23 acres of land for open space and recreation at its meeting, Wednesday night.
The land includes three parcels, located on U.S. 1 east and west of the township building, and at the corner of U.S. 1 and Hickory Hill Road.
Supervisors also passed an ordinance to incur a debt of $4,000,000, with a note issued by the Delaware Valley Regional Finance Authority, at a 2.696% interest rate and a 20-year repayment schedule.  The borrowing requires the township to obtain a bond rating.  Supervisors approved to have KBRA agency assign a rate for the 2014 note.  The initial fee will be $2500; if the township moves ahead with KBRA, the total cost will be $8,000.  According to Township Solicitor Tom Oeste, the township is currently negotiating the final cost. 
Board Chair Scotty Scottoline announced that a public hearing to discuss the purchase will be held during the next Supervisors meeting on November 19th.  The closing date is scheduled for November 25th.
Planning Commissioner Lynn Luft remarked that, "It's good to see tax money spent on this worthwhile purchase!"
In other township business at the meeting, after many months of discussion, the supervisors denied the Mikkelsons' application to add acres onto their lot 17 in Parker Preserves.
According to Oeste, "This development is controlled by open space."
Supervisor Aaron McIntyre acknowledged that "There is some gray area here, but not all homeowners in the development approved of this action and the Mikkelsons needed everyone's approval."
The supervisors voted to stay neutral on the Steger Gowie request to approve less than the required parking spaces at their 411 Old Baltimore Pike commercial location, despite the addition of a dental practice.   The representative said that the practice needed 10 spaces, but hadn't discussed specific requirements with potential tenants.  The Supervisors requested more data, with McIntyre saying that, "We can't disregard an ordinance on this anecdotal evidence."
The Zoning Hearing Board will decide on the request at its October 30th meeting.
The Board supported Mr. and Mrs. Kevin Wilson's plan to building a single family home with a breezeway and a pool at 19 Raintree Road.  Despite Luft's concern about the septic location, Scottoline reminded the group that the County Health Department approved the placement, and believes that there is "no critical environmental impact."  A motion was passed to support the Wilson's application that goes to the Zoning Hearing Board on October 16th.
The Fairville Village land development plan was reviewed and approved.  The owner will build onto an existing historic barn and install a gravel parking lot consistent with other commercial properties in the Village.