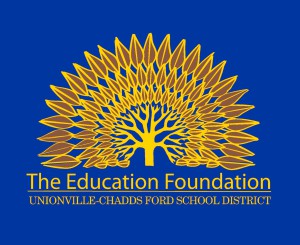 EAST MARLBOROUGH — The Unionville-Chadds Ford Education Foundation will be holding its first annual "Recycling / Membership Awareness Day" on Oct. 19 from 2 pm – 4 pm at Charles F. Patton Middle School (760 Unionville Rd.) on the basketball court blacktop behind the school.  Visitors can park in the middle school and adjacent high school parking areas.
There will be a gift card raffle offered with new Ed Foundation memberships, and also a free snack station with water and apples. 
There will also be a recycling table, where Ed Foundation representatives will be collecting:  old batteries (NI-cad, lithium, rechargeable and size AA, AAA, C, D, 9V alkaline batteries); cell phones; gently used hand tools and unused hardware items; and confidential papers (for off-site shredding).
The UCF Education Foundation raises donations from the community to fund programs, projects and special events in the UCF schools.  Since 1995, the Education Foundation has awarded grants of more than $300,000 to fund everything from iPads for elementary school students to scholarships for UHS seniors.  The Education Foundation needs and appreciates continued support from the community.