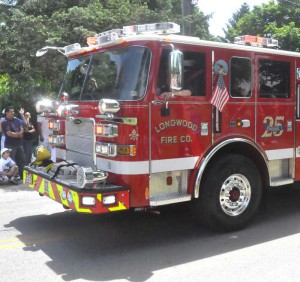 EAST MARLBOROUGH — Longwood Fire Company's annual open house will be held for the first time under the stars.
"We wanted to give our constituents a chance to visit our facility and to meet all of our wonderful personnel," said Chief A. J. McCarthy. "In the past we've held the event on a weekend and we know that families have many activities in the fall. We feel it is important for the community to become familiar with Longwood Fire Company."
Longwood Fire Company is located at 1001 East Baltimore Pike, near Longwood Gardens. The Open House will take place from 6:00 p.m. until 9:00 p.m. The public event is free and will include demonstrations and family activities. There will be refreshments available and the company store will be open.
There will be a vehicle rescue demonstration at 7:00 p.m. and also fire extinguisher simulations, kid-friendly fire prevention activities along with tours of the station.
Longwood Fire Company has served the communities of Kennett, East Marlborough, Pennsbury and Pocopson townships since 1921. Longwood Fire Company provides fire and rescue and emergency medical services 24 hours a day, 365 days a year. For more information see www.longwoodfireco.com.