Birmingham, Kennett, Downingtown, Coatesville among recipients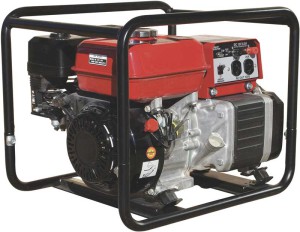 WEST CHESTER — At a time when Chester County is celebrating National Preparedness Month, the Chester County Commissioners announce the availability of 188 generators, for use by municipalities in the event of a major power outage.
Purchased through an Urban Area Security Initiative (UASI) grant secured by the County's Department of Emergency Services, the generators will be used by 37 municipalities in Chester County that have heavily traveled routes and busy intersections regulated by traffic lights.  The University of West Chester is also a recipient.
Chester County Commissioners' Chair Ryan Costello said:  "Last winter's ice and snow storms affected transportation throughout the county like no other in recent history.  Even once the routes were cleared of trees and other debris, the lack of electricity meant that travel remained extremely dangerous, especially at busy intersections."
Commissioner Kathi Cozzone commented:  "We appreciate the investment that all 73 of our municipalities make to ensure the safety of Chester County citizens.  As it isn't possible for many of the municipalities to purchase supplemental equipment that is only used in severe weather circumstances, we are pleased to assist them – and their residents – with these generators."
Commissioner Terence Farrell said:  "Because of this grant, municipalities will have generators available within their infrastructure stockpile to assist with the powering of traffic lights during a power outage.  This reduces the amount of manpower that would be needed at busy intersections, freeing up valuable first responder services for other emergency needs."
Upon confirmation of receipt of the UASI grant, the Chester County Department of Emergency Services petitioned all of Chester County's municipalities to determine the most pressing needs for additional generators, to be used solely for traffic lights.
Robert Kagel, Chester County Deputy Director for Emergency Management, said:  "We asked every municipality to provide us with a list of traffic signal intersection locations where a generator would be needed.  In reviewing that list, our plan was to prioritize the distribution of the generators based on daily volume of the intersections.
"We were pleased to find that the funds supplied by the UASI grant were sufficient to cover all 188 generators that were requested by municipalities."
The municipalities that are receiving the generators will be responsible for the connection, fuel and maintenance costs.
Among the local municipalities receiving generators are: Caln, Downingtown, East Brandywine, Kennet Square, New Garden, Valley, West Brandywine and West Caln.