Late August is the peak of ripeness for these local wonders
By Cathy Branciaroli, Food Correspondent, The Times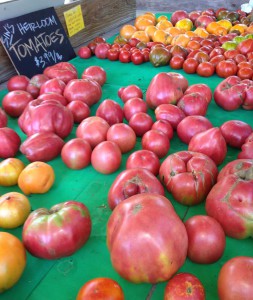 At the peak of ripeness, a garden tomato is one of the things that make life worthwhile.  Luscious, sweet, tart or even spicy and always juicy, now is the time to catch tomatoes at their best.  Since earlier in August, all kinds of tomatoes are coming into season, ready to fix on salads, BLT sandwiches or just biting into like an apple.  Seasonally delicious tomatoes want only slicing and sprinkling with a dash of salt.  No other embellishments are needed.
If you don't have a backyard garden of your own, locally grown tomatoes are now available at roadside stands and farmers markets.  And for a real treat, try heirloom varieties which are genetically predisposed toward flavor rather than the perfect red color and shape of hybrid varieties.  Not to take anything away from a just-picked Beefsteak or Better Boy tomato, but I can tell you that once you've tasted an heirloom tomato you will never go back.
So what are heirloom tomatoes anyway?  They are heritage varieties passed down through generations and grown from last season's seeds. With exotic names like Green Zebra, Cherokee Purple or even Stump of the World (yes, there really is such a variety), they can be had in a rainbow of colors including pink, purple and yellow.  Shapes can be downright homely, lumpy or knobby.  But it's the taste that wins the day – zesty, tart, brightly tangy, candy-sweet or slightly smoky, flavors many of us never knew tomatoes could have.
One of the areas largest selections of heirloom tomatoes can be found at H.G. Haskell's SIW Vegetables roadside stand along Route 100 near Chadds Ford.  He grows more than 75 varieties of the fragile, low-yielding plants and another 10 varieties of cherry type heirlooms.
Farmers like Haskell are reviving these long-neglected plant varieties that don't stand up well to lengthy storage and long-distance shipping of large-scale commercial production.  His tomatoes are picked ripe.  Not vine ripe where the fruit is picked as soon as its color turns from green to something like red, but red ripe.  "This way you get tomatoes bursting with their full flavor and aroma.  They taste best that way and since they only travel from our fields to our farm stand, they are as fresh as can be," he said.
Haskell is a third generation farmer growing not just tomatoes but according to customers, the area's best tasting fresh corn and all kinds of old fashioned vegetables on land originally owned by the Pyle family along the Brandywine River.
"We are blessed with our summer conditions and our good soil that help heirlooms flourish," he said.
How do you know if a tomato is truly ripe?  Sniff its stem end, he advised.  The aroma should just shout, "Tomato".  And never, ever put them in the refrigerator unless you enjoy mealy, cardboard-like produce.
While I haven't sampled all of Haskell's heirloom varieties, here are some thoughts about which ones to try.
Green Zebra can be identified by its tawny color and green stripes.  Tart and zingy, these tomatoes are smaller size fruit with insides that are firm and meaty.  Cherokee Purple is among the most familiar of the "black" tomatoes, large and full of flesh, it has a dense, juicy texture.
My favorites are the cherry tomatoes.  At SIW they are sold in quart containers, crowded with a riot of colors and shapes including round, pear and plum.   There is even one variety, fleetingly available, of pea sized, achingly sweet, bright red cherries resembling red currant berries. I will slice cherry tomatoes with fresh mozzarella and basil leaves, drizzling them with a little extra-virgin olive oil and balsamic vinegar for a classic Italian salad. Or they can be roasted with just a dash of olive oil and garlic to enhance a summer tomato sauce or to pop in the freezer to save for a winter's day.
Take a drive along lovely Route 100 to visit SIW Vegetables and explore for yourself.  SIW is open seven days a week starting at 10AM.  It's located at 4317 South Creek Rd and its website often announces what is fresh that week.  Check out SIW-Vegetables.blogspot.com.