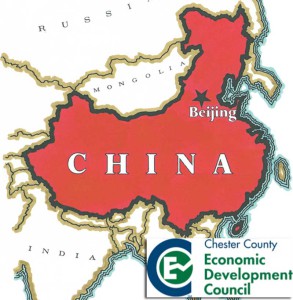 EXTON — An informational session is being held in connection with the upcoming 2014 Sino-American regional business development and cultural exchange summit.
Taking part in the trade mission will be Chester County Commissioner Terence Farrell, the Chester County Economic Development Council, Chester County Chamber of Business and Industry, Main Line Chinese Cultural Center and ABD International.
The informational session will take place on Tuesday, August 26 at the Chester County Economic Development Council from 8:00 a.m. until 9:30 a.m. For more information contact Leslie Rylke at the Economic Development Council at 610 321-8219 or lrylke@cceconomicdevelopment.com. Rylke is also the contract for information concerning the trip.
"This trip will give participants a chance to discover opportunities for expanding into markets across China, engage in industry-specific meetings, and build upon the 'sister-municipalities' relationship established between Chester County and the Yongchuan District," said Commissioner Terence Farrell.   A delegation of 25 business leaders from Chongqing visited Chester County in the Fall of 2013.
Some of the locations scheduled for the summit are Beijing, Chongqing City, Yongchuan District, Banan District, Shanghai and the Great Wall. The trip will take place starting October 11 and concluding October 19.
The cost of the trip is expected to be between $5,000 and $5,750 and will include ground transportation, international and inland airfare, lodging, most meals, local transportation, interpreter, admission fees, travel agency fees and ABD service fee. A $350 registration fee is required and will be applied to the cost of the trip.
The Chester County Economic Development Council is a private, non-profit economic development organization promoting smart growth in Chester County and the surrounding region for more than 50 years. The CCEDC provides proven financing solutions, cultivates workforce talent, leverages business partnerships, and fosters entrepreneurial collaboration. Together, with the support of the private and public sectors, CCEDC initiates, implements and innovates programs that improve the business community and enhance the quality of life in Chester County. For more information, visit our website, www.cceconomicdevelopment.com.