To the Editor: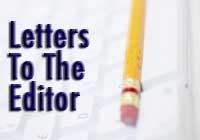 This year's Freedom Fest was one of the most exciting and successful ever, thanks to the many individuals and agencies that contributed to both planning and running the event at Nottingham County Park.  Through the hard work and generosity of many, thousands of people enjoyed an evening of family fun in celebration of our Nation's birth.
In addition to the efforts of several dozen Chester County Facilities and Parks staff members, we thank:
West Nottingham Township Supervisors, Emergency Manager, Police Department, Public Works;
Union Fire Company Fire, Emergency Medical Services and Fire Police Divisions;
Community Fire Company of Rising Sun
Robert Fulton Volunteer Fire Company
Horseshoe Wildland Fire Crew 17-18
Quarryville Fire Company
Southern Chester County Emergency Medical Services/Medic 94;
Avondale Fire Company Emergency Medical Services
West Grove Fire Company Fire and Emergency Medical Services Divisions
Community Fire Company of Rising Sun Emergency Medical Services
Westwood Fire Company Emergency Medical Services
Chester County Fire Police Association
Chester County Sheriff's Department
Chester County Department of Emergency Services
Oxford Police Department
West Fallowfield Township Police Department
Pennsylvania State Police Avondale Barracks
Wrightsdale Baptist Church Youth Group
We are also grateful to Sadsbury Township, East Whiteland Township Police Department and Chester County Prison for the loan of equipment for the event.
Several area businesses joined presenting sponsor Herr Foods this year to support Freedom Fest as associate sponsors.  We thank McCormick Taylor, Mushroom Farmers of Pennsylvania, Krapf Bus Companies and Flowers Baking – Tastykake for their generous support of the 23rd annual Freedom Fest.
Finally, we thank the thousands who attended this year's event and participated in this wonderful celebration of our nation's founding.  We look forward to seeing you next year!
Chester County Board of Commissioners:
Ryan Costello                    
Kathi Cozzone                                                                                   Ed Herr                                
Terence Farrell                                                                                  President, Herr Foods