Canning is a great way to keep that fresh taste alive for months
By Cathy Branciaroli, Food Correspondent, The Times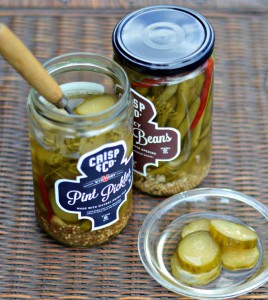 If you are like me, right now you are probably staring at a pile of garden vegetables on the kitchen table imploring  "please do something with me" and wondering how in the world you are going to consume or preserve all that bounty.
Earlier in the summer, that produce was seductive.  I couldn't wait to visit the farmers market and lug home bags bursting with all kinds of fruits and vegetables, creating a still life on my kitchen counter.  I eagerly counted down to harvest the ripening vegetables in my garden.  But now, in the heart of August, all those zucchini,peppers, tomatoes and even herbs pose a quandary – what to do with all that stuff?
Thankfully, it turns out that capturing summer is easy.  There are plenty of ways to stretch out that harvest, whether for a few days or weeks in the refrigerator or whether preserving it to enjoy in the depths of winter.  For example, drying herbs or freezing fruit or vegetables are a snap.
And for that matter, canning is easy too, and not as scary as some would think.  Many first time canners fear making pickles or preserves because they are afraid that they won't do it safely.
Not to worry, says Tom Peter, whose new Crisp & Company artisanal pickles are flying off the shelves at local markets and DiBruno stores.  According to Tom, vinegar and sugar or salt are natural preservatives that ward off bacteria.  And while some of the trepidation is about sterilizing the jars in boiling pots of water, preserving with a boiling water bath isn't necessary, he said.  "If you intend to consume your pickles or jam within a few weeks or even longer, storing them in clean jars in the refrigerator is perfectly fine.
Just follow the recipe or the Ball Guide to Home Preserving and use common sense," he advised.
Tom should know.  He studied the art of pickle making for several years and worked his way through 250 pickle recipes in The Joy of Pickling canners' bible before launching Crisp & Company in November 2013.   I had the chance to sample all six of his pickles including pickled mushrooms, dilled green beans and pickled beets, and even got an advance taste of an experimental new pickle made with mystery ingredients.
"You can pickle anything," Tom told me, "but most people start off pickling cucumbers."  My favorite during my tasting was, the Victory Pint Pickle which indeed was a cucumber pickle, but with a twist.  This variety is made with pilsner from the Victory Brewing Company in nearby Downington.
If you are thinking of jumping into pickle making, one way is try a prepared spice mix.  In past summers I have trifled with making pickles using mixes from Mrs Wages.  These packets are sold in many grocers and my mother-in-law, who was an ardent pickle enthusiast, gave the results high marks.
Earlier this month, a group of food writers and I posted a collection of recipes for pickles, jams and how-to's for preserving summer's bounty on the website Sunday Supper Movement.  I hope you will enjoy their creative solutions.
Pickles:
Bread and Butter Pickles from That Skinny Chick Can Bake
Pickled Beets and Onions from Kudos Kitchen by Renée
Pickled Green Tomatoes from Culinary Adventures with Camilla
Refrigerator Pickled Jalapeños with Herbs from Magnolia Days
Refrigerator Pickled Radish and Turnips from The Girl In The Little Red Kitchen
Refrigerator Pickles from Webicurean
Sweet Pickled Cauliflower from Because I Like Chocolate
Jam & Preserves:
Apricot Habanero Jam from Food Lust People Love
Corn Cob Jelly from Daily Dish Recipes
Hot Pepper Jelly from A Kitchen Hoor's Adventures
No Pectin Apricot Jam from Curious Cuisiniere
Peach Preserves from Delaware Girl Eats
Pineapple Mango Moscato Jam from Seduction in the Kitchen
Raw Raspberry-Vanilla Chia Jam from Shockingly Delicious
Savory Fig and Sweet Onion Freezer Jam from Peaceful Cooking
Spicy Ginger Tomato Jam with Coconut Sugar from Sue's Nutrition Buzz
Spicy Red Pepper Jam from The Wimpy Vegetarian
How To's:
Dry Fruit – No-Dehydrator-Needed from Take A Bite Out of Boca
Freeze Cherries from Pies and Plots
Freeze Herbs from Rhubarb and Honey
Make Freezer Harvest Soup Kits from Cindy's Recipes and Writings
Make Pesto Cubes from The Not So Cheesy Kitchen
Make and Freeze Rosemary Butter from Momma's Meals
Make Ready to Blend Smoothie Packs for Your Freezer from The Educators' Spin
Oven Dry Cherries from The Redhead Baker
If you would like to try Crisp & Company pickles, you can find them at DiBruno stores, Tallula's Table in Kennett Square and Terrain near Britton Lakes.