While the Fraternal Order of Police endorse Wolf, Corbett goes after Amish Mafia
By Mike McGann, Editor, The Times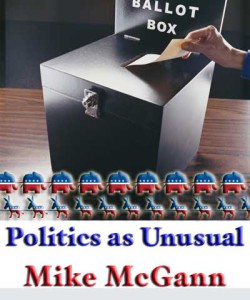 Gov. Tom Corbett's struggling gubernatorial campaign took another hit this week when the state's Fraternal Order of Police endorsed Democrat Tom Wolf, while the governor made headlines calling for the cancellation of the popular Amish Mafia TV show.
Yup. Really.
First on the FOP endorsement: as a former Attorney General who was endorsed by the organization in 2010, which represents some 40,000 law enforcement officers in the state, it's a big hit — and yet another sign that the both the rank-and-file and establishment Republican Party is slowly edging away from Corbett.
There's no real way to spin it — this is a big hit for Corbett and a sign that many, even those who traditionally vote Republican — seem to be getting ready for an incoming Wolf Administration.
Meanwhile, Corbett weighed in on pop culture this week, calling for the end of the Discovery Network show Amish Mafia because of its inaccurate portrayal of Amish life and culture.
Well, duh. Anyone with more than two brain cells knows that Amish Mafia is approximately to real life Amish people what the old Tom & Jerry cartoons are to real life cats and mice.
It is, I'll admit, one of my favorite comedy shows. I honestly don't know how the show's narrator manages not to break down in gales of laughter while trying to read the faux serious voice overs. From menacing "Lebanon" Levi Stoltzfus to the scheming Esther Schmucker, the show is half silly soap, half deranged Saturday Night Live skit (which makes it only half as silly as the average state legislative session, mind you, but still).
And wacky, silly and fake as it might be, it is generating jobs, money and taxes for the state — and oddly, boosting tourism in Lancaster County according to some reports.
One would think that the governor might have better things to weigh in on this week.
One such subject is a fairly interesting proposal this week from a Chester County legislator: John Lawrence.
Lawrence is proposing a state-wide cigarette tax (except in Philadelphia) to fund property rebates for seniors who own homes but have limited incomes. In a memo to colleagues seeking support, Lawrence suggests limiting the program to seniors 65 and older with incomes of less than $35,000 annually.
As an example cited, in some cases, the 80-cent a pack proposal could knock down taxes for some seniors by as much as 82%.
And while Lawrence, a Republican who represents the 13th District in the southwest portion of the county, said he would prefer broader-based solutions to the property tax issue, but that the opportunity for doing something shouldn't be bypassed.
Although he doesn't address it, by also raising the cigarette tax in the counties surrounding Philadelphia, it would make the city's proposed hike to fund schools — $2 a pack — more effective, but cutting the benefit of running out to neighboring counties for smokes.
And while it is hard to argue with Lawrence that a more structural solution is preferable, his proposal at least works to help those seniors most in need of tax relief. One would hope his proposal gets wide support — from both sides of the aisle.
Lastly, as we're just a couple of weeks from the unofficial kickoff of political season — traditionally Labor Day — I was hoping to get input from readers on what they'd like to see in our coverage.
Should we consider endorsing candidates? Would you like us to conduct Web polls on the various races in the district? Are there issues we're not asking candidates about that you think we should be asking?
Send me your thoughts and comments and we'll work to incorporate them into our coverage this fall.