Davis brings new light to the Chester County Art Scene..plus what going on around the county
By Lele Galer, Columnist, The Times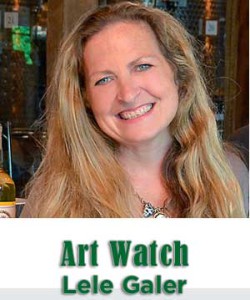 Oil painter Heather Davis will be showing her light-filled, beautiful Brandywine Valley landscapes at Galer Estate Winery Pop up show Thursday August 14th from 4-8pm.  Just a little over a year ago, Heather decided to throw in the towel to her life-long successful career as a contractor, and concentrate on her passion for painting.
Heather grew up in Newtown Square and graduated from Marple Newtown High School with honors and an art scholarship.  She went on to attend Rhode Island School of Design and earn a Bachelor of Fine Arts in Painting. Back when she was in school, she was constantly frustrated in her desire to paint in the Brandywine realist tradition; this was her passion, but art schools at that time discouraged realism and plein air.
Post graduation, she worked in the building trades and owned her own contracting firm for many years leaving a trail of murals, sculptures, and mosaics in homes throughout Chester, Delaware and Montgomery counties. In June of 2013, after a moving experience at a Jamie Wyeth opening, she made the decision to give up her former career in order to paint full time.
Heather writes, "It is with the fullest heart that I go forward into the world to record and enjoy it through painting. This is not what I do, but who I am. The most profound experience of my life has been to realize this, accept it, and commit everything to it."
She has proceeded to win First Place in the prestigious 2013 Brandywine Valley Plein Air competition, as well as winning the Invitational Exhibition at the Chester County Art Association in April, 2014.
At this point, there is nothing stopping Heather's meteoric rise in the Brandywine River Valley art scene.  Her paintings are imbued with the light and beauty of the Chester County natural landscape and have an intensity residual from the artist's desire to capture verisimilitude.
When you are in front of a Heather Davis painting you are mesmerized and cannot help but ask, "How does she do that?!"
She will stay outside in rain, snow and sleet to capture that special moment of natural light, using her memory of light rather than photographs of her subject matter as an aid.
Heather says, " Painting is difficult, risky, expensive, and certainly not ordinary, but for me it has offered the joy of being a complete human being with something important to give." Heather is a unique, and powerful new presence in the Chester County art scene, and I can't wait to see what she has been up to in the past few months!
Other art goings on about town include two terrific partnership shows and events between The Hickman and Chester County Art Association.
The Hickman in West Chester has always been a long time supporter for the arts in this area. Their annual "Art of Giving" Gala has brought attention to the arts and artists and been a pivotal fundraiser for this wonderful organization. This year the Hickman is partnering with The Chester County Art Association for two events in September: a street arts festival September 27th and a Gala event that starts at the Hickman and ends at the Art Association on September 26th.  I know that is a while away, but if you are an artist who would like to be included in these shows you need to get your submitted pieces to CCAA by September 19th and 20th (the theme is "Home, Neighborhood & Town") and submit your online application for the Festival before August 15th to emohler@thehickman.org.
The beautiful paintings of Leander Fontaine are in their last week of exhibition at The Chester County Art Association's exhibition space in the Exton Mall. Check it out before it goes away! The Exton Gallery is open on the weekends. The "Push Pin sale" and the "All Media Show" are both accepting artworks now through August 22nd at Chester County Art Association to be shown at the Association's galleries from September 4-18th. This is a great opportunity for art lovers to see a broad range of local art for very buyable prices as much of it is unframed (push-pin) and priced to go right into your home.
Remember that our area always has outstanding examples of the best of what is new and old in any of our wonderful local arts institutions.  Visit (always free!) Delaware Center for the Contemporary Arts to see what is bold and new in the arts scene. Right now they have an exhibit called "Navigation Puzzle" which is a member's group exhibition that is a fascinating multi-media exploration of abstraction.  The Brandywine River Museum has two new exciting exhibitions coming in August: Matthew Jensen's photographic installation entitled "Alongside Tall Grasses", and "The Real and Fantastic World of Charles E Burchfield" which opens August 23rd.  This exciting exhibit shows over 50 works borrowed from collections from all over the world that highlight the genius of this visionary American landscape artist. I am very excited by these two new shows, but honestly, just walking through their permanent collection is enough to instantly inspire me! I sees something new and beautiful every time I visit the Brandywine River Museum.
Lele Galer is an artist who has chaired numerous art shows, taught art history and studio art, public art and has chaired, written and taught the Art in Action Art Appreciation series for the UCFD schools for the past 12 years. She worked at the Metropolitan Museum of Art, and wrote for the Asociated Press in Rome.  She has been dedicated to Art History and art education for most of her adult life. Lele and her husband Brad own Galer Estate Winery in Kennett Square and co-Chairs the CCAA's New Building Campaign.