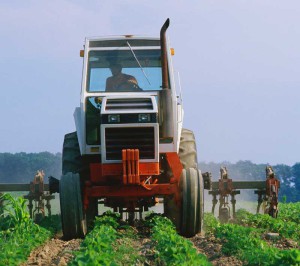 AVONDALE — Stroud Water Research Center's Watershed Restoration Group and the Chester County Conservation District (CCCD) agreed to provide conservation plans, manure management plans, Mushroom Farm Environmental Management Plans, forested stream buffers and other Best Management Practices (BMPs) for Chester County farmers.
Conservation plans help farmers meet state and federal regulations and allow farmers to pursue additional funding to install land improvements such as livestock management infrastructure and stream-side forested buffers. Forested buffers act as natural filters, improve water quality, minimize erosion and provide habitats for fish and other wildlife. These are important benefits for Chester County with more than 1,700 farms, agricultural sales topping $553 million, and a mushroom industry making up nearly half of all U.S. mushroom production. 
"This agreement formalizes what has already been a very productive relationship and spells out how we will bring together our different, but complimentary, skills and resources," said Matthew Ehrhart, Director of Watershed Restoration at Stroud Water Research Center.
The partnership takes advantage of the unique strengths of both organizations. The Chester County Conservation District has a long history of providing technical assistance to area farmers, while the Stroud Center produces groundbreaking research, education programs and restoration initiatives.
"The Chester County Conservation District embraces this formal working relationship with the experts at Stroud Water Research Center. I anticipate that Stroud Center's water quality research combined with the Conservation District's technical expertise will achieve great benefits for area farmers as well as for our environment," said Christian Strohmaier, Chester County Conservation District director.
The Chester County Conservation District and the Stroud Center will provide funding and technical assistance for Chester County farmers looking to implement forested buffers and other Best Management Practices. Farmers seeking more information may call Adam Mowery, at 610- 925-4920, ext. 116 or email amowery@chesco.org; or contact Lamonte Garber at 610-268-2153, ext. 310 or email him at lgarber@stroudcenter.org.