Funds from William Penn Foundation to be used to look at name, other issues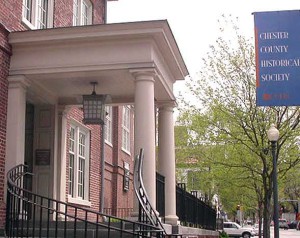 WEST CHESTER —  The Chester County Historical Society (CCHS) announced Monday it received a grant award from the William Penn Foundation focusing on marketing.
Specifically, the grant-funded project will examine the "Chester County Historical Society" name, as well as the names of its buildings and other spaces, with an eye toward analyzing the effectiveness of attracting new audiences and retaining existing ones.
"The Foundation believes it is important to help arts and cultural organizations fulfill their mission to the utmost. It is hoped that this effort by CCHS enhances its ability to serve the residents of Chester County," said Olive Mosier, Director for Arts Funding at the William Penn Foundation.
"We are extremely grateful to the William Penn Foundation for this opportunity to reach out to the community to strengthen our marketing presence, with potential long term changes," stated Rob Lukens, President of the Chester County Historical Society.
As part of this project, the experienced marketing firm 20/10 Solutions will work with the CCHS Board, staff, volunteers, members, and the general public on a feasibility study. Through focus groups, surveys, best practices research, and other measures, 20/10 Solutions will work with CCHS to find what current and future audiences expect to experience and learn when visiting and how that is influenced by the name.
"What an amazing opportunity for the Chester County Historical Society to have the financial support of the William Penn Foundation to really investigate how their brand is perceived and acted upon by its current and potential customers," said Joe Warner, president of 20/10 Solutions. "We hope our assistance will ultimately bring more visitors through their doors to witness the amazing collection and understand the roles Chester County's residents have played in the history of the United States."
It should be noted that changing or adding any names are not a foregone conclusion, hence the need for this preliminary study.
What Historical Society officials say they are is aware of: CCHS constantly hears from various constituents (both internal and external) that the name and the names of the buildings may require a makeover in order to attract new audiences, particularly from the growing area's shifting demographics.
It is clear that, despite CCHS's great successes in history education with school groups and drawing portions of area's general population, not everyone understands what CCHS is or what its mission is from the name.  Naming conventions were discussed informally during CCHS's strategic planning process, completed in summer 2013, and work to be completed by 20/10 Solutions is the formal phase.