Patsy Keller's fused glass art show this Thursday
By Lele Galer, Columnist, The Times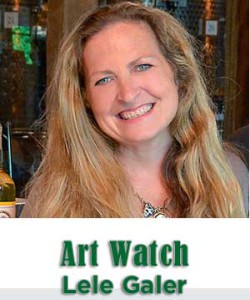 There is a new art gallery in downtown West Chester, Church Street Gallery, and it is bucking the current gallery trends by creating a fresh, inviting exhibition space for the solo artist.  Artist John Suplee and his wife Carol have created a new gallery that feels more like a gallery in Paris or Soho than in Chester County.
Nowadays most local galleries also double as frame shops, or fill their wall space from top to bottom with a variety of artworks to appeal to every consumer. The multi-use space gallery has been one of the only gallery business models that survived during a weakened economy, but with the Church Street Gallery opening up, perhaps that signals a change. 
At Church Street Gallery, the artwork is all from a single artist and is hung exhibition-style, which give the artwork space to breathe. Looking at artwork at eye level, of a single artist in a well lit open space, is the most wonderful way to get to know an artist's work. By the time you have worked you way through each piece of art, you have a made a personal connection to that art. I buy art in any setting, but it is more pleasurable and uplifting to purchase art from a quiet, well-lit and well displayed local gallery like Church Street. Let's hope it is starting a new trend!
The first show at Church Street was with oil painter Robert Bohne. Bravely opening the doors after ages of renovation, John Suplee and his wife Carol were thrilled to see non-stop patronage of their gallery.
Robert sold more than 25 paintings at this first show, and this week Emmy Krick opens the 2nd Church Street Gallery show which will continue through July 14th.
I asked Carol how she and her husband select the artists and she said that they have a full calendar through the next two years! Each of the exhibiting artists are longtime family friends and share in the joy of showing their art in this new space.
Every aspect of creating this gallery space has been a loving collaboration among family, friends and community. Carol calls it a "home grown gallery". All  the building restoration, remodel and design work of the gallery was done with the help of friends and family.
The lovely gallery sign was built by their friends, their daughter Kathryn did the gallery website and their granddaughter Ashley Kroberger started up the Facebook. John and Carol make sure to stay within a couple blocks for all of their business related needs too. They use Market Street Printing for all of the gallery printing jobs, KMRD does their insurance, DNB down the street is their bank, Ace Hardware and Rubenstein's is where they buy their paint and art supplies. Please stop into 12 South Church Street and welcome West Chester's newest gallery!
This Thursday local  fused glass artist Patsy Keller will be showing at the Galer Estate Winery Pop up Art show from 4-8pm.  Patsy's artwork ranges from pendant necklaces to small vases and plates. With a  keen eye to colorful patterns and vibrant hues, Patsy's artwork is a delightful combination of function and art.  Light plays off the dichroic glass embedded in her glass pendants so that they feel rather magical. The vividly colored plates and vases are a bright happy addition to amy room. I gave one of Patsy's patterned plates for a Christmas gift last year and they put it in their front hall table to welcome visitors into their home. You can meet Patsy and see her work at The Galer Estate Winery Pop-up Artist Show in Kennett Square this Thursday from 4-8 to benefit the Expansion Project for Tick Tock Early Learning Center in Avondale.
www.facebook.com/SunroomStudioFusedGlassDesign
www.churchstreetgallerywc.com/
Lele Galer is an artist who has chaired numerous art shows, taught art history and studio art, public art and has chaired, written and taught the Art in Action Art Appreciation series for the UCFD schools for the past 12 years. She worked at the Metropolitan Museum of Art, and wrote for the Asociated Press in Rome.  She has been dedicated to Art History and art education for most of her adult life. Lele and her husband Brad own Galer Estate Winery in Kennett Square and co-Chairs the CCAA's New Building Campaign.