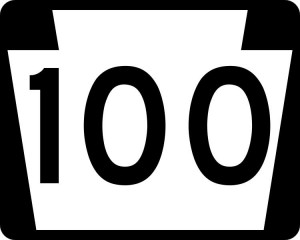 WEST CHESTER — State Senator Andy Dinniman spoke Friday about plans for several major Chester County projects that are slated to break ground this spring and summer.
"In the coming weeks some of the Commonwealth's most important transportation construction and improvement projects will begin right here in Chester County in large part due to November's passage of the new $2.1 billion transportation plan," Dinniman said. "These investments in our transportation infrastructure will provide a boost to our regional economy while offering a smoother, safer and less-congested commute for motorists, families and local employees."
PennDOT recently awarded a $1.6 million contract to Allen A. Myers, LP of Worcester, Pa., to repair and resurface four miles of Route 252 (Darby Paoli Road, Leopard Road, Bear Hill Road) in Easttown and Tredyffrin townships and Newark Road at the Baltimore Pike intersection in New Garden Township.
Construction will start later this spring to mill and pave Route 252 from the Delaware County line at Whitehorse Road to U.S. Route 30 (Lancaster Avenue) and Newark Road at Baltimore Pike. The project is expected to be completed in June 2015.
PennDOT also awarded a $998,000 contract to the Marino Corporation of Skippack to improve travel at the intersection of Route 252 and U.S. Route 30 in Tredyffrin Township.
Construction will begin late spring or summer to upgrade and install a traffic adaptive signal system at four intersections there: Route 30 and Paoli Shopping Center, Route 30 and Route 252, Route 252 and Central Avenue, and Route 252 and Paoli Shopping Center. The timing of the new signal system will be optimized based on real-time traffic conditions to enhance traffic flow.
The project also calls for adding dedicated left-turn arrows for the turns from southbound and northbound Route 252 onto Route 30, milling and paving Route 252 between Central Avenue and Route 30, building a new sidewalk along route 252 under the railroad bridge and improving turning radiuses at the intersection.
The project is scheduled to be finished in June 2015.
In addition, construction will begin on Sunday, May 31 on the $17.4 million project to widen and improve 2.5 miles of State Route 100 (Pottstown Pike) in Uwchlan and West Whiteland townships.
Route 100 will be expanded from two lanes to three lanes in each direction by widening northbound Route 100 from Shoen Road to just south of Route 113 (Uwchlan Avenue) and widening southbound Route 100 from just south of Route 113 to Swedesford Road.
In addition to widening Route 100, PennDOT's contractor will improve intersections by removing five jug handles and replacing them with turn lanes; installing new traffic signals at intersections; replacing the metal median divider with a concrete median barrier; and improving the storm water collection management systems.
Crews also will build a sound wall along southbound Route 100 between Rutgers Drive and Worthington Drive; build a retaining wall on Gordon Drive; install a sidewalk along northbound Route 100 from Ship Road to Sharp Lane, which will connect with the Uwchlan Trail; install a sidewalk along southbound Route 100 between Rutgers Drive and Worthington Lane; and build a truck weigh station along the current northbound Ship Road jug handle.
The Route 100 widening project is scheduled to finish in February 2016.
For more information contact Senator Dinniman's Office at 610-692-2112.