County department is first in state to receive full accreditation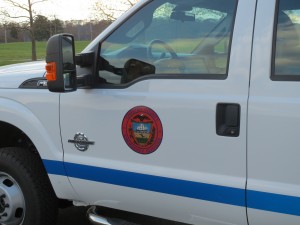 WEST CHESTER – The Chester County Department of Emergency Services is the first county in the state – and one of only 50 programs in the nation – to be granted full accreditation from the Emergency Management Accreditation Program (EMAP), the county announced in a news release on Tuesday, May 20.
EMAP awarded the accreditation to Chester County for its ability to bring together personnel, resources and communications from a variety of agencies and organizations for disaster preparation and response, the release said.
"Chester County is very proud and excited to be the first County in Pennsylvania to receive accreditation," said Chester County Commissioners' Chair Ryan Costello. "'Safety first' is the motto we govern by, and our Emergency Services Department has done a great job once again seeing this initiative through to a successful implementation."
The EMAP process is a national program that evaluates emergency management programs on compliance with requirements in 16 areas, including planning; resource management; training; exercises, evaluations, and corrective actions; and communications and warning.  EMAP is the only accreditation process for emergency management programs, according to the release.
"The county's Department of Emergency Services has demonstrated over the years its ability to help those Chester County residents who are in need, and especially its ability to coordinate the many resources required to ensure citizens' safety," said Commissioner Kathi Cozzone.
Commissioner Terence Farrell said the county takes great pride in being ready to respond to any emergency. "The actions of our Emergency Services staff during the recent bad winter and spring storms have demonstrated the worth of having an ever-ready team that takes the lead in managing emergency situations."
Barb Graff, director of the Seattle Office of Emergency Management and Chair of the EMAP Commission congratulated the county on its leadership and commitment to achieve accreditation.  "More importantly, we recognize the dedication to the safety and security of Chester County's residents that it represents," said Graff.
Director of Emergency Services Edward J. Atkins said the accreditation "validates the exceptional work of the 208 Department of Emergency Services employees and the county's 5,000 emergency responders."
To achieve accreditation, emergency management programs document compliance with a set of industry standards and undergo a peer-review assessment.  The emergency management program uses the accreditation to validate the capabilities of disaster preparedness and response.  Accreditation is valid for five years, and the program must maintain compliance with EMAP standards and is reassessed to maintain accredited status, the release said.