Family-friendly Mini Maker Fair scheduled for Saturday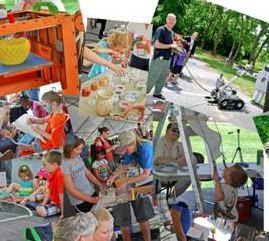 On Saturday, May 17, the Chester County Library in Exton will be holding its Fourth Annual Community Day, and for the second year in the a row, the theme will be a Mini Maker Fair – a place to celebrate the process of learning and doing.
It will run from 10 a.m. to 2 p.m. Last year, the Chester County Library's Mini Maker Fair attracted more than 1,200 people for a celebration of regional do-it-yourself (DIY) character and spirit.
The Chester County Library Mini Maker Fair will be a one-day, family-friendly event that celebrates arts, crafts, engineering, food, music, science and technology projects and the Do-It-Yourself (DIY) mindset. It's for resourceful, creative people – the makers – who like to tinker and love to make things.
Builders, inventors, innovators, hackers, tinkerers, gadgeteers, designers, artists, fabricators, welders, craftspeople, engineers, scientists, fabric technologists and more are welcome to show off their creations.The Mini Maker Fair will demonstrate the power and reach of the growing maker movement, attracting people from all walks of life and inviting them to explore, experiment and experience science, technology, art, engineering and more.
The Chester County Library's Mini Maker Fair will feature 3D printers, rockets, robots, aeroponic tower garden systems, drawbots, Ruben tube demonstrations, homemade arcade machines and more. The event is designed to be hands-on for all ages. Attendees can make homemade ice cream, their own jewelry, designs, even their own plant to take home to the garden.  Along with the makers, there will also be food, live music and fun for the whole family.
For more information, visit the Mini Website at cclcommunityday.wordpress.com or contact Amy Krize Suveg at asuveg@ccls.org.